Join us on this adventure, take action for better fashion industry. We'll show you #thewayforward
About this Event
The goal is to promote positive social change and harness the power of fashion, lifestyle and beauty industries. This is the mission of Fashion 4 Development (F4D), the platform founded by Evie Evangelou in 2011 in cooperation with the Office of the UN Secretary-General to support the United Nations Millennium Development Goals, and Every Woman Every Child, the UN project spearheaded by former Secretary-General Ban Ki-Moon. In 2015 F4D also committed to champion the 17 UN Sustainable Development Goals.
To achieve its aims, F4D has carried out initiatives in over 20 countries and has entered into partnerships and sponsorships with governments internationally and important names like Chopard, Eco-Age, Unilever, Value Retail, Environmental Media Association (EMA), African Fashion International (AFI), Yoox, Lavazza, Global Fashion Agenda and Vogue Italia to name a few. F4D Solutions promises to radically transform the world of fashion with new innovations throughout the supply chain.
It fosters fair- trade and eco-friendly business practices in global brands and will support, together with VEPSI, the launch of PAUSE Conscious Pop Up store #9. After 8 successful editions in Amsterdam, New York, and Paris, for the first time PAUSE, Fashion Hub is hosting the 9th edition of its Pop Up in parallel with London Fashion Week.
The designers at PAUSE will find an incubator where they will learn how to scale transparency, while the public will be able to get the best information on conscious consumption. Moreover, F4D will advocate for responsible and solution-based technologies with suppliers, hold select discussions and offer educational master classes throughout the event.
PROGRAM14:
14:30 - EXPERT MC: PATRICK DUFFY
- Welcome to the audience
- PAUSE welcome
- Introducing the Speakers
14:45 F4D SOLUTIONS. TEAM & PARTNERS INTRO.
- Introduction to partners & collaborations by Jeanine Ballone from F4DSolutions
15:00 END TO END TRACEABILITY TO PROVIDE PROOF OF AUTHENTICITY AND SUSTAINABILITY
Bt Dan Jones, CEO Of Bext360.
15:15 SUPPLY CHAIN SOLUTIONS FOR BUILDING A SUSTAINABLE BRAND
Speakers:
Luca Olivini, Material Hub Manager CLASS Eco Hub
Giannis Tzortzis, Sales Manager Varvaressos
Walter Colombo, R&D Manager Of Iluna Group Spa – Important Laces Producer In Italy – Can Come To Have A Quick Speech.
Moderator Led By Fashion Industry Magazine
15.45 INSPIRATIONAL SPEAKER
Ecuadorian Embassy Representative, A Comprehensive Strategy 
For Sustainable Development And Economic Growth
Mike Barry Sustainable Change Maker and former Director of Sustainable Business (Plan A) at Marks and Spencer
16.15 HOW TO COMMUNICATE SUSTAINABILITY & YOUR BRAND IN THE WORLD OF SOCIAL MEDIA
Speakers:
Thomas Ball Communications Lead, Soho House, F4D, Holly Hunt
Top Social Influencers In The Industry By VEPSI:
Livia van Heerde and S r u t i (Love And Blossoms)
Sophie Slater, BIRDSONG
16.45 FASHION SHOW - BIRDSONG BRAND
"Cult fashion label and social enterprise Birdsong are celebrating the launch of their crowdfunder, with a different kind of fashion show. Expect dancing, music, good vibes and a preview of their new ethical, size-inclusive, sustainable collection.
17:00 COCKTAILS
Let's celebrate the change!




ABOUT F4D SOLUTIONS
Fashion 4 Development Solutions aim to be the premier fashion entity to support, advice and lead sustainable, fair trade and eco-friendly business practices in the fashion & lifestyle industry.
F4D SOLUTION supports UN Sustainable Development Goals.
Their vast global network allows access to all brands, technology, materials & suppliers.
Jeanine Ballone is a fashion executive and innovator whose results-driven nature, unwavering compassion, and ambition have all earned her the reputation as a service-centered thought leader. Over the last three decades, she has cultivated in-depth expertise in the areas of global sourcing, product development, technology innovation, production, and business analysis. Furthermore, her forward-thinking leadership and cutting-edge creativity enable her to implement pioneering solutions that maximize brand objectives and overall profitability.
Ms. Ballone spent the last 13 years leading product development, supply chain and innovation all the while promoting responsible products for PVH, working at their corporate offices in New York. Prior to PVH, Jeanine spent a decade working internationally throughout the world building supply chain operations, particularly working and living in India, Turkey and Germany.
As the proud Managing Director of Fashion 4 Development, Jeanine Ballone focuses on driving sustainability as well as championing environmental and social practices. No matter what venture she undertakes, she remains a steadfast believer of a brighter future through the power of mindfulness and forward thinking.
Fashion 4 Development (F4D) is a private sector global platform founded by Evie Evangelou in January 2011 in support of the United Nations Millennium Development Goals and "Every Woman, Every Child", the UN initiative spearheaded by Secretary-General Ban Ki Moon. F4D builds upon the core leadership principles of the 4Es: Educate, Empower, Enhance and Enrich, and activates partnerships that promote the fashion and textile industry, advance economic and social development activities, preserve the culture and empower women. In 2015 F4D committed to supporting the 17 UN Sustainable Development Goals and place a significant focus on sustainable lifestyle practices for a healthier world. Fashion 4 Development's message to promote positive social change is received with open arms around the world, with initiatives in over 20 countries.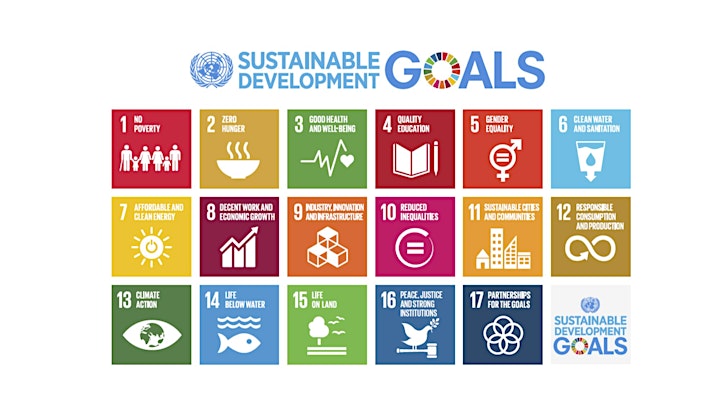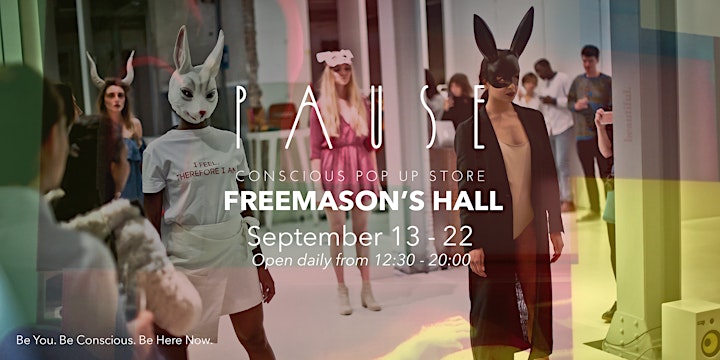 The event will be taking place during the PAUSE Conscious Pop-Up #9 at the Freemason's Hall, Covent Garden, in London, England, between September 13 to 22, 2019
It is a ten-day pop-up event, conveniently taking place during London Fashion Week, where sustainable fashion, art, music, and live performances meet in one place, to create awareness, educate the consumer, and provide an open forum of discussion on how we can all take sustainability forward within our lives. P A U S E will invite the most influencing sector of the London and the global fashion world to rethink their production and consumption choices in order to create together a more conscious fashion industry. This event is to help bring this important issue to light.