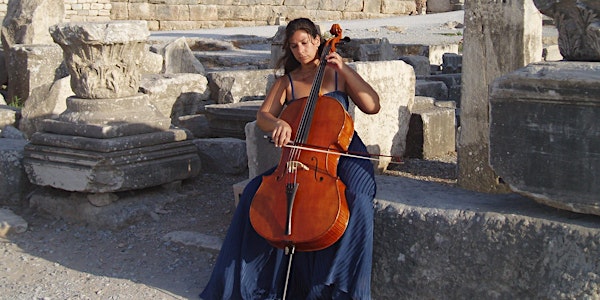 The Voice of the Cello: Music by Bach, Crumb, Hovhaness, and Gianopoulos
Location
The Home of Jason Herbst
330 Tynebrook Lane
Houston, TX 77024
Description
THE VOICE OF THE CELLO: MUSIC BY BACH, CRUMB, HOVHANESS, & GIANOPOULOS
We're fortunate to have cellist Kate Kayaian in Houston to take us on a musical journey beginning with Bach then landing in the exciting 20th century. House concerts are intimate: you will hear stories about the music, meet terrific people, and enjoy wine, food, and hors d'oeuvres brought by you, other guests, and provided by Memorial Classical.

Program
Suite No.3 in C major, BWV 1009
by Johann Sebastian Bach (1717–1723)
Sonata for Solo Cello
by George Crumb (1955)
Yakamochi, for Cello, Op.194, No.2
by Alan Hovhaness (1965)
Monologue for Solo 'Cello Op.24
by George N. Gianopoulos (2012)
Tickets
Please RSVP with a free ticket on Eventbrite, and make a donation at the door. Suggested donation is $20 for adults and $15 for students. We accept cash, check and credit card at the door.

Potluck
Guests are encouraged to bring wine, food or a dessert.

Schedule
Enjoy wine, hors d'oeuvres, and social time from 7:15pm - 8pm. The concert will start promptly at 8pm.

About Kate Kayaian
Cellist Kate Kayaian is known for her stunning artistry and for her passion for collaboration. She maintains a rigorous schedule balancing her own performances with her teaching and coaching positions and musical exchange projects around the world. Her 2018-19 schedule includes recitals and concerts in Boston, Seattle, Chicago, Miami, Palm Beach, Houston, D.C, Charleston, Savannah, Bermuda, and throughout the Greater New England area. An avid collaborator, she has toured around France, Italy, Greece and Turkey with members of the Orchestre Philharmonique de Monte Carlo performing chamber music in such incredible venues as the ruins of Ephesus. Other recent chamber music highlights include performances in Fort Lauderdale with the principals of the South Florida Symphony, and a commemorative concert of the Charles Ives Piano Trio at the composer's alma mater the Hopkins School in New Haven.
A strong advocate for new music, Kate works closely with today's leading composers and has premiered works by Michael Gandolfi, Kati Agoc, John Adams, Steven Mackey, Jonathan Bailey Holland and Andrew Norman amongst many others. She performs and records regularly with such acclaimed ensembles as the GRAMMY nominated group Boston Modern Orchestra Project, and has had the honor of working with the world's most esteemed conductors and proponents of contemporary music: Pierre Boulez, Oliver Knussen, Gil Rose and Michael Tilson- Thomas. She is currently working on a new project recording works for solo cello written by friends and colleagues from the Boston area.
Originally from Chicago, IL, Kate came to Boston to pursue her degree at the New England Conservatory of Music where she studied cello with Colin Carr, and chamber music with Eugene Lehner, Irma Vallecillo, Scott Nickrenz and the Borromeo String Quartet. Subsequently, she won a three-year fellowship with the New World Symphony where she performed as principal cellist under the baton of Music Director Michael Tilson Thomas and was a frequent performer in the chamber music series. She spent two years at the Spoleto (U.S.A.) festival, and three summers at the Tanglewood Music Center where she was a member of the Conductor's Quintet. While in residence there, she was involved in many collaborative projects with groups such as Jacob's Pillow Dance Company and Shakespeare and Company.
Kate is the Director of Chamber Music for the Boston Youth Symphony Orchestras and, thanks to recent advances in online video chat technology, maintains an active studio of private students and coaching clients from around the globe. She is also on the strings faculty of the Bermuda School of Music in Hamilton, Bermuda. She has traveled frequently to South Africa and Kenya to facilitate cultural exchanges between young African and American music students, and has made trips to Mexico and India for similar projects. When she is not playing or teaching the cello, she can be found sailing, gardening, and watering her collection of neglected houseplants. She lives with her husband Paul in Hamilton, Bermuda and Boston, Massachusetts, and can be heard on the Naxos, RCA, and BMOP/sound recording labels. Kate plays on a 1947 Primo Contavalli cello and a bow by François Nicolas Voirin.