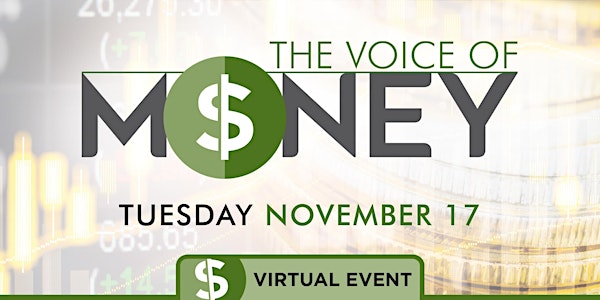 The Voice of Money
The Voice of Money examines the rapidly growing intersection of voice tech, AI, and modern banking and finance.
About this event
The Voice of Money returns!
This popular event - part of The Project Voice Series - examines the growing intersection of voice, AI, and modern banking and finance.
Program (all times Eastern)
10:00 AM
Welcome
Bradley Metrock (Host, This Week In Voice)
10:05 AM - 10:35 AM
Opening Keynote
Conversational AI, Credit Unions, and What's Next for Banking
John Best (CEO, Best Innovation Group)
​
10:35 AM - 11:00 AM
Conversational Design and Development Strategies to Optimize Your Virtual Assistants' Potential in the Next Normal
Eduardo Olvera (Senior Manager, UI Design, Nuance)
Nirvana Tikku (Director, Software Engineering, Nuance)
Since the COVID -19 pandemic locked down most of the world in mid-March, there's been a proliferation of AI powered chatbots, IVRs and virtual assistants rapidly deployed across industries and channels as a first-line solution to solving for the increase in virtual inquiries and self-service transactions. While COVID has accelerated the cycle from build to deployment, keeping our virtual assistants up to date, relevant, and useful to users as their needs evolve and scenarios become more complex is a strategic imperative for businesses.
In order to scale up to a higher level of production readiness, advanced strategies of conversational design that include context awareness, omni-channel integration, problem solving, personalization, empathy, and goal enablement need to be at the forefront of conversational systems' development. In this session, Nuance speakers will share best practices from their DIY AI tooling platform to help developers plan, design, build and maintain advanced conversational solutions into their customer service offerings. Attendees can expect to take away the strategies, tools and skill set needed to uplevel conversational user experiences for customers willing to conduct more contactless business, purchasing and virtual self-service than ever before.
11:00 AM - 11:20 AM
Bringing Conversational AI To Financial Apps
John Foster (CEO, Aiqudo)
11:20 AM - 11:40 AM
How Conversational AI Takes The Next Step
Dimitris Vassos (CEO, Omilia)
​
11:40 AM - 12:00 PM
AI & Digital Transformation: Evolutionary, Not Revolutionary
McCall Peltier (Product Marketing Manager, Interactions)
Uncertainty is all around us and now, more than ever, is the time to be bold, brave, and innovative. Companies are plagued with challenges, including high agent turnover, strict regulation and legal compliance, changes in customer preferences, and increasing customer delinquencies. These lead to high operational expenses and high payroll costs. Join our session to learn about how Conversational AI will forever change the financial services industry through increased payment collection and improved customer experience. In this session, we will discuss Interactions Virtual Collection Agent and its capability to increase revenue recovery at a reduced operational cost, in a conversational, human-like, and judgement free manner.
​​
12:00 PM - 12:20 PM
Data Annotation: Where The Road To AI Begins
Andy Braun (Head of Sales, DefinedCrowd)
"There's gold in them thar hills". Financial institutions are sitting on vast deposits of riches waiting to be excavated. Whether it be transactional data or customer service interaction, data annotation is the heavy-duty equipment needed to break open the nuggets of truth that reside in the unstructured data already in the ground. Join our session to learn how to unlock the wealth you already have without experiencing any cave-ins.
​​
12:20 PM - 12:45 PM
Bringing Conversational AI Standards and Protocols To The Financial Sector
Jon Stine (Open Voice Network)