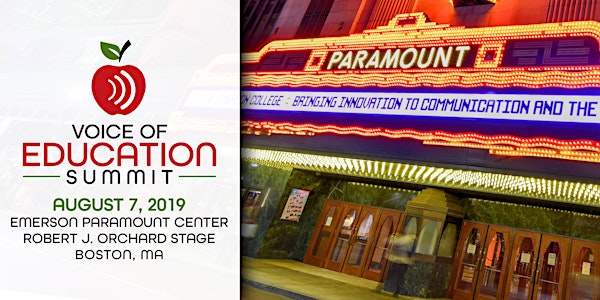 The Voice of Education Summit
When and where
Location
Paramount Theater at Emerson College 559 Washington Street Boston, MA 02111
Description
The Voice of Education Summit is the first conference to specifically examine the intersection of voice-first technology (e.g. Amazon's Alexa, Google's Assistant, Apple's Siri, Samsung's Bixby, and many others) and modern education: K-12, higher education, and continuous professional learning.
Taking place at Emerson College's famous Paramount Theater and produced by VoiceFirst Events, The Voice of Education Summit will be a must-attend for not just educators, but people and organizations interested in how the rise of voice technology impacts how human beings learn.
Microsoft is the Presenting Sponsor, and Novel Effect, Columbia University, Bamboo Learning, and many more round out a powerhouse program.
Attendees will receive a special Bamboo Learning edition of an Amazon Echo Dot!
A portion of the revenue of every ticket sold goes to support Emerson College.
FAQ
Q. Is there an educator discount?
A. Yes, and a big one. Use the code EDUCATOR2019 in the Eventbrite ticketing portal to save 40%.
Q. Is there a non-profit discount?
A. Yes, and it's the same as the educator discount. Use the code NONPROFIT2019 to save 40%.
Q. Is there a student discount?
A. Yes, and it's 60% off ticket prices, but be prepared (like the other discounts) to show proof of your discount if necessary (in this case, that you're a currently-enrolled full-time student). Use the code STUDENT2019 to take advantage of this discount.