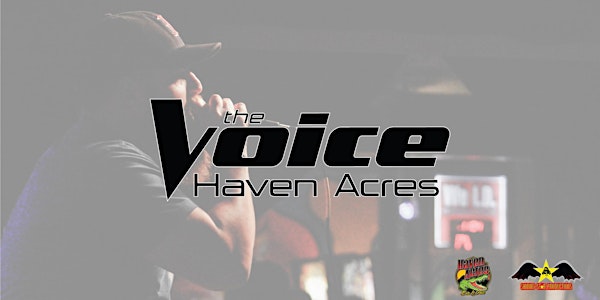 The Voice Haven Acres - Semifinals
The search for the best karaoke singer starts 1/18/2020, at Haven Acres! Prove to us that YOU are The Voice - Haven Acres!
When and where
Location
Rich Hogan's Haven Acres 1691 Frewert Road Lathrop, CA 95330
About this event
The Voice Haven Acres is a karaoke competition, voted on by guests of Haven Acres, with cash prizes for the final round on February 22, 2020. Below are the rules and procedures for the competition.
There are four (4) qualifying rounds, January 18, 25, February 2, 8, 2020. Three (3) contestants will move on from each qualifier to the semi-finals on February 15, 2020, and six (6) contestants will move on to the finals on February 22, 2020, for a chance to win cash prizes of:
Winner $300
Second $200
Third $100
RULES:
All contestants must submit a completed entry form either on Eventbrite or in person. Space is limited to ten (10) contestants per qualifying round. IF spaces are not filled prior to the qualifying date, the remaining slots will be available for in-person registration starting at 8 pm on the day of each qualifying round and will close at the discretion of the emcee/host and Haven Acres ownership/management.
The competition is open to solo performers only.
One contestant per entry.
Must be 18+.
The performance order is randomly picked.
Contestants will sing one (1) song during the qualifying and semi-finals rounds.
Each qualifier will have three (3) contestants qualify for the semi-finals on 2/15.
Semi-finals will have twelve (12) contestants selected from the four (4) qualifying rounds.
Six (6) contestants will move on to the finals on 2/22.
If a contestant is called to sing and does not show, their name will be called 2 more times. If, by the third time their name is called they do not check in with the emcee/host, they will be disqualified.
PRIZES
Cash prizes will be given to the top three (3) contestants who receive the most votes during the finals on February 22, 2020. Here is the breakdown of prizes:
Winner - $300
Second - $200
Third - $100
All decisions are final.
VOTING
Like your favorite TV talent shows, The Voice Haven Acres winners will be determined by votes cast by the guests of Haven Acres. Acres guests who make a purchase of food or drinks during the karaoke competition will receive a token to vote for their favorite performer. Guest receives one vote per purchase and can make multiple purchases. How guest cast votes will be described by the emcee/host multiple times during each round.
Votes are counted two (2) times for accuracy. Once announced the vote counts are considered final.
By signing up and participating, all contestants agree to these rules and procedures.
Haven Acres and Shining Star Productions reserve the right to amend, change, or alter these rules and procedures at any time without notice.