Event Information
Location
The National Mall and Saint John Paul II National Shrine
Washington, DC
Refund Policy
Refunds up to 7 days before event
Description
The official World Youth Day Cross makes its historic visit to Washington DC!
Featuring special guest speaker Sr. Miriam James and nationally acclaimed recording artist Steve Angrisano!
Learn more about Sr. Miriam, Steve Angrisano, and all our other special guests here!
The event is FREE to attend and starts at 9:00 AM on Saturday, August 25 at the Lincoln Memorial!
For more details visit our website! Our join us on Facebook and help spread the word!


---
Come take part in this once-in-a-generation celebration of the WYD Cross as it makes its first pilgrimage across the United States in twenty-five years! Youth, young adults, and families of all ages are invited to take part in this historic event. All participants should meet at the LINCOLN MEMORIAL no later than 9:00 a.m. From there a youth and young adult led procession of the Cross will proceed to several prominent monuments on the National Mall.
Next, the Cross will travel to the SAINT JOHN PAUL II NATIONAL SHRINE where there will be adoration, confession, veneration of the Cross, praise and worship music, a keynote address by a nationally acclaimed Catholic speaker, and a special "Panama Pavillion" celebrating the rich cultural heritage of Panama, host of the 2019 World Youth Day. The day will conclude with a procession of the Cross to a Sunday Vigil Mass at the Basilica of the National Shrine of the Immaculate Conception.
The event is free, but please register because it is necessary to have an accurate count for the national park service. Lunch tickets sold separately!
We encourage all those planning to attend to invite friends and to coordinate with local youth groups, parishes, and dioceses to arrange transportation.

Remember, bring plenty of water! And be prepared for hot summer weather!
See our website for more information and for a detailed schedule of the day's events, including the latest updates about speakers, musicians, and bishops attending: www.wydunite.com


~ ~ * * IMPORTANT * * ATTENTION * * ~ ~
Lunch tickets sold separately and must be purchased in advance! Boxed lunches will not be available for purchase on the day of the event!
All youth under the age of 18 must obtain parental consent and register through their family or authorized group leader. Group leaders MUST obtain parental consent for each person under the age of 18 in their group and be authorized to accompany youth by their diocese.
---
A brief history of the WYD Cross . . .

Often called the "Jubilee Cross" or "Pilgrim Cross," the wooden World Youth Day Cross has prominently stood at every World Youth Day since its inception and is an official restoration of the same cross Pope John Paul II first entrusted to youth over thirty years ago. Today, the WYD Cross continues its mission of calling forth young people from every culture, nation, and tradition and uniting them in their search for God and in their sacred mission of bringing Christ's sacrificial love to the heart of the modern world. In its first official return to the United States since the 1993 World Youth Day in Denver, the WYD Cross now comes to our nation's capital, to call all youth and young adults to bear witness to their faith.
Find out more at www.wydunite.com/about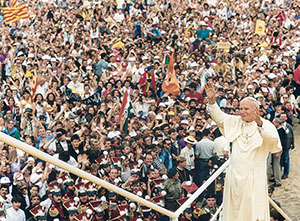 Come be a part of this historic occasion!


Come bear witness to the love of Christ in the heart of Washington D.C.!
---
FAQs

What are my transportation/parking options for getting to and from the event?
Parking is extremely limited in and around the National Mall and all those planning to attend are strongly encouraged to make arrangements beforehand and to plan on using public transportation to reach the Lincoln Memorial.
For those arriving by bus, there is a drop-off location near the Lincoln Memorial. All those continuing to the Saint John Paul II National Shrine in the afternoon are responsible for their own transportation, but a limited shuttle bus service from the National Mall to the Shrine as well as from a designated metro stop, which will be determined soon. For those without transportation, other options include Metro (see note below), Uber/Lyft, or carpooling with another group that is coming.
**IMPORTANT NOTICE TO ALL METRO USERS** The RHODE ISLAND AVE STATION AND BROOKLAND/CUA METRO STATION WILL BE CLOSED ON AUGUST 25 AND TRACK WORK DELAYS ARE EXPECTED ON THE BLUE, ORANGE AND SILVER LINES. See https://wmata.com/ for details and further information on shuttle bus services.

Where do I park?

There is limited, free parking at the Saint John Paul II National Shrine and ample, free parking at the Basilica of the National Shrine of the Immaculate Conception, which is about two blocks from the Saint John Paul II National Shrine.
Are there minimum age requirements to participate in this event?
Families, youth, and young adults of all ages are invited to attend! As with World Youth Day, the event is geared towards youth and young adults aged 16-35, but families and younger teens are also more than welcome at this event. However, all those under the age of 18 must obtain parental consent and be accompanied by an authorized group leader or legal guardian.
What should I bring to the event?
Water bottle, snacks, sunscreen, summer apparel, and appropriate footwear for walking. Expect hot summer weather!
Will there be food and drinks at this event?
Yes. However, there is no food on site except for boxed lunches that must be pre-purchased in advance on Eventbrite by Thursday before the event. Everyone must have a lunch ticket in order to receive food. Vegetarian and gluten-free options are available, but please indicate this on your Eventbrite order form. Free bottles of water will also be made available throughout the afternoon at the Shrine, but all those attending are encouraged to bring their own.
How can I contact the organizer with any questions?
Please direct all questions and inquiries to events@jp2shrine.org and we will be happy to assist you!
What's the refund policy?
Refunds are available up to 7 days prior to the event. All registrations that include a lunch meal option must be made prior to August 23.
Do I have to bring my printed ticket to the event?
Yes, please bring either a copy of your ticket or an electronic ticket on your phone to the event. Lunch tickets are required for all those expecting a lunch at the Saint John Paul II National Shrine!
MORE FAQs and information can be found at the www.wydunite.com.
Date and Time
Location
The National Mall and Saint John Paul II National Shrine
Washington, DC
Refund Policy
Refunds up to 7 days before event