The Visionary's Journey - Quarantime to Design Your Ideal Lifestyle
"Right Now! It's your tomorrow!" - Van Halen
Refund Policy
Contact the organizer to request a refund.
Eventbrite's fee is nonrefundable.
About this event
Have you been looking for a sign to make a BIG dream life decision?
This your sign.
Fulfilling your dream is closer to reality than you think.
(I'm looking at you, skeptics, perfectionists, and curious folk.)
It's time to focus, address your roadblocks, and envision your ideal lifestyle.
Join us for THE VISIONARY'S JOURNEY Workshop!
In this 4 part visioning deep dive, you'll learn a variety of ways to manifest your dreams - with less resistance and frustration.
We'll be focusing on a tool called a vision board. Don't worry - it isn't all woo woo magic. There are logical reasons vision boards work.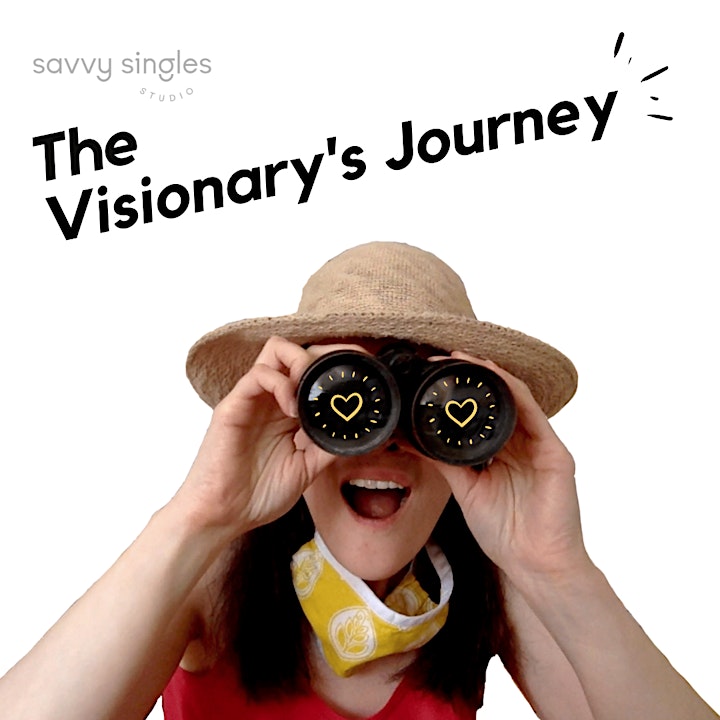 ARE YOU READY?
In this 4 day (online) interactive workshop you will:
Acquire tools to shift your mindset and focus on your desires.
Learn how visioning and manifesting works in real life.
Learn how to overcome negative self-talk.
Make your own vision board.
Connect and party with a small group of like minded people!
So you can:
Build higher self worth!
Connect with your purpose, and align with your ideal lifestyle.
Attract dream opportunities and relationships.
You should attend this event if you:
Are tired of the resisting your dream life!
Want to meet people who connect deeply with you.
Have awesome ideas and don't know how to make them happen.
Are a logical thinker who doesn't believe in magic.
Are a perfectionist who thinks you can figure it all out by yourself.
(Space is limited to 5 participants.)
WHAT'S THE PLAN?
We'll have video conferences each day. (You can call in too.)
7 PM Thursday 6/3 - Day 1: Demystifying the Vision + Choosing Topics (90 min)
7 PM Saturday 6/5 - Day 2: Overcoming Mindset Objections + Making a Vision Board (90 min)
Book a time Mon or Tues 6/7 or 8 - Day 3: Private Workshop Time + Q&A w/ Emily (45 min)
7 PM Wednesday 6/9 - Day 4: Living our Visions Party! (90 min)
GOT QUESTIONS? Book a call with me: FalcignoFoto.As.Me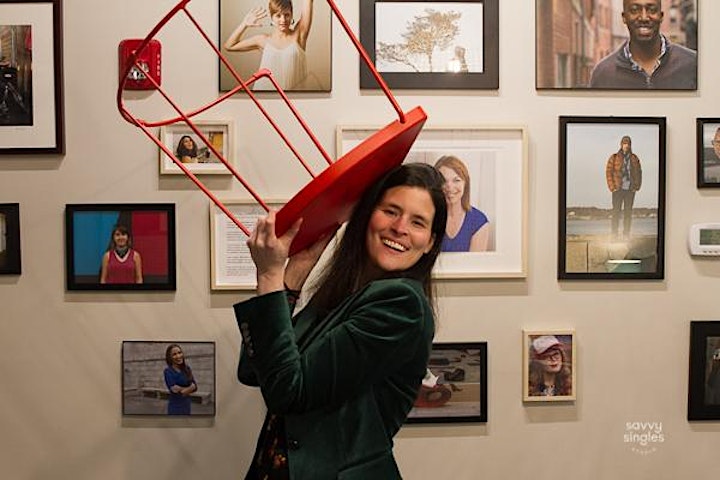 WHAT YOU WILL NEED:
Access to a computer and internet for Zoom video calls for the best experience. Alternatively, phone access will work. We will provide the links once you register.
We use Pinterest to demo vision boarding, but you can make a physical vision board with magazines, gluestick, paper. We will discuss various digital ways to make vision boards too.
To be open minded. To practice self-compassion. We accept you as you are, and encourage you to do the same.
GOT MORE QUESTIONS? Book a call with me: FalcignoFoto.As.Me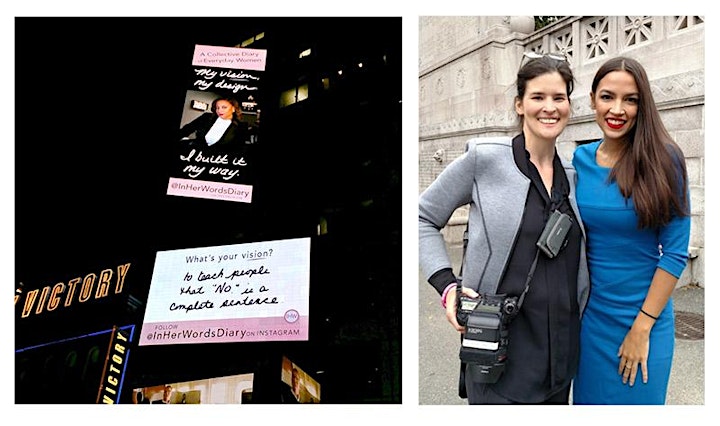 ABOUT EMILY FALCIGNO
Why am I a big believer in visions? In 2018, my photo series, In Her Words Diary, appeared on a billboard in Times Square. Crazy, right? Well it wasn't crazy, because I made a vision for it to happen. I also started my celebrity series 3 years earlier than I expected. In 2019, I aligned my visions to catapult my business to new heights. In early December 2019, I made a vision to have a pop up for Savvy Singles Studio at Bow Market some time in 2020. It came true on January 1st, 2020 at 2:52 AM!
Now I am the founder and lovestyle photographer at Savvy Singles Studio. Singles hire me to help them break up with bad selfies, learn to manifest their dreams, make new photos, and build photo strategies that help them attract their ideal lifestyle faster.
The photo above is me dancing in my ideal pop up lifestyle at Bow Market, my billboard in Times Square, and that time I photographed Alexandria Ocasio-Cortez for In Her Words Diary. Did you know her blue dress was a thrift store gift from a friend?
WHAT'S IT LIKE TO WORK WITH EMILY?
Vision to reality in 7 months:
"Emily was truly open and easy to engage with. Her encouragement was invaluable at opening up ideas and creative flow. I believe anyone thinking about doing a Vision Board would benefit from Emily's enthusiasm and easy to follow instructions." - Louise B., Sharing a dream home with friends. (May 2020)
** LOUISE's UPDATE**
"I am so very happy in my present home and I feel that though it's not my exact dream, it certainly ticks off most of the boxes.
I believe my visualization helped make this happen for me and I'd like to thank you for all your guidance and encouragement." (December 2020)
***********
"I loved Emily's Vision Workshops. She really motivated and inspired me to get to work on my ideas in a way that wasn't pressuring but rather very encouraging. I highly recommend them for anyone that is feeling creatively 'stuck' or even just needs a little push in the right direction." - Caitlin C., Producing a TV show.
***********
"I thought I knew how to vision board and what it was all about, but Emily taught me some new tricks. She not only helped me learn something important that I was missing, but she made it fun!" - Lorena P., Producing a movie from her book.
***********
"Emily created an open, warm and engaging environment for safe exploration and interaction among our small group. I'm not typically drawn to workshops, but I looked forward to each session to learn more about creating my vision with intention and hope. This was such a rewarding way for me to get focused, do some further self exploration and create a really exciting and specific vision in a fun and interactive setting! It was energizing!" Janet S., Loving life w/ the amazing love of my life.