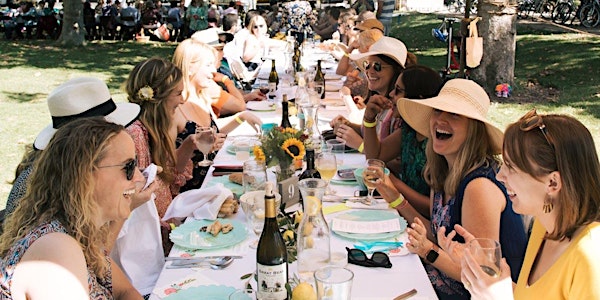 The Virtual Village Feast 2021
You are invited to attend the 2021 Virtual Village Feast!
About this event
IF YOU ARE TRYING TO REACH DETAILS FOR THE 2022 VILLAGE FEAST, PLEASE GO TO
https://thevillagefeast2022.eventbrite.com
......................................................................................................................
The Davis Village Feast celebrates the Sacramento-region Farm to Fork season where we gather to enjoy and honor the bounty of our local farmers. In past years we have met together for an afternoon of dining at a communal long table in Davis Central Park, in the style of a Provencal Grand Aioli.
Once again, this year, because of the pandemic, we are hosting the entire event online!
Saturday, Oct 9th, 1:00pm to 2:30pm PST
The event is free to attend; there are three ways to participate (we hope you will do all three):
1) An online auction with one-of-a-kind experiences and items donated by chefs, restaurants, wineries, and community members. The auction is now OPEN for bidding! Bidding will close at 6 pm PST, Oct. 9. Register for the auction and start bidding on items here at https://www.auctria.com/auction/VILLAGEFEAST Please register early, before the live Zoom event begins!
2) A live Zoom hosted event, where we will be celebrating community, sharing our private gathering feasts virtually, playing Trivia games, closing out the online auctions, all the while raising funds for our missions. Please click on the link below to join the live Zoom event:
https://us02web.zoom.us/j/85372845212
Zoom ID: 853 7284 5212 Passcode: aioli
The Zoom event will go from 1:00pm to 2:30pm PST, Saturday, Oct 9th. Please join a few minutes early. We will open the virtual doors at 12:45pm.
Note that you will need two devices: a computer or tablet to participate in the Zoom event, and phone or computer to bid on auction items.
3) Enjoying the Village Feast at home or in private gatherings. Where is a "virtual" feast without a "feast"? There will be several options for enjoying the Feast in private gatherings. We have once again partnered with local food providers and restaurants who are offering full Provencal-style prepared meals for pick-up or delivery, or ingredients to cook up a fabulous meal. If you are in Yolo county, be sure to stop by the Davis Food CO-OP to grab of local wine from their Village Feast inspired display.
Available now to sign up is...
Kitchen428 (Woodland, CA)
Call 530-661-0428 to place order (any day this week), full menu also available Thursday & Friday, and on Saturday only Special Menu available. Available for Pick up - Thursday & Friday 5pm-7pm or Saturday 11:30am-12:30pm all meals are hot and ready to eat. Orders must be pre-paid and an automatic 18% Service Charge will be added to all orders.
Special Feast menu ($36 per person) includes French Onion Soup with Asiago Crostini, French Bread Dinner Roll with Garlic Aioli, Chicken Confit with Sauce Vierge, Roasted Yukon Potatoes, and Haricot Vert. Additional dessert cheese plate available with local honey, fruit, nuts & crackers ($14). Bottles of local wines available are: Matchbook Chardonnay (Dunnigan) $40, Matchbook Tinto Rey Tempranillo (Dunnigan) $40, Turkovich "The Boss" Red Blend (Winters) $42
Who benefits from this Fundraiser?
Les Dames d'Escoffier Sacramento Chapter and Davis Farm to School are working together to support education programs around food and agriculture. Davis Farm to School provides garden grants, farm field trips and support for farm-fresh food in the schools. The Dames provide funds for women with children in the Saint John's Program for Real Change (a residential shelter with a culinary training program), as well as scholarships to women in food, wine, agriculture, and hospitality. All proceeds from The Village Feast go toward these missions.
Thank you to our Corporate Sponsors for supporting our missions!