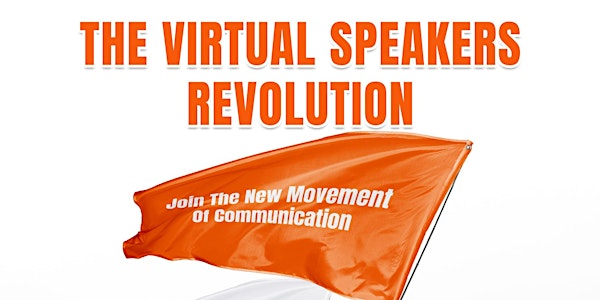 The Virtual Speakers Revolution
Learn advanced skills for speaking on camera
About this event
Never before has the workplace offered so much freedom and flexibility. The ability to work where you want, when you want, is now possible thanks to technology.
There has been a big cultural shift at work since COVID, with many companies recognising that having people commute to cubicles 5 days a week might not be the most productive way to work.
Whilst there are some definite advantages to being physically together, so much of our work can be done remotely and we can connect and collaborate virtually. The future is hybrid and you need to be equally comfortable communicating in-person and online.
For those who master the skills of virtual communication, there is an abundance of opportunities awaiting you. You can connect to new marketplaces, reach new clients and have a greater impact around the world. Not to mention that it opens up many personal freedoms. The ability to choose your own schedule, work around existing commitments and have a greater work life balance.
The transition to virtual has been tough. It was a forced mass experiment that none of us were prepared for.
Because of this, we haven't been taught the skills required to work and communicate effectively in this medium. Even after nearly three years of this new normal, there is still little training on offer to teach people how to not just survive, but thrive in the online world.
Virtual communication is going to be one of the most important meta-skills in the workplace this decade. Many industries will be adopting the hybrid approach and we need to make sure the workforce is ready for that.
I'm sure you've found it difficult to adapt during this time. In between keeping yourself safe from the virus, trying to earn enough money to survive the recession, home educate kids and all the other challenges we've had to face, when could you find the time to build your virtual speaking skills?
If you feel like you've struggled to keep up, then don't worry, there is still time to develop these necessary skills for the years to come.
I'm David McCrae, author of three Amazon #1 bestsellers and five time national public speaking champion in my home country of Scotland.

In March 2020, myself and all the other speakers in the industry watched our calendars get wiped clear. There was no work on offer.
A lot of speakers panicked, so I created a Facebook group to share with the people I knew on the circuit virtual alternatives they could offer: connecting with new audiences on Facebook Live, building a training library on YouTube, running workshops on Zoom.
For the last two and a half years, I have been helping speakers continue to share their message and make an impact online. My clients have spoken for TEDx, the NHS, HMRC, HM Prison Service and The Prince's Trust (all virtually!). The lessons that I have been sharing with them are now available for you in my latest book The Virtual Speakers Revolution.
The start of the 2020s has been one of the most chaotic periods in recent history, and it looks like we are still facing turbulent times.
One of the key things we need to do this decade is build our ability to adapt and pivot. We have no idea what is coming next, but we need to try and build as many options to respond as we can when the next challenge confronts us.
I would argue that the ability to communicate effectively is one of those key skills. It will serve you in many industries and help you whether you are a working professional or a business owner. Strong communication helps you stand out from the crowd, find new opportunities and have a greater impact with your work. It will help you enjoy the good times, and serve you when times aren't so good.
In this workshop, you are going to learn some of the advanced camera skills that will help you stand out on the virtual stage.
How to create more engaging content so that you can hold your audience's attention even when they are spending long days at their desk.
How to deliver in a more compelling way to build rapport with you audience so that you can improve team relationships and impress prospective clients.
There will be no drifting into inboxes and checking phones when you are speaking. When they see that you are running a meeting or delivering a presentation, they are going to get excited to hear what you are going to share. When a fresh face encounters you online, they are going to be looking you up to find out more.
In today's economy, it is more important than even to diversify your skillset and develop meta-skills that will serve you in multiple situations and industries. Building your virtual speaking skills now gives you freedom and flexibility in the future.
Start the work now, and it will pay off big time in the years to come.


Click the button to the right to sign up and start your training.