The Virtual Charge is an express workshop series with empowered women who are experts in their line of work - space is limited - sign up!
About this event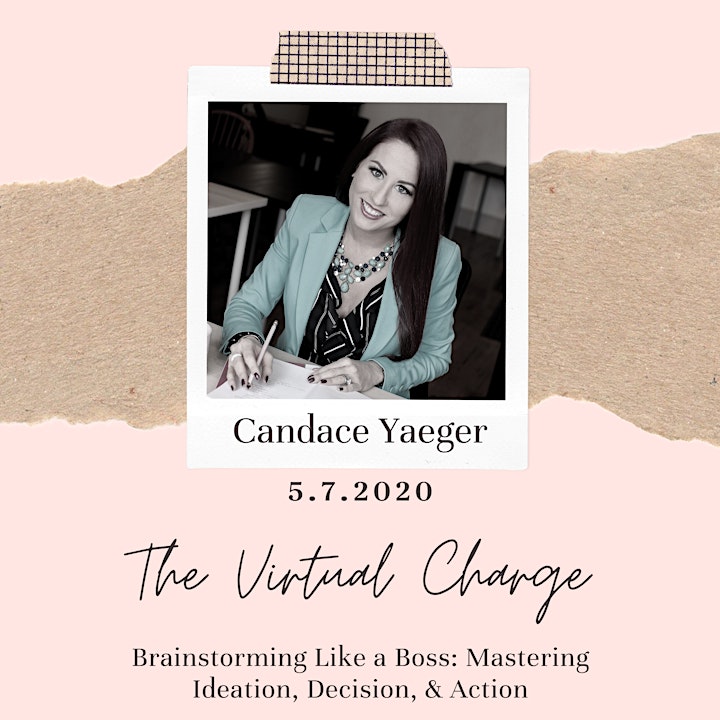 The Positivity Charge Presents: Brainstorming Like a Boss: Mastering Ideation, Decision, & Action presented by Candace Yaeger MBA MA
In just 30 minutes you can learn the process of brainstorming like a boss. Ever wonder how some people seem to constantly have great ideas and take action almost immediately while others are constantly stuck?
Whether you aim to pivot your business, launch a new product, or create a new business from the ground up, this workshop will help you learn how to ideate, brainstorm, prioritize, and take action like a boss.
Developed by Human Potential Expert, Candace Yaeger MBA MA, this process has been used successfully by aspiring entrepreneurs, serial entrepreneurs, fortune 500 executives, and teams running large organizations. Candace has developed this process using proven human behavior techniques, science-backed psychological tools, and practices used by some of the most successful entrepreneurs and CEOs. She has a Master's Degree in Psychology, where she studied workplace behavior, and a Master's Degree in Business Administration, where she studied entrepreneurship and innovation management.
In this workshop, you will learn:
- Brainstorming for innovation (it's not about the whiteboard!)
- How to know which ideas to ditch and which are diamonds in the rough
- How to effectively make any idea a reality
- How to create and prioritize action steps
- How to develop your Success Blueprint in 15 minutes or less
*The Positivity Virtual Charge is a free series - please register and a zoom link will be emailed you. Space is limited*
THE POSITIVITY CHARGE BELIEVES THAT COMMUNITY IS EVERYTHING! WE'RE FREE-THINKERS + TRAILBLAZERS + BOLD SPIRITS HERE TO SHIFT THE WELLNESS LANDSCAPE. WE DREAM OF A TRUSTING COMMUNITY OF WOMEN WORKING TOGETHER TO MAKE CHANGE IN THEIR LIVES AND THE WELLNESS INDUSTRY—FORWARD MOMENTUM CAUSED BY A COLLECTIVE POSITIVE MINDSET! WILL YOU LEAD THE CHARGE?