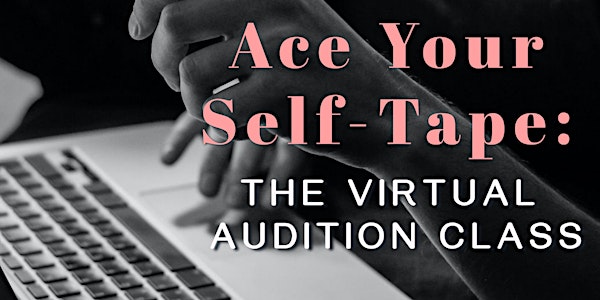 THE VIRTUAL AUDITION CLASS!
Join Casting Director, Erica S. Bream to practice your audition-via-Zoom muscles!
Refund Policy
Contact the organizer to request a refund.
Eventbrite's fee is nonrefundable.
About this event
WHY SHOULD I TAKE THIS CLASS?
1. Virtual Casting is here to stay (for the foreseeable future.)
2. Virtual (online) Auditioning is COMPLETELY different than self-taping or any other audition technique. Combine normal audition nerves with having to manage the technology and you have a whole new ball game.
3. This class gives actors a chance to practice auditioning via Zoom, with constructive notes, tips and tricks along the way.
4. Erica has run dozens of real virtual work sessions, producer sessions and even chemistry reads. She's seen it all.
This class will give actors a chance to practice their technique, one-on-one with Erica.
Actors will be assigned material and a mock-audition time/specs.
Actors will meet with Erica in a Zoom room to read. All "auditions" will be recorded and available for the class to view and learn from.
Erica will record some overall class notes and feedback, answer questions and provide info and context for the assignments.
Actors will have access to an online folder where all class work and recorded videos can be accessed. Erica will also post helpful clips, articles and reference.
This class will finish with a wrap-up Zoom where participants can join Erica to ask their questions live! (Don't worry, it'll also be recorded for those who can't make it.)
Here's what other actors have said about Erica's online self-taping classes:
I just wanted to say a huge thank you for this class! I always learn so much from you and leave your class feeling so empowered and inspired as an artist. I also really enjoyed this new format of doing things online and having one final zoom class!! Truly thank you thank you thank you from the bottom of my heart for this class and you!!! - Joyce L.
This class was badass; I'm so happy, after 2 waitlists, I finally got in! Your feedback was detailed and constructive, not harmful or damaging, while still gently pushing for high standards within our work. I personally really appreciated your approach, which was to see the artist in front of you and give feedback based on what they created, instead of only seeing the scene one way and giving the same notes to everyone. To see everyone else's self tapes AND their feedback was pure gold. - Rachel M.
I booked! This is the first self-tape I've ever booked from and I honestly think currently being in your class helped me with that. - Angel G.
Thank you for such a great class. I really had no idea what to expect from it and yet it still exceeded expectations I couldn't even think of. My biggest take away is the freedom I now feel in this self-tape/virtual casting process and willingness to take chances and say "fuck it." I've been doing self-tapes for many, many, many years now, but I feel so much more confident and way more prepared for any future live virtual auditions/call-backs. The whole process seems way less mysterious. - Sarah M.
I can't thank you enough for offering this class, Erica! I'm learning so much from you and love going back and re-filming these sides with your notes. It's not always easy to find a good acting teacher, but this class feels like I'm back in college. I love raising the bar and this class is doing that for me. - Joshua D.
I just wanted to say thank you for a superb class! The notes and feedback you gave were bang-on and very individualized to each actor. The online format of the class was surprisingly awesome. In a lot of ways, I think it's a better format for an on-camera class because we're watching in the same medium which casting is viewing our tapes, so you're able to observe finer details that you'd likely miss if it were an in-person group class. And I liked how intimate the class size was - it made it feel personal and it was beautiful and educational to watch everyone play and grow each week. - Autumn W.
For one thing, I have now been spiked with the absolute BEST CD WORKSHOP FORMAT ever. I loved getting to show my best attempt and having that reviewed, and getting to see the best that others had. And I actually felt like I walked away with things I could use at the next opportunity. I have to admit that despite my best efforts I come out of workshops feeling a bit drained…definitely not after yours. And of course I think I speak for everyone when I say that your warmth, attention to detail, and love of the craft really helped me level up and enjoy the process. - Heather W.
Just wanted to say thank you for such an incredible Sci-Fi class! It was such a pleasure getting to meet you, and I learned so much from you too! I also wanted to let you know how much I appreciated your teaching style. You are succinct and constructive, all while being supportive and uplifting! I know you spent a lot of time working on the feedback videos for class as well, so thank you for all of the time that you put in! This was a an absolute treat! - Josh G.
'Ace Your Self-Tape' was SO helpful to me -- I loved the material that you chose for me to read (it was well suited to my "brand" and I could tell you took the time to be thoughtful about your selections) and I really, really love the way you submit feedback. I felt very *seen* by you. It made me proud when you celebrated my successes and I learned so much through your adjustments and critical feedback. You're an excellent instructor with very helpful feedback that's easy to understand. Every time you gave an adjustment, it made me feel excited to try the material again. - Shannon C.
I've been cast in something! There's no doubt your class helped me. - Jeff B.
Class schedule:
Monday, Jan. 30 - final day to register or receive a full refund.
Thursday, Feb. 2 - Erica posts welcome video and class intro. First set of sides/appointment times sent out.
Thursday, Feb. 9, 12 - 2pm ET - VIRTUAL CASTING APPOINTMENTS (one-on-one with Erica)
Friday, Feb. 10 - Erica posts class recording and sides/appointment times for the next session.
Thursday, Feb. 16, 12 - 2pm EST - VIRTUAL CASTING APPOINTMENTS
Thursday, Feb. 23, 9am PT / 12pm ET - CLASS WRAPS UP WITH A LIVE ZOOM WITH ERICA!
All class recordings will remain available until Thursday, March 2nd.
Space is limited! Register today!
FAQs
What kind of material will we be working on? Do I need to provide my own?
Erica will provide all material. Week 1 will focus on roles with action and heavy stage directions; Week 2 will be about comedy.
What's the difference between this class and Erica's other classes?
Despite being part of Erica's ACE YOUR SELF-TAPE series, this class will not involve any self-taping! Virtual Auditioning is an entirely different muscle and as such, this class will consist entirely of one-on-one appointments and recorded lessons.
This class is also fully recorded, with a live Zoom at the very end to ask final questions and wrap up. As things get busier and actors have limited availability, this class will allow participants to engage with Erica virtually (via email,) receive feedback on their work and gain important audition/genre insights... all on their own schedule!
What if I can't make the Virtual Audition session?
Things come up and we get that! If you can't make your initial appointment, Erica will do her best to try to find an alternate time for your read.
Are there ID or minimum age requirements to enter the event?
Actors ages 16+ are welcome to join!
How can I contact the organizer with any questions?
Contact Erica's team by emailing: breamassistant@gmail.com
What's the refund policy?
Full refunds will be honored up until January 30, 2023. Due to the nature and timing of this class, no refunds (full or partial) will be paid out past this deadline.
Is my registration fee or ticket transferrable?
Sure! As long as you let Erica know who the new participant is by Jan. 30, you are welcome to transfer your registration to anyone else.
I need to discuss a payment plan... is that possible?
Absolutely. Contact Erica's team directly (breamassistant@gmail.com) to discuss details.