Description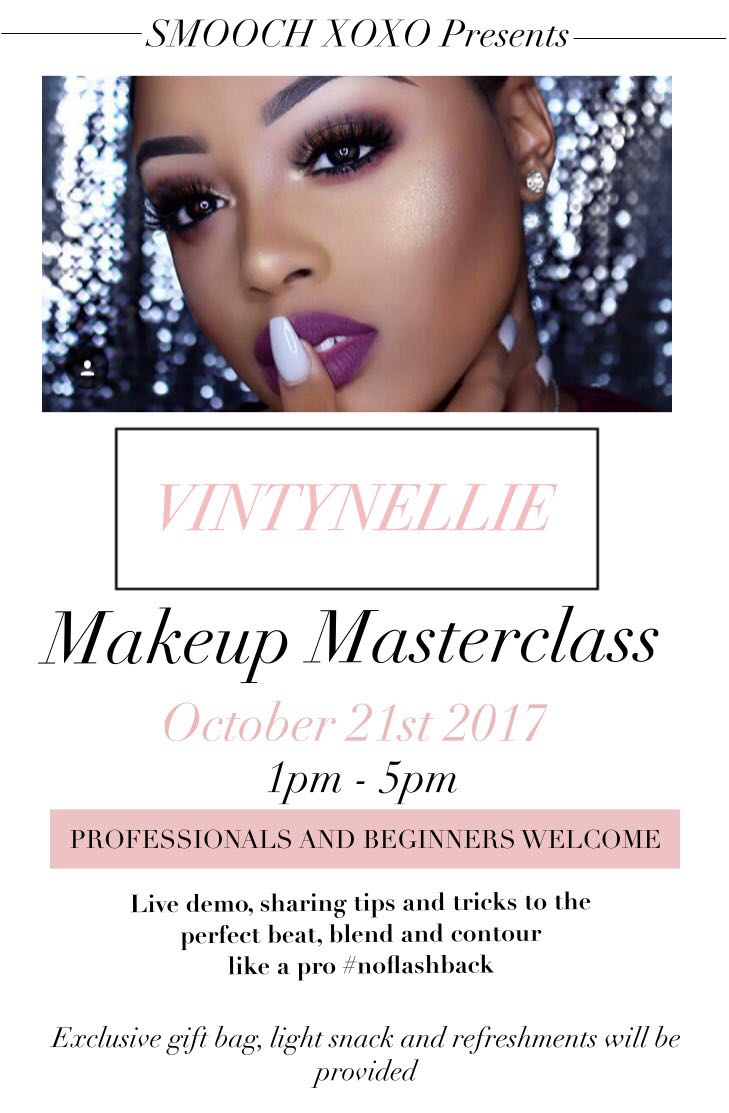 We bring to you VintyNellie's First Ever Makeup Masterclass! With over 160,000+ Youtube Subscribers and 27,000+ followers on instagram, VintyNellie will demonstrate how to SLAY your makeup everyday.
Showing you how to go from Everyday makeup to GLAMsquad - You can not go wrong.
Whether you are a beginner, just starting out, want to learn how to do your own makeup or you're going down the route of becoming a Make Up Artist - this is where YOU need to be at!
* Due to high demand, seating is VERY limited.
* Live demonstration showing you how to perfect your makeup skills and Q & A to ensure you ask those all important questions. There will be some great, tips and ticks on how to get Vinty's signature look.
* You will be given the opportunity to ask questions about her journey.
* The use of trending products such as Fenty Beauty will also be used to ensure you stay on top of your GAME!
*The secrets behind having a flawless foundation
* The low down on the best way to apply those savvy lashes
* The all important Brow game
* The best setting sprays for different skin types
* Great techniques for Baking/cooking - NO FLASH BACKS AROUND HERE
* Best Camera Settings and how to take those BOMB quality pictures for instagram
* Vinty will share how to grow big on social media
* You will be able to meet & greet with Vinty and take pictures
* VIP & Standard Goodie bags to be given on the day.
* light snack and refreshment will be served
* Giveaway on the day
*Special ANNOUNCEMENT to be made
* Bring a pen and paper ;)
#VINTYNELLIEXSMOOCHXOXO
*No REFUND and ID required on ENTRY
Under 13 must be accompanied by a paying ticket holder, parent or guardian who is over 18 years