Description
The Veterans Group is hosting its 2nd Annual Car Show on Saturday, November 11, 2017, at the Battleship New Jersey! A tour of this magnificent ship is included with your registration!
This year, we will be raffling a beautiful 1969 Chevy Corvette Stingray. The lucky winner will be randomly selected at the show on November 11, 2017.
Car Show Details
Date: November 11, 2017
Time: Noon - 3:30 PM
Location: Battleship New Jersey, 100 Clinton Street, Camden, NJ 08103
Car Registration
To register your car, you can purchase tickets here! Click on the "TICKETS" button above and select your registration type. Alternatively, you may print the form below and send it in with a check or money order to The Veterans Group. Simply right-click the image, click "Save Image As" and then print from wherever you have saved the form on your computer.
Proceeds go to benefit the resident Veterans of The Veterans Group to provided housing, warm meals, access to educational programs, PTSD care, and recovery, and job training.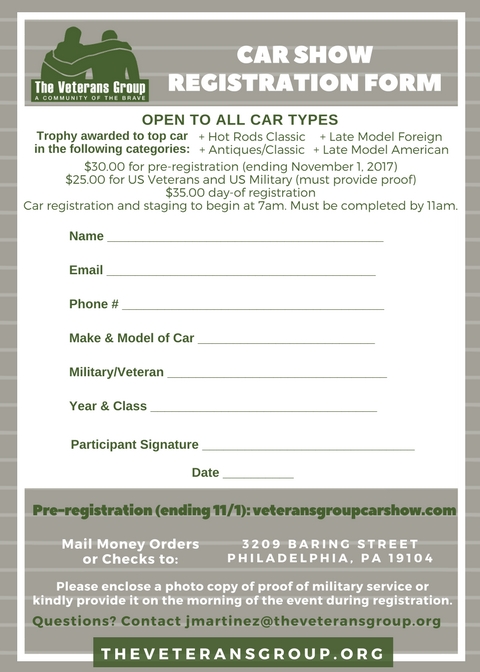 The Veterans Group
The Veterans Group is a 501(c)3 nonprofit organization operating two homes in the University City section of Philadelphia, PA. We house up to 41 Veterans in a warm, family-like atmosphere where we work with them to develop and achieve their goals through personal individualized education plans. We empower our residents by providing support and guidance ranging from their basic needs, such as housing and warm meals, to access to educational programs and job training. Our ultimate mission is to empower these Veterans, who might otherwise stand forgotten, to achieve success in the civilian society they fought so valiantly to defend.

Car Show Disclaimer
By submission of this registration the "owner" of the stated vehicle releases The Veterans Group from any liability associated with, but not limited to, damage or theft of the stated vehicle or any other personal property of the "owner" or the parties in affiliation to the "owner" as well as injury or death to the "owner" or the parties in affiliation to the "owner" in transit to the event, while anytime at the event, or in transit from the event.