Description
ANNOUNCEMENT OF THE VELVET REUNION AT THE BOHEMIAN NATIONAL HALL
A night of celebration for the anniversary of the Velvet Revolution on November 17, 1989.
EVENTS THROUGHOUT EVENING
Discussion:
6PM - 6:45PM: Professors from universites in New York City, Professor Claire Nolte of Manhattan College, Professor Rosemary Wakeman of Fordham, Professor Thomas Ort of Queens College, Professor Mauricio Borrero of St. Johns, and Professor Katherine Pennce of Baruch, discuss the importance and significance of the Velvet Revolution in the grand scheme of communism's fall in the Eastern Bloc and Soviet Union.
Film:
7PM - 8PM: The film 1989 As Seen By Photographers uses archival material from Prague during The Velvet Revolution to explore the inner obstacles and emotions of the event.

PANEL AND FILM ARE ON A FIRST COME FIRST SERVE BASIS
Exhibition:
7PM - 11PM: "The Velvet Revolution in Photographs" by Pavel Stecha. A series of photos by Stecha depicting the personality of Vaclav Havel and euphoric Czechoslovaks celebrating a sense of justic during the Velvet Revolution.
Theater:
8PM - 9:15: "The Vanek Plays," A series of plays by Valcav Havel that parallel the obstacles of life under a totalitarian regime brought to you by the studio of Myka Alexis Cue.
Stand-Up Comedy
9:30 - 10PM: The 7th installment of the CCNY flagship project, Prague-NYC Effects. Mirenka Cechova, Robert Janc, and Quentin Heggs meet to explore the differences between Czech and American life through three styles of stand up comedy from ironic storytelling, clown humuor, and improvisational stand up.
Live Music:
10PM - 11PM: Simone performs the music that inspired the Velvet Revolution with the hits of the Velvet Underground.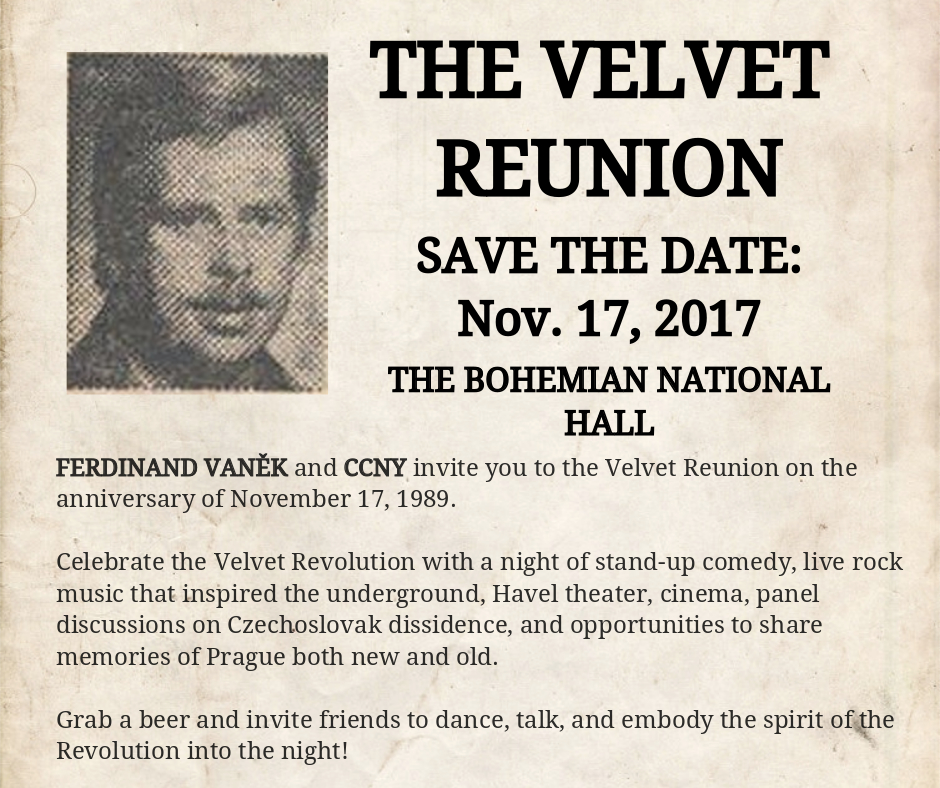 The Velvet Revolution marked the end of Communnism in Czechoslovakia after student protestors packed the streets of Prague, forcing the Communist governement to seize power.
Pictured below is Vaclav Havel, leading dissident voice in the the Velvet Revolution, playwright, and first President of the Czech Republic.
The name Ferdinand Vanek was Havel's stage name in theater. A birthday annoucement for Vanek was posted in the popular Communist State newspaper, Rudém Právu. Havel was a known dissident in Czechoslovakia, so the paper's annoucement suggested that the Communist state supported a celebration of him, even while they outwardly condemned all of his work against the state. This publication helped to spread the face of Havel and continued to make him a popular symbol in the fight for civil liberties against the state.
Original Rudém Právu post: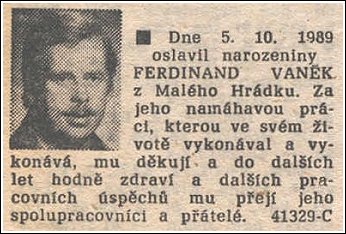 ---
Please arrive at least five minutes prior to showtime.
Empty seats will be released to standby patrons after that time.