Description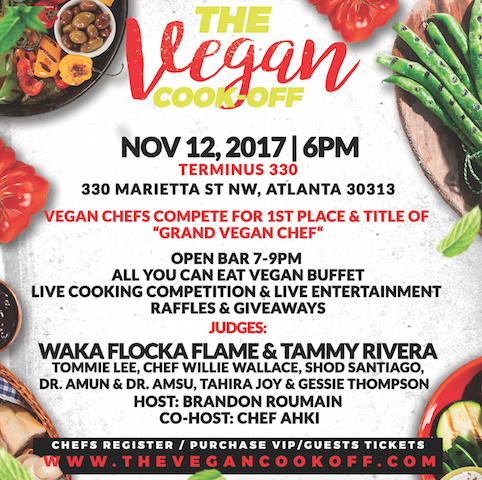 On November 12th 2017, 'The Vegan CookOff' will be hosting the first of its kind vegan chef "head-to-head" competition in Atlanta, GA. The event will consist of 10 chefs competing in three heats to present their best vegan appetizer, entrée and dessert dishes.
The event will be held at one of Atlanta's premium downtown event spaces 'Terminus 330' which is centrally located within the heart of Atlanta's premier attractions; the GA Aquarium, Phillips Arena and the New Mercedes Sports Arena.
The Vegan Cook Off in essence is a live culinary competition show where multiple vegan chefs will compete against each other in front of a celebrity panel of judges for the illustrious prize of "Grand Vegan". The competition will consist of 10 culinary chefs that will face off to create one of a kind, organic, all vegan dishes for the Judges / VIP guests to judge. Guest will tantilize their tastebuds trying the selection of vegan tapas from the sample buffet catered by Celebrity Chef Willie Wallace.
What is included?
- 2 Hour Open Bar from 7-9pm
- Unlimited Vegan Buffet "All You Can Eat"
- Live Entertainment
- Raffles & Giveaways & Silent Auction
- Competition Show & Educational Segment from Holistic Doctors - Dr. Amun & Dr. Amsu
- Turn Up with us at The After Party
This event is not only designed to appeal to veteran vegans, it will also attract those new to the lifestyle, or even those curious of what the vegan hype is all about.
Everyone agrees the hardest part of being Vegan is knowing what to eat, and how to prepare it. Attendees to our event will watch as we tackle both issues through; creative yet informative presentations, creative vegan recipes, giveaways, and of course the live cooking competition. Everyone will learn something new!

Vegan or not, all are encouraged to experience the modern quality food and spectate some of Atlanta's top vegan chefs battle it out to see who will become the winner of "Grand Vegan" & "People's Choice".
This will be a night of prestige. Celebrities to include: Rapper - Waka Flocka Flame, TV Personality - Tammy Rivera, TV Personality - Tommie Lee, Radio Personality - Shod Santiago, Chef Ahki, Celebrity Chef - Willie Wallace and many more. Guests will enjoy a mouth watering vegan buffet prepared by celebrity Chef Willie Wallace. Along with a two hour open bar, raffle, giveaways and musical entertainment.
Holistic Doctors of AMA Health, Dr. Amun & Dr. Amsu will be judging and educating the audience on the proper diet for a healthy mind and body.
Host: Brandon Roumain
Co-Host: Chef Ahki
Chefs Must Complete Regristration in order to compete in cook off.
Click here for regristration form.
The event will end with an After Party!
This is an event you don't want to miss.
FOR VENDOR OPPORTUNITIES EMAIL US: thevegancookoff@hotmail.com