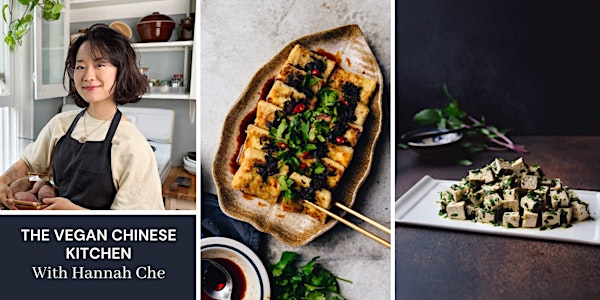 The Vegan Chinese Kitchen with Hannah Che
Guest chef Hannah Che is here to teach you when and why to press, along with poaching or freezing your tofu before cooking with it.
Refund Policy
Contact the organizer to request a refund.
About this event
NOTE: iphone and ipad users, CLICK HERE to register for class.
If you think that Chinese food always includes some amount of pork, beef, shrimp or other animal products, you haven't met Hannah Che. Hannah's newest cookbook, "The Vegan Chinese Cookbook," illuminates the vast array of vegan options in Chinese cooking. In this class we'll focus on tofu—and specifically, we'll focus on making tofu that doesn't feel like a second-class meat substitute but like the versatile, delicious ingredient that it is. First, you'll get a primer on what tofu is, what to look for when shopping and when to choose silken, soft or firm. Then, you'll learn when and why to press, poach or even freeze your tofu before cooking with it. With all that information in hand, it's time to cook. You'll achieve crispy, golden-brown tofu slices as you make Hannah's pan-fried tofu. You'll add protein and texture to a warming bowl of noodles that also features plenty of vegetables, chilies, five-spice powder and homemade shallot oil. Finally, you'll let tofu be the star of the show in a five-ingredient salad or side dish that you can whip up in under twenty minutes. Join us for this class if you already love tofu and want more inspiration, or if you're waiting to be convinced that tofu deserves a spot on your standard shopping list. Hannah's recipes and techniques will convince you—guaranteed.
About Hannah: Hannah Che is a chef, recipe developer, food stylist, photographer, and author of The Vegan Chinese Kitchen. Born in Ann Arbor, Michigan to Chinese-Korean parents, she trained as a pianist for most of her life and received two degrees in music performance from Rice University before moving to China to become a chef. She graduated from the Guangzhou Vegetarian Culinary Institute and has been working professionally in restaurant kitchens since then (fun fact: she once worked at Din Tai Fung, where she was the first female wok chef in the company's history). Currently she is based in Portland, Oregon, and will be opening up her first pop-up in October 2022. Her food is informed by tradition and inspired by seasonal produce, her vegan lifestyle, and her cross-cultural heritage.
Use code MILK2022 to get 10% off your copy of Hannah's new book, "The Vegan Chinese Kitchen: Recipes and Modern Stories from a Thousand-Year-Old Tradition: A Cookbook"
Want to give this class as a gift? You can purchase gift cards here.
Bonus: All attendees of this class will receive a one-time 15% off coupon to the Milk Street Store after class.
This event has limited spots, and you must register in advance via Eventbrite. One sign-up covers one device. Closed Captioning is available for this event.
Immediately after registering, you will get a confirmation email that contains the Zoom meeting log-in information. One week prior to class (or within 48 hours of registering, if you sign up less than a week in advance), you will receive an email with the ingredients, equipment and prep you'll need to cook along with us, if you choose.
After class, you will receive a recording of the event, as well as a folder of recipes and resources that we discuss during the event. Class recordings are available to all registered attendees for two weeks following each event.
Payments for Milk Street live stream classes are non-refundable. If you find yourself unable to attend, you may transfer the ticket to someone else, but we are unable to refund fees and all payments are final. Classes are subject to cancellation at any time. In the case of cancellation by the event organizer, all paid tickets will be fully refunded.
Proceeds from live stream cooking classes support Milk Street's non-profit work with The Big Sisters Association of Great Boston, The Boys & Girls Club of Dorchester, and other partners.
If you have any questions about this class, please don't hesitate to get in touch via cookingschool@177milkstreet.com.