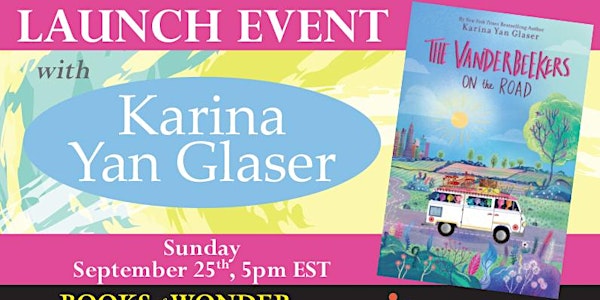 The Vanderbeekers Are Back in Action! Meet KARINA YAN GLASER
Join Books of Wonder and KARINA YAN GLASER for her highly-anticipated book launch! It can only be The Vanderbeekers: On the Road!
When and where
Location
Books of Wonder 42 West 17th Street New York, NY 10011
About this event
SUNDAY, SEPTEMBER 25th AT 5:00PM EST
KARINA YAN GLASER, New York-based storyteller extraordinaire, is the star author of our long-awaited LAUNCH EVENT at Books of Wonder! Find the newest chapter in the story of the Vanderbeekers family — it can only be The Vanderbeekers: On the Road!
In this new adventure in the New York Times bestselling series, our beloved Harlem family is putting the VAN in Vanderbeekers as they hit the highway to give their dad the best birthday surprise EVER! Recreating a road trip Papa never got the chance to take with his own father, the whole crew is packed and ready for a cross-country adventure.
Exploring themes of leaving home, embracing change, and the lessons to be learned when we go to a new place, The Vanderbeekers: On the Road is every bit a journey! This special event will not only give you and your young readers the chance to meet Karina at our 17th Street bookshop, but you can also pick up your Signed & Personalized pre-orders in-person, too!
Can't join us in-person? Don't worry — you can watch the live event online via Crowdcast! Register here.
WHAT YOU NEED TO KNOW TO JOIN US:
We recommend RSVPing to attend! RSVPing here guarantees entry for the event, if you are among the first 100 registrants. Please make sure to RSVP for your full party, including any and all children.
Please note that there will only be 100 RSVPs available. Guests who have RSVPed must arrive by 4:50PM in order to claim their spot. After that time, the reserved seat will become available to walk-up guests.
All attendees over the age of 2 will need to wear a mask while in the store, as per NYC guidelines for live indoor events.
Remember: if you are not feeling well please do not attend this event!
If you have any questions about the event or any of these guidelines please be sure to reach out to us at customerservice@booksofwonder.com
MEET KARINA!
Originally from California, Karina Glaser came to New York City for college and has stuck around for over twenty years. She has had a varied career teaching and implementing literacy programs in family homeless shelters and recruiting healthcare professionals to volunteer in under resourced areas around the world. Now as a mother, one of her proudest achievements is raising two kids who can't go anywhere without a book. She lives in Harlem with her husband, two kids, one dog, and three cats.