Description
This event is FREE for members - To register, click the 'Tickets' button and select 'Enter promotional code' to use the code sent to you via email. Not sure if you are a member, or didn't get the email? Log in to the http://www.pssigchi.org website to check your status.
General Admission (non-members) can register for $7.50 per ticket. Paid tickets are nonrefundable.



Please join us for an evening with Nathan Shedroff - co-author of the new book Blind Spot.
Designers often have an uneasy collaboration with our "business" peers because, among other things, we focus on different types of value and we think of experiences in different terms. Designers have specific skills that are increasingly critical to business success and customer satisfaction, alike.
For way too long, business has been focused solely on features and price—especially in the tech industry. Unless your business wants to compete only on price (and that's a harsh business), you need to learn about what builds and drives relationships and you need new tools that help you design relationships. In the new book BLIND SPOT, Nathan describes a new tool that comes from music composition, called the waveline, and how it can help organizations increase their value in the market.
In this talk, Nathan will dissect what the waveline is, how it builds on the activities you're likely already doing, and how you, as a member of a UX team, can bring this tool to your work.
SCHEDULE
6:30 PM: Doors open
6:30 - 7:00PM: Food, drink and networking
7:00 - 8:00 PM: Presentation with Q&A
8:00 - 8:30 PM: More food, drink and conversation
8:30 PM: The event concludes
About the Speaker:
Nathan Shedroff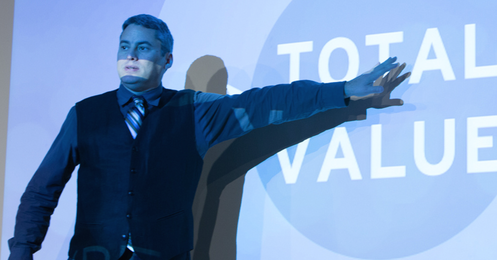 Nathan Shedroff is a thought leader in the areas of business, innovation, design, and sustainability. As the founder and chair of the ground-breaking Design MBA program at California College of the Arts (CCA) in San Francisco, CA, he's created a successful reimagining of what a business degree for the 21st Century can be. This approach prepares the next-generation of innovation leaders for a world that is profitable, sustainable, ethical, and truly meaningful by uniting the perspectives of systems thinking, design thinking, sustainability, and generative leadership into a holistic strategic framework. He's started several companies, including vivid studios, one of the first Web services firms on the planet.
See more about his work at http://nathan.com/
Paid tickets are nonrefundable.
Thank you to our food & beverage sponsor for the evening: