Sales Have Ended
Ticket sales have ended
Thanks so much for buying a ticket to The Vagina Festival, we cannot wait to see you there! The Zoom link will be forwarded to all ticket holders a few days before the event. Follow us on insta @vaginafest @vavawomb_ @myhairvagandme
Sales Have Ended
Ticket sales have ended
Thanks so much for buying a ticket to The Vagina Festival, we cannot wait to see you there! The Zoom link will be forwarded to all ticket holders a few days before the event. Follow us on insta @vaginafest @vavawomb_ @myhairvagandme
Celebrating vulva diversity, vagina honesty and body empowerment through storytelling, spoken word and visual arts.
About this Event
The Vagina Festival!
We are so vvv excited (and that's not an ovary reaction) to be holding our very first virtual VAGINA FESTIVAL!
'The Vagina Festival' is an all inclusive night of storytelling, poetry and art, all in the name of celebrating body honesty and raising money for the incredible charities, The Eve Appeal and MRKH Connect. Featuring the incredible spoken word artist, Miss Yankey, vagtastic performer My Hairy Vag and Me and special guest Hollie McNish plus a beautiful bunch of open micers and body positive artists showcasing their work. This is set to be a night to remember.
Get involved:
Open mic applications are now closed.
You can still email thevaginafestival@gmail.com if you're an artist interested in showcasing your work at the event or on our social pages.
The charities:
The Eve Appeal is the leading UK national charity funding research and raising awareness into the five gynaecological cancers – womb, ovarian, cervical, vulval and vaginal.The Eve Appeal were set up to prevent gynaecological cancers and save lives by raising awareness and funding ground-breaking research focused on developing effective methods of risk prediction, earlier detection and developing screening for all of the five gynae cancers. The world-leading research that we fund is ambitious and challenging but our vision is simple: A future where fewer women develop and more women survive gynaecological cancers.
Follow on social media: @eveappeal
MRKH Connect was founded under the principle that no one with Mayer Rokitansky Kuster Hauser (MRKH) Syndrome should ever feel alone. It's mission is to connect those with MRKH together and provide a safe and secure platform for anyone with MRKH to share experiences and chat together ensuring that there is always someone to talk to who understands or can relate. Additional support to those with MRKH and their families and friends is provided through public resources and outreach activities to raise and improve awareness of the condition.
Follow on social media @mrkhconnect
The feature poets: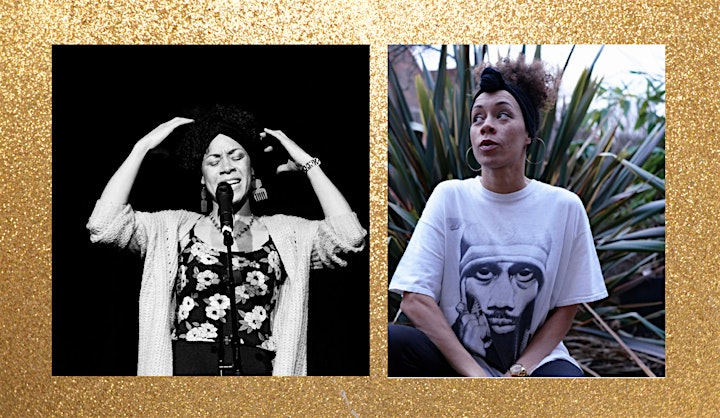 Miss Yankey is an international spoken word artist, published poet, writer, host, workshop facilitator and public speaker. She doesn't stop there- this power-house of a woman is a fierce activist, ,mental health advocate, women's rights advocate, mentor AND international slam champion. Quite the list right!?
Having been to one of Miss Yankey's workshops 'Poetry Prescribed' and witnessed her hosting events such as 'Mind Over Matter' in London, this event and celebration of vaginas would not have been the same without her energy.
Follow on social media: @missyankey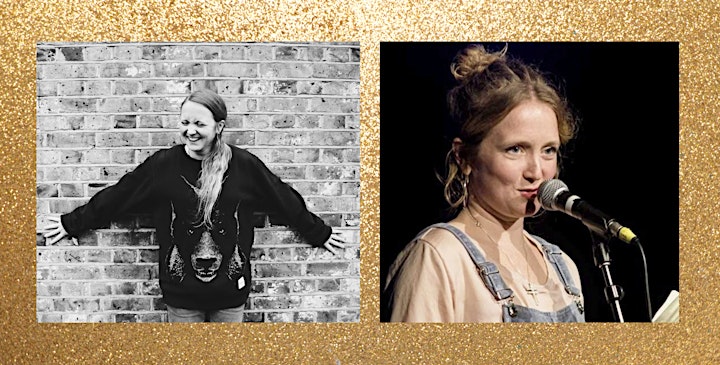 Hollie is a writer based between Glasgow and Cambridge. She has published four poetry collections Papers, Cherry Pie, Plum, Slug, one play Offside and one poetic memoir Nobody Told Me, of which the Scotsman suggested "The world needs this book" and for which she won the Ted Hughes Award for New Work in Poetry. She was the first poet to record at Abbey Road Studios.
Her poems have been translated into French, German, Spanish, Hungarian, Polish and Japanese and she has performed them worldwide alongside the likes of Irvine Welsh, Kae Tempest, Jackie Kay, Helen Pankhurst and Young Fathers. Her new title – Slug: and other things I've been told to hate – is published in May 2021 with Fleet, Hachette, available now to pre-order.
As well as live readings, Hollie is a big fan of online accessibility – her poetry videos have attracted millions of viewings worldwide. We couldn't be more excited to have this poetry powerhouse join us for our feminist soiree.
Follow on social media: @holliepoetry
The Organisers:
We (Ellamae AKA Va Va Womb & Emilie AKA My Hairy Vag & Me) are two vagina enthusiasts who met at The Va Va Womb/Femigami Vulva Festival!
Both lovers of words, poetry and creativity- and of course shaking the vagina stigma, we have curated a whole festival dedicated to gynaecological rhythm and storytelling.
Va Va Womb was Founded by Ellamae Fullalove who was born with a rare gynae condition called MRKH (hence MRKH Connect is very close to her heart!) that affects 1 in 5000 women. It essentially means she was born without a vagina, womb or cervix. After years of secrecy Ellamae opened up about her condition online about 3 years ago, and has been shaking stigma ever since with her poetry and online platforms Va Va Womb and Mind Over MRKH. She has co-hosted events such as the Vulva Festival with @femigami and hosts regular body positive writing workshops with self-explore-seekers- She dips into the occasional piece of art… usually surrounded by mess and glitter.
Follow on social media: @vavawomb_
After studying psychology and publishing an award winning paper on vaginas- she had a calling...and has been on the cutting edge of vagactivism and vagina poetry in London and across the UK ever since. Her poetry has been seen inside London taxis, heard on podcasts, watched on Sky Arts and listened to at many a badass feminist event. She aims to normalise conversations about bodies through humour and honesty. Cos there ain't nothing wrong with a vagina peeps!
Follow on social media: @myhairyvagandme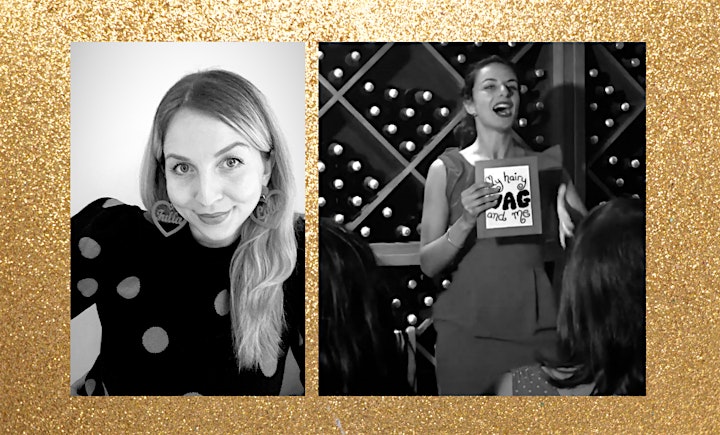 FAQs
I want to perform, what do I need do?
Please fill out this form to apply: https://forms.gle/Yu6sLB5rrjUvnFek8 Please note that we've implemented an application process for open micers to ensure that we hear from a diverse a group of performers with a range of life stories and experiences.
I am a vagina/vulva body positive artist and I want to be part of showcasing my artwork.
This event will be focused on poetry but we do want to support the wider world of arts along the way. If you would like to submit a short video of your art work to us please email thevaginafestival@gmail.com for more information.
How do I login to the event?
The Zoom link and password will be emailed to all ticket holders 3 days prior to the event. As we have a limited number of spaces, please do not share the Zoom link with other users.
When do I need to login?
The virtual show starts at 6.30pm- so please arrive/log in between 6.20-6.30pm.
Where does the money go?
Our charities (The Eve Appeal and MRKH Connect), the performers and vagina festival administration fees.
How long are open mic spots?
Open mic spots are a vagtastic 3 minutes long so make sure you time your piece/pieces beforehand.
Are there ID or minimum age requirements to enter the event?
There is no minimum age requirement however, please be aware that the themes covered over the course of this show may not be appropriate for everyone. Be prepared to hear about vaginas, sex, vulvas, bodies, trauma, illness and more- we are a filter free festival. Please email us if you have any questions: thevaginafestival@gmail.com
How long is the event?
Up to 1 hour 45 mins
Code of conduct
We will not accept bullying, racism, transphobia, homophobia or any form of hate speech at our online event. You will be removed from the online event if you go against this conduct.
Support during the event
This event is a stigma free zone and we appreciate subjects could be triggering, if you are affected emotionally by anything you hear please reach out to us privately and we can sign post you to various mental health charities for support.
What if I get a ticket and can't make it?
All profits from ticket sales are going to the charities (The Eve Appeal and MRKH Connect) and therefore tickets are non-refundable. We are happy however, for you to re-sell your ticket by forwarding the link to someone else who may want to buy it off you! Message us if you need any help re-selling, we are here to spread the love and don't want you to lose out on money.
Support and resources
If you want to be added as a resource on our future event pages just email us at thevaginafestival@gmail.com
Privacy
We may take photographs during event for promotional material, so please take this into account when being on camera.
Contact
Email: thevaginafestival@gmail.com
Instagram: @vaginafest
Date and Time
Location
Refund Policy