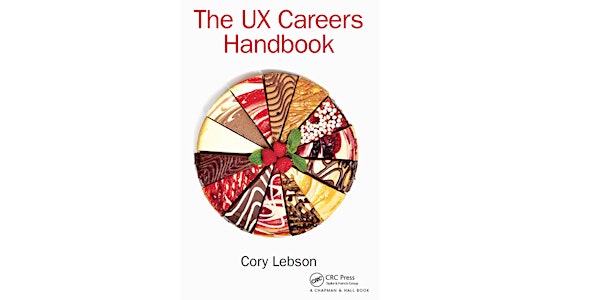 The UX Careers Handbook: Finding Success in your UX Career
When and where
Location
Mad*Pow 179 Lincoln Street 5th Floor Boston, MA 02111
Description
Join UXPA Boston for our monthly meeting at Mad*Pow, sponsored by Mad*Pow and Brandeis Graduate Professional Studies (Brandeis GPS) programs .
Please bring an ID to check-in with security. RSVP is required by our host company.

---
The UX Careers Handbook: Finding Success in your UX Career
On the menu for the first Boston UXPA's October event is Cory Lebson, who will serve up the delicious secrets to success in the UX job market.
Special offer! All attendees will get a complementary 3-month membership to LinkedIn Learning / Lynda.com (thanks to LinkedIn for sponsoring!) and can also purchase a discounted copy of the book in advance (links to separate Eventbrite to only purchase the book, please still signup here for the event). Have it signed by Cory when you receive it at the event!
If you're a job seeker, learn what it takes to succeed as a UX professional. Explore the multitude of career pathways available to you. Find out how you can frame yourself solidly as a UX-er through learning, personal branding and networking.
And if you're an employer or recruiter, learn how you can craft your job descriptions to find experienced UX-ers instead of elusive unicorns.
Cory's talk will cover:
What kinds of UX jobs are available

How to write/identify a good job description

How to successfully apply for a UX job

How to identify a good candidate and recognize a great UX portfolio

Understanding and become part of the UX community to find/advertise your talent

Help existing UX staff grow professionally
The UX Careers Handbook offers an insider's look at how to be a successful User Experience (UX) professional from comprehensive career pathway descriptions to learning, personal branding, networking skills, building of resumes and portfolios, and landing a UX job.
Cory Lebson

Cory Lebson (@corylebson), author of The UX Careers Handbook (CRC Press, 2016) has been a user experience consultant for over 20 years. He is the Principal and Owner of Lebsontech LLC where he is focused on user research and evaluation, user experience strategy, UX training, and mentoring.
Cory also speaks frequently on topics related to UX career development, user experience, user research, information architecture, and accessibility. He has been featured on the radio and in addition to his recent book, has published a number of articles in a variety of professional publications.
Cory has an MBA in marketing and technology management, as well as an MA in sociology and a BS in psychology. He is a past president of the User Experience Professionals Association (UXPA) International and is also a past president of the UXPA DC Chapter.



Agenda

6:30 - 7 PM – Networking and Refreshments

7 - 7:15 PM – Introductions

7:15 - 8:15 PM - Presentations

8:15 PM - Q&A

Getting There
NOTE: The visitor on Surface Rd., not on Lincoln St. The Lincoln St. entrance is for employees only.
Parking info

There are 2 hour meter spots available on Lincoln Street

Garage at 125 Summer St. (entrance at 6 Lincoln St.)

Garage at Two Financial Center (entrance at 236 Essex St.)

Garage at 745 Atlantic Avenue (entrance at 180 South St.)

Maps/Direction links
From South Station (T, Commuter Rail, and Bus):
Walk South on Atlantic Ave.

Turn right on Beach St.

Walk past Lincoln St. Take a left at the next street, Surface Rd.

Turn left, the entrance is on the left and marked 179 Lincoln St.
From Mass. Turnpike (I-90) East:
On I-90 E, take Exit 24A toward South Station.

Keep left at the fork and continue toward Kneeland St.

Turn left at Kneeland St.

Turn right on Lincoln St and continue for 150 feet until you have arrived at 179 Lincoln St.
From I-95 or I-93 North:
On I-95 N, take Exit 12 to merge onto I-93 N toward Boston.

On I-93 N, take Exit 20 toward South Station.

Continue straight onto Lincoln St. Continue on Lincoln St. (.1 miles) until you have arrived at 179 Lincoln St.
From I-95 or I-93 South:
On I-95 South, take Exit 37A to merge onto I-93 S toward Boston.

On I-93 S, take the exit toward I-90 W/Massachusetts Turnpike/S Station.

Keep right at the fork and merge onto Purchase St.

Continue onto Surface Rd (.2 miles).

Take a sharp left onto Essex St.

Take the first right onto South St (.2 miles).

Turn right onto Kneeland St, continue for 350 ft,

Take the second right onto Lincoln St.

Continue for 150 ft until you've reached 179 Lincoln St.





T
hank you to our generous sponsors!
Mad*Pow is hosting us. Brandeis Graduate Professional Studies (Brandeis GPS) is providing refreshments.
About Mad*Pow
Mad*Pow leverages strategic design and the psychology of motivation to create innovative experiences and compelling digital solutions that are good for people and good for business.
About Brandeis GPS programs
Brandeis Graduate Professional Studies (Brandeis GPS) programs are ideal for professionals who want to advance their careers or stay competitive in rapidly evolving industries. Develop or refresh critical, high-demand skillsets and master emerging technologies. Brandeis GPS programs are online and part-time, allowing you to complete your master's degree in just 2.5 years! Class sizes are small, courses are rigorous and applied, and taught by experienced practitioners. Choose from 11 courses of study - including the MS in User-Centered Design! Learn more
Can't Attend?
Please login into Eventbrite to cancel your RSVP.
Code of Conduct
By registering and attending any UXPA Boston event, you agree to follow our Code of Conduct. If you have any questions, please contact a Board Member.