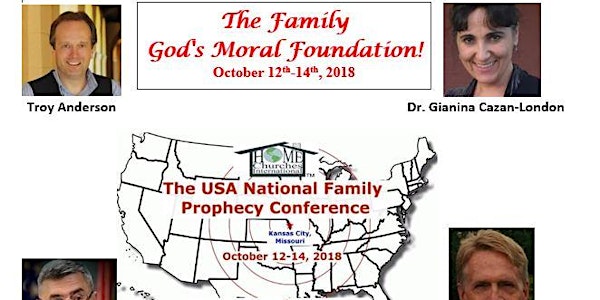 The USA Family Prophecy Conference
When and where
Location
Four Points Sheraton KCI Airport 11832 Nw Plaza Circle Kansas City, MO 64153
Refund Policy
Refunds up to 7 days before event
Description
REMNANT SAINTS ON THE MOVE IN THE LAST DAYS
Friday 12th - 14th, October 2018
Four Points by Sheraton at Kansas City International Airport
11832 NW Plaza Circle, Kansas City, Missouri 64153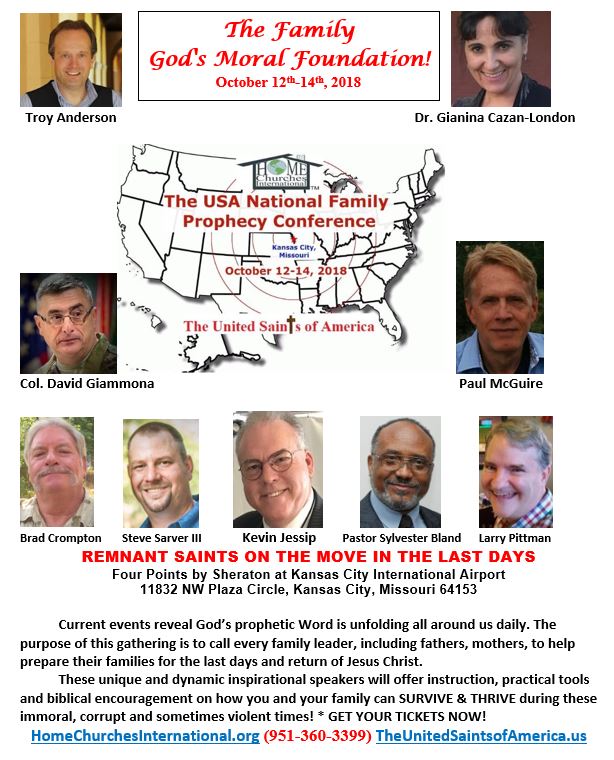 Our Speakers & Topics for Our
"PROPHECY CONFERENCE for The FAMILY!"
Paul McGuire * A PROPHECY OF THE FUTURE OF AMERICA
Internationally Recognized Prophecy Expert Speaker and Author.
http://www.paulmcguire.us and http://www.paradisemountainchurch.org
* * *
Troy Anderson * TRUMPOCALYPSE: THE PLAN TO SAVE AMERICA
a Pulitzer Prize-nominated investigative journalist, bestselling co-author of the FaithWords/Hachette books The Babylon Code and Trumpocalypse, former executive editor of Charisma magazine, reporter at the Los Angeles Daily News, a regular guest on numerous television and radio shows. He lives with his wife and children in Irvine, California. Discover more at www.troyandersonwriter.com and www.troyanderson.us.
* * *
Dr. Gianina Cazan-London * WITNESSING THE MIRACLE OF LIFE
a Maternal Fetal Medicine subspecialist in Michigan. She has been in practice for 20 years. Her specialty offers her daily opportunities to evaluate and treat women with pregnancies that are at high risk for complications either maternal or fetal. She specialized in prenatal fetal ultrasounds, prenatal diagnosis, and in managing high risk pregnancies, such as in women with medical complications (diabetes, autoimmune diseases, clotting disorders, etc.) or history of poor pregnancy outcomes (recurrent pregnancy loss, extremely premature deliveries, etc.). She has a passion for caring for women and their babies, through the most emotional and sometimes the toughest time of a woman's natural phase of life; Pregnancy!
* * *
David Joseph Giammona * THE MAKING OF A WARRIOR: ARMING THE BELIEVER FOR BATTLE IN THE END TIMES * Chaplain (Colonel) US Army, Retired Founder and President of the Warrior Refuge. As Chaplain (COL) retired in June 2018 after 32 years of military service in the Army. His last assignment was the Installation Management
Command (IMCOM) Chaplain, San Antonio, TX, responsible for religious support on all 75 Army installations around the world. He is a native of Sacramento, CA. He is married to Esther Giammona.
COL Giammona has dedicated his life to writing and speaking with a focus on preparing the church and warning the world regarding the end times. His new book, in the process of being published, is the Making of a Warrior: Arming the Believer for Battle in the End Times.
His education includes a Masters of Divinity in Theological Studies from Golden Gate Baptist Seminary; Masters of Science in Counseling – Marriage/Family Therapy from Columbus State University, and a Masters of Strategic Studies (MSS) from the Army War College.
His awards and decorations include the Legion of Merit, Bronze Star Medal, Meritorious Service Medal, Joint Service Commendation Medal, Global War on Terror Service Medal, and Global War on Terrorism Expeditionary Medal.
* * *
Kevin Jessip, * MISREADING THE TIMES * President of Global Strategic Alliance is an advisor to national and global leaders within the business, political and faith community. Over the decades, his experience as an executive for one of the world's largest publicly traded companies and his work with faith-based outreaches, as a catalyst for founding, developing, and funding organizations.

* * *
Brad Crompton * LEADERS EXEMPLIFYING FAITH, LOVE & TRUST IN THE LORD * after being Delivered from Death, GOD saved and Called me in 1985. I have been used by God, in many ways, including the Gift of Healing and as The Lord leads, He Gives us The us Wisdom of Solomon, to share with the Saints.
* * *
Steve Sarver III * SURVIVAL AS A FAMILY UNIT * Co-founder of Patriots, Preppers & Pioneers III%. A Constitutional Activist and a defender of the Constitution, A Prepper and Survivalist. Protector of The Freedom of Speech, 2nd Amendment and Our Freedom of True Religion
* * *
Pastor Sylvester Bland * MASTER OF CEREMONY * Founder of HOME CHURCHES INTERNATIONAL and The UNITED SAINTS of AMERICA. When he entered the United States Army and raised his right hand to pledge to "Protect and Defend the Constitution of the United States of America against all enemies both Foreign and Domestic" it did not mention an expiration date on his oath nor has it ever been recanted.
Today, as a father, grandfather, Pastor of Home Churches International (Over 20 Years) and media host of The United Saints of America, Bland continues that oath he swore as he "Fights The Good Fight". DAILY Live @ 5pm Pacific, 8pm Eastern
www.theunitedsaintsofamerica.us A Christian Conservative Talk Show!
He sees the moral decay in America, and the Liberal unlawful corruption of our Constitution he swore to defend, and he doesn't like it.
Reminiscent of the "black robed regiment", loyal clergymen of the American Revolution, today Pastor Bland has stepped up once more.
* * *
Larry Pittman * CO-MASTER OF CEREMONY * Co-Founder of The United Saints of America and The Nationally recognized, www.TheBibleTeam.com
**********************************************************************
VERY SPECIAL GUEST SPEAKERS
WILL ALSO BE AT THIS EVENT - TBA!
**********************************************************************

Every family is encouraged to send at least one representative to this conference to learn insights about God's design for the Church as explained in the Book of Acts.

*More details to come regarding plans for both a fellowship event of anointing and empowerment on Saturday evening and Sunday morning worship service.

For more information about the program of events and to register for this conference:
Contact: www.HomeChurchesInternational.org or www.TheUnitedSaintsOfAmerica.us
Email: hci1million@gmail.com or Call: 1 (951) 360-3399

FOR SUCH A TIME AS THIS!
PLEASE SAVE THE DATE
Our Mission is To Unite Every Small Independent Church (under 100 members), Cell Group, House Fellowships and Home Churches in The United States, to Realize that There is Power and "STRENGH IN UNITY" and "Freedom In Obedience" as The Holy Spirit Moves Through Our Nation!

---
We are the new "PC" (PRACTICAL CHRISTIANITY). We are a dedicated network of Believers doing what CHRIST commanded us to do: To occupy and evangelize the world (starting with our homes) until HE comes. We are Preaching, Praying, Preparing, and Protecting our families and friends in this life for the next.
(Proverbs 11:30)