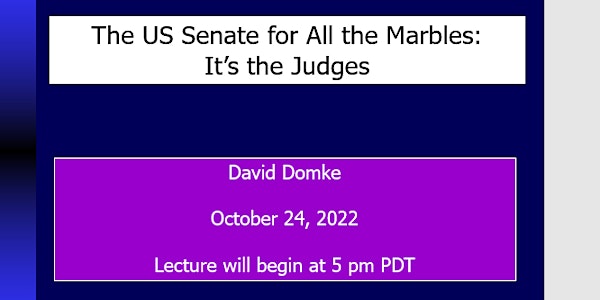 The US Senate for All the Marbles: It's the Judges
Whichever political party controls the US Senate is monumentally important for the federal judges who get appointed. The skinny on 2022.
Refund Policy
Contact the organizer to request a refund.
Eventbrite's fee is nonrefundable.
About this event
Overview: This is the last in a series of public lectures -- done roughly every other month throughout the year of 2022 -- exploring how the Democratic Party COULD win the midterm congressional elections in 2022. To be clear, such an outcome remains unlikely. But just possibly, it might happen. This specific lecture will focus on the record pace of Senate confirmation of federal judges that is occurring during the Biden administration; the importance of the appointment to the Supreme Court of Judge Ketanji Brown Jackson; and the potential to increase the size of the Supreme Court. Whichever party wins the Senate will be so important!
Speaker:
David Domke
Viewing: This conversation both (a) will occur live at 5 pm PDT on Monday, October 24 via Zoom, and (b) will be recorded for everyone to watch on your own timing. Registrants will receive viewing instructions one day in advance of the lecture and then one hour before the lecture.
Registration: There are three levels of registration for this lecture. The content is the same across the levels; the different price points are merely for you to pick the one you wish!