Description


EARLY BIRD TICKET SPECIAL ENDS ON JUNE 1ST. GET YOUR TICKETS NOW BEFORE THE PRICE INCREASES!
Ticket prices are $20 through June 1st and $35 June 2nd through run day.
THE U.S. BANK MUD SPLASH RUN FOR FUNDS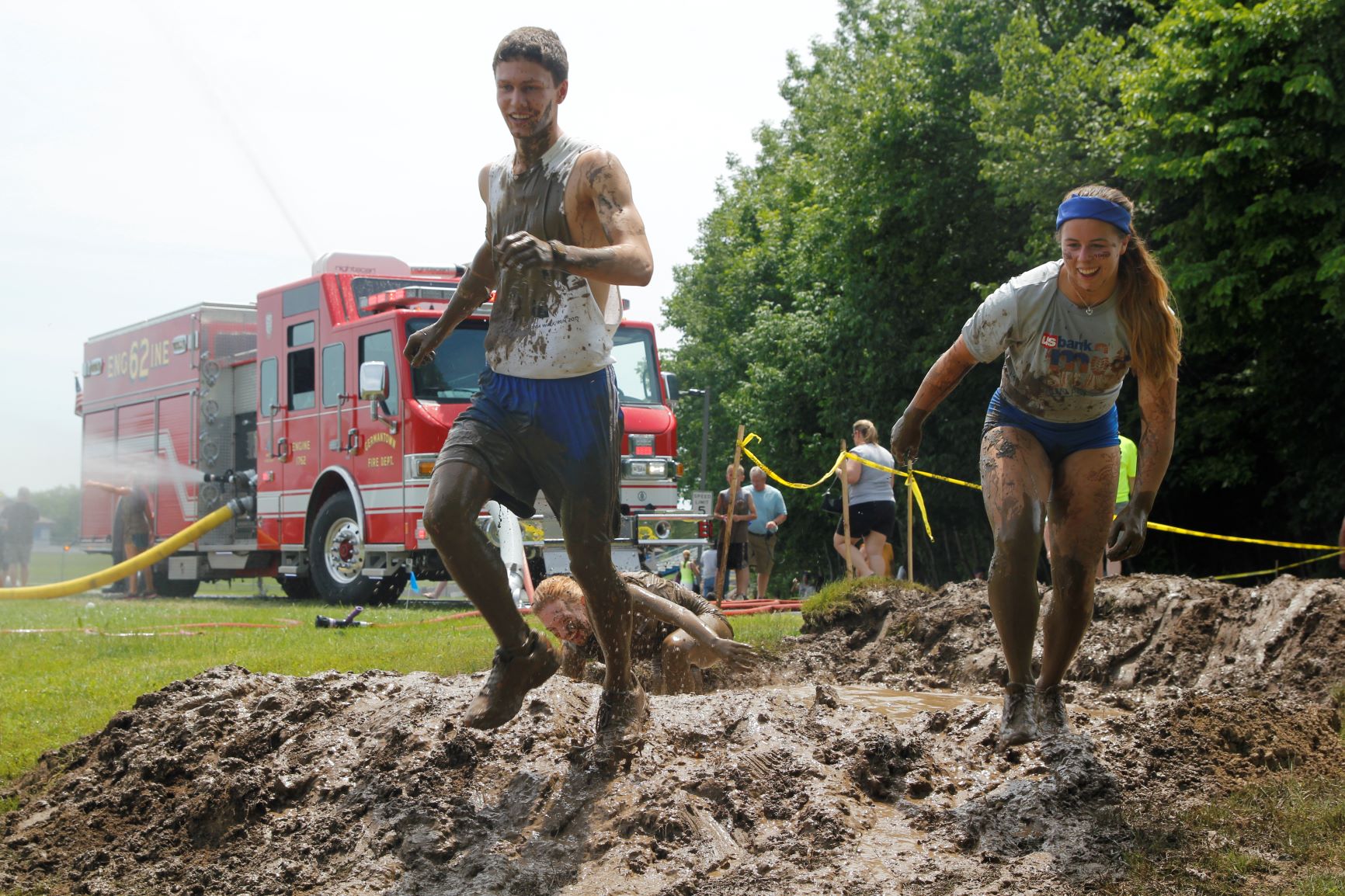 The Germantown Community Scholarship Fund Board, in collaboration with their premier Sponsor, U.S. Bank, invites you to mark your calendar for the U.S. Bank Mud Splash Run For Funds, a fundraising event for the GCSF Teacher Grant Awards program. All proceeds from this event will fund future Teacher Grant Awards that are offered annually to Germantown School District educators.
What is the U.S. Bank Mud Splash?
It's a very fun obstacle course which involves some mud and challenging but fun barriers along the way. It is designed for all age groups and will also accommodate families who wish to run together. There will be both a short and long course available to run.
Who Can Register?
Anyone can register to participate.
Check-In Time
9:30 a.m. -10:30 a.m. Races waves launched every few minutes between 10 and 11 a.m.
Refund Policy
This is a fund raising event benefiting the Germantown Community Scholarship Fund Teacher Grant Awards program. Registration fees are non-refundable. Please see the FAQS for more detail.
FREQUENTLY ASKED QUESTIONS
How do I register?
Registration will be taken online at https://mudsplash2019.eventbrite.com
Participants who register by June 1st will receive a dri-fit U.S. Bank Mud Splash t-shirt with their registration fee. Please pick up on event day at the registration tent. Participants registering after June 1st will not receive a t-shirt.
What is the refund policy?
The Mud Splash is a fund raising event benefiting the Germantown Community Scholarship Fund Teacher Grant Awards program. Registration fees are non-refundable. Individuals who cannot or do not attend the event will not receive a refund.
What if it rains?
The run will be held rain or shine! In the event of inclement weather, event officials will determine if the run needs to be delayed or cancelled. Unfortunately, we are not able to offer a rain-date or refund in the event of a cancellation. We ask that you consider your registration fee a donation to the fundraising event benefiting the GCSF Teacher Grant Awards program.
Can I volunteer?
Yes! This event requires a lot of volunteers! We would be happy to have you. Please click on the volunteer link: http://signup.com/go/aBwKJFZ

Can I be on the course if not participating in the run?
For safety reasons, we require all non-participants to remain off the course at a safe distance away from the runners. All registrants must agree to a waiver of liability to participate and be on the course.
How long is the course and how long will it take to complete?
We offer two routes. The short course is approximately 1.5 miles and is recommended for children 3rd grade and younger, and for adults who do not want to navigate obstacles. The short course will take approximately 20 minutes. The long course is approximately 2.5 miles. The long course will take approximately 30 minutes. This is not a race, have fun while completing the course!
Can parents run the course with their child?
Yes, of course! Parents or adults who wish to run with their child (ren) may wish to sign up for the "Family Run". All participants must register online, accept the waiver of liability and pay the registration fee.
Who can run in the Mud Splash event? What are the age groups?
We welcome all to run in this event. However, for everyone's safety, the run will be organized in waves based on age groups. The first wave will be a team wave followed by a family run where all parents and children can run together. Following are the designated age groups:
Team
Family Run
Kindergarten & 1st Grade
2nd & 3rd Grade
4th & 5th Grade
Middle/High School/Adult
Please register for your grade/age group based on your school year completed as of event day.
I can't make the scheduled start time; can I start later?
Yes, but you may be placed in a wave that is not within your age group/grade. Waves will be launched every few minutes between 10 and 11 a.m. You will be able to run anytime during this time period.
What do I do when I arrive for the event?
When you arrive at Germantown High School you will be directed to park in one of the free parking lots. Volunteers will direct you to the Registration Tent where you will check in, pick up your event t-shirt, if applicable and receive instructions about your start time on the course.
What are the check-in and run start times?
Check-in will be open from 9:30-10:30 a.m. Race waves will be launched every few minutes between 10:00 and 11:00 a.m.
What should I wear?
This is a mud event; therefore, you will get muddy and wet! You may wear your U.S. Bank Mud Splash dri-fit t-shirt. You will also want to wear comfortable running shoes.
Where can I change?
Port-A-Johns will be available at the event. The high school facilities will not be open.
What do I need to bring?
You may want to bring a change of clothes, a towel, and a bag to put your dirty clothes in.
Will water stations be available?
Yes. Water will be available at designated stations on the course.
Can I run the course more than once?
Yes, feel free! We just ask that you wait until all the registrants have completed their first run.
Do I have to complete all obstacles on the course?
No. You can walk around an obstacle that you do not want to complete. Our goal is for you to have fun and be safe!
What should I do if there is a line at an obstacle?
Volunteers will be at all obstacles. Please be patient with the pace of other runners on the course.
Are there awards?
There will not be a designated winner(s) for the age groups. The idea is not to win, but have fun!
What if I have a question not answered here?
You can contact our event director at: mudsplash@gcsfund.org
Thank you to our Premier Sponsor:

This program has been made possible, in part, through PUBLIC grant assistance from the Village of Germantown.