Description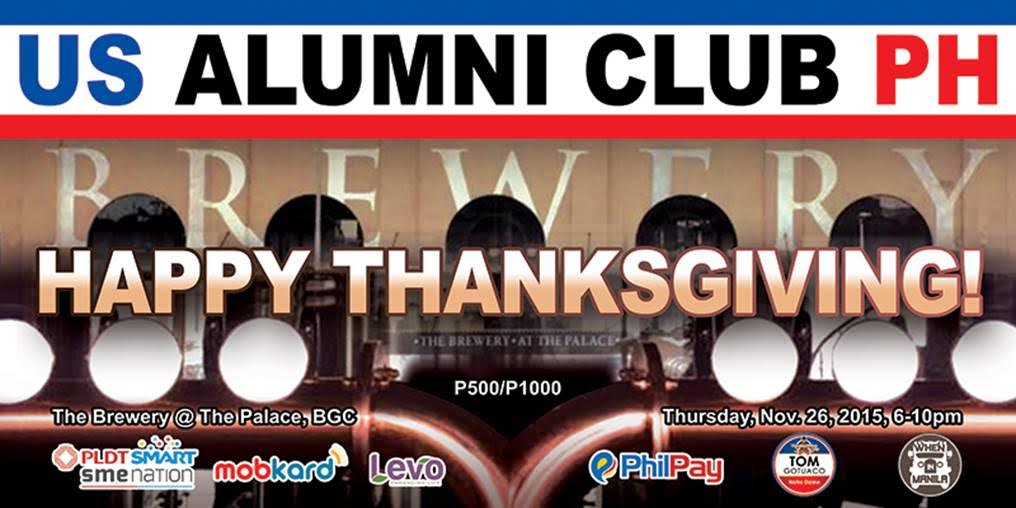 US Alumni Club PH / Graduates of US Schools:
Join us for another US Thanksgiving Day celebration on Thursday, November 26, 2015, at The Brewery at The Palace in Uptown McKinley, BGC, from 6-10pm. The Brewery is your gateway to the hottest clubs at the Fort today: check them out from the safety of The Brewery!
This year's Thanksgiving will provide more sit-down opportunities to enjoy GOOD FOOD together with GOOD COMPANY. With more schools represented at our events (101 schools were represented in last year's signup), your chances of meeting someone new are VERY GOOD.
Vince Golangco of WhenInManila.com will serve as host and play some games. Vince Lahorra will serenade us again on sax. Together, we will GIVE THANKS for 2015! Old members will share about our PAST, while new members will share their wishes about our FUTURE.
To date, the US Alumni Club is still the only Club that gives you a 90+% chance of mixing with other US alumni: that makes for great NETWORKING! We will raise funds to continue that tradition, and enable social & business connections all year long (not just during events).
HOUSEKEEPING:
Interns will collect P500 or P1,000 at the door. US Alumni WITH PINS will pay P500. US Alumni WITHOUT PINS, and Non-US Alumni +1's, will pay P1,000. Only US Alumni who register on time will receive pins. The deadline for registration is Monday, November 23.

Thanks in advance to major sponsor PLDT Smart SME Nation, minor sponsors Levo and PhilPay, and media sponsor WhenInManila.com. All registrants will be pre-registered with MobKard (if you want to be a MobKard merchant, please approach the MobKard booth).
All participants will receive a free box of VITAGREEN-C Sodium Ascorbate, worth P600, from Levo. Drop off your business card at the Purple Cow booth to pick up your box.
See you at THE BREWERY for Thanksgiving! J
Yours truly,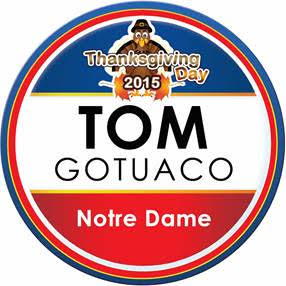 MENU
WARM SPENT GRAIN BEER BREAD
served w/ cheddar ale aioli
MICROBREWERY BEER CHEESE PIZZA
Home made beer cheese sauce, mozzarella, parmesan, gruyere and caramelized onions
MESCLUN SALAD
Roast tomato, parmesan and olives, in citrus and herb dressing
ROAST TOMATO MARGERITA
Tomato, parmesan, mozzarella and basil
CHICKEN FINGERS
Marinated chicken tenders, crispy fried in our home brewed wheat beer batter served with aioli
and honey mustard
ONION RINGS
Pilsner & Buttermilk marinated, coated with seasoned spent grain flour, crispy fried, served with mustard ale aioli
BEEF POT ROAST
US Angus beef belly pot roast
FISH AND CHIPS
Wheat beer battered crispy tanigue fillet and caper aioli
BANGERS IN STOUT BEER ONION GRAVY
Beer poached and grilled garlic pork sausages smothered in dark beer and onion gravy
CREAMY MASHED POTATOES
WARM POTATO SALAD
tossed in mustard, olive oil, capers, gherkins and herbs
+ TURKEY CARVING STATION
+ 3 rounds of beer