The Urban Professionals Statewide Mixer - Fall Kickoff #UPNMixer
Description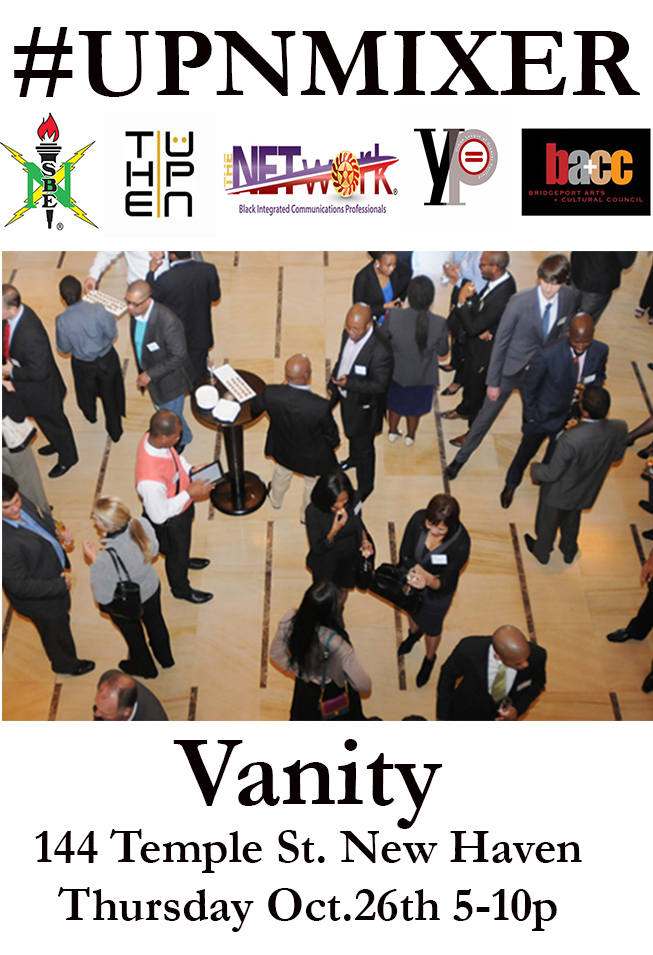 We will be capping ticket sales for this event,
so get your tickets early while they are discounted and before they are sold out.

The Statewide Urban Professionals Mixer – Fall Kickoff
#UPNMIXER

HASHTAG: #UPNMIXER
DATE: Thursday, October 26th
PLACE: The All-New Vanity Lounge & Restaurant (Back Room)
ADDRESS: 144 Temple St. Downtown New Haven
TIME: 5-10pm EST
DRESS: Business Attire

Hosted by:
The NETWORK - Black Integrated Communication Professionals (AT&T)
National Society of Black Engineers (NSBE)
Comcast Young Professionals
The Urban Professionals Network (UPN)
The Urban League of Greater Hartford Young Professionals (ULGHYP)
Bridgeport Arts & Cultural Council (BACC)
Order of Events:
5:00-5:40pm Recruiter Meetings & Speed Networking Session
5:40-5:45pm Welcome & Acknowledgements from City of New Haven (Mayor Invited)
5:45-8:00pm Hot & Cold PassedAppetizers, General Networking, Vendors, & Guest Speakers
8:00-10:00pm Live DJ

5-7pm Happy Hour - $5 Wine, $4 Beer, & $3 Well Cocktails.
_______________________________________________

For Sponsorship Inquiries, HR Tables & Vendor Tables
email theupn@icloud.com immediately.
SPACE IS LIMITED
Here's why you should attend:

Join HUNDREDS of diverse Urban Professionals from all across Connecticut for
The LARGEST Statewide Professional Social & Networking Mixer.
There will be a variety of invited organizations from Connecticut's top corporations.
Grab your co-workers and secure your space today. Bring plenty of Business Cards. Come early and take advantage of top notch
Join Hundreds of Connecticut Statewide Professionals.
Take advantage of this opportunity to connect with multiple diverse organizations from across the state.

With Employees from:
ESPN, Aetna, Pitney Bowes, UBS, People's United Bank, Verizon, Frontier Communications, Mercer, Liberty Mutual Insurance, The Hartford, Yale New Haven Hospital, Yale University, SCSU, RBS, City of New Haven, Foxwoods Casino, Unilever, & More
(Don't see your org here? Join us Call/Text 203.444.2509)

For Sponsorship Inquiries & Vendor Tables
contact 203.444.2509 or email theupn@icloud.com immediately.
SPACE IS LIMITED