Description
Discover the historic flavors of oyster cocktails, tamales, and other street food specialties, then experience a modern take on food carts from chefs of today as you sample a century of food truck fare! While you dine, learn how the first Los Angeles food trucks were inspired by the chuck wagons of the open range and appeared as horse-drawn wagons as early as the 1880s.
Tickets include plates from multiple food stations, access to the galleries and garden, and presentations by chefs and food history experts. >More Details at TheAutry.org

---
Menu subject to slight changes based on ingredient availability.
Sponsors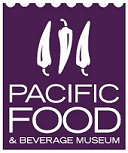 Presented in collaboration with the Pacific Food and Beverage Museum and the Museum of the American Cocktail.