Description
Join me for five days of painting at Fort Mason with the Golden Gate Bridge as a backdrop.
Have you always wanted to paint abstracts but didn't know where to start?
Maybe you are a seasoned painter looking for fresh inspiration.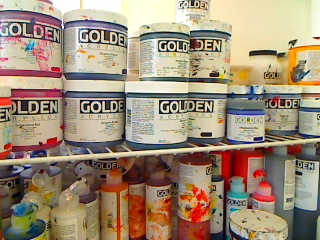 Whether you're a beginner or an experienced painter, you will be engaged and inspired during The Urban Art Retreat.
Using the City of San Francisco as our inspiration, we will work in the studio at Fort Mason. Our focus will be abstracting from the urban environment around us. I will cover color mixing, composition and go deep into acrylic technique. Tools, textures and experimental technique will be covered as well. You will learn how to hone your abstract "eye", enabling you to compose paintings that are rich in content and vibrant in technique.
You are encouraged to be loose and experimental in your approach.
Class meets from 10-5 every day with a one hour break for lunch. Wednesday class meets from 10-1 with the afternoon free.
Each day starts with a painting demonstration and warm up techniques with Tesia.
For complete details, daily schedule, extracurricular activites and more (including cancellation and refund policy) please visit my website.
Need info on accomodations? Check out this site: Trivago San Francisco
Looking to share a room? Email me.
Want more info on getting around in San Francisco and things to do? Go here.
I'll see you in May!