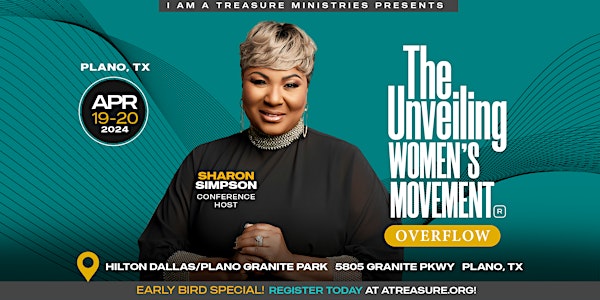 The Unveiling Women's Movement 2024
Are you Ready For MORE! Join Sharon Simpson, phenomenal special guests & a community of Sister Friends for a weekend of power and freedom!
By Sharon Simpson and I Am A Treasure Ministries
Date and time
April 19, 2024 · 3pm - April 20, 2024 · 3pm CDT
Location
Hilton Dallas/Plano Granite Park 5805 Granite Parkway Plano, TX 75024
About this event
Ladies Get Ready for The Unveiling Women's Movement 2024!
"OVERFLOW 2024"
Two (2) Power Packed Life Changing Days on April 19th - 20th, 2024!
Breakout Sessions - Friday, 4/19/24 start 3pm to 5pm CST
Friday Night Live - Friday, 4/19/24 start 7:30pm CST
Activation Luncheon - Saturday, 4/20/24 start 9:30am CST
It's not a moment, it's a MOVEMENT!
Ladies, if you are looking to be Unlocked, Empowered, Rejuvenated, Refreshed, Renewed and Activated, this Women's Movement is for YOU!!! We will have Breakout Sessions, UNpacked Conversations Panel, EmpowerHER, Praise and Worship, and a Powerful Word from God, Sisterhood and Door Prizes!! You don't want to miss it!!!
This Movement is geared toward inspiring and empowering women to live a life of wholeness mentally and spiritually and a Godly life through God's word and to receive spiritual and natural tools to navigate, activate and excel in this thing call life. This conference is not about the experience, but the life transformation you'll experience when you leave.
The Unveiling Women's Movement® is where our focus is within. It is about looking inward and unveiling our strengths, pain and finding and utilizing our voice and gifts. Women experience revival, restoration, liberation, empowerment, removing the limitations and propel in their faith and purpose. We talk about real issues, LIFE. Most of all discerning and devoting to the voice of God in every area of their life. It's SO enriching. It's SO personal. It's intimate. It's full of Sisterhood. Relationship with God is strengthened. Visions are clearer. Gifts and Creativity become clearer and are activated. Genuine and Kingdom friendships are made. It's a place of worship + prayer, laughter, and bonding sisterfriends. Our prayer is for all women to live a transformed and whole life inside out.
WE ARE A COMMUNITY OF SISTERS ON THE MOVE TO LIVE LIFE INSIDE OUT THE WAY GOD CREATED US TO, THROUGH PRAYER, THE WORD OF GOD, ALL WHILE INSPIRING AND SUPPORTING OUR SISTERS TO DO THE SAME.
Registration includes:
Access to both days
Friday Mid-Day Pathway Breakout Sessions
Friday Night LIVE SERVICE w/ UNPacked Conversations
Saturday Grab and Go Breakfast
Saturday Lunch
Saturday Activation Service
Conference Gift Bag
Join Sharon Simpson and more phenomenal ladies for this power packed weekend!
WOMEN ONLY CONFERENCE
Discount Group rates at conference hotel (all events will be at this venue)
** link coming soon **
Hilton Dallas/Plano Granite Park
5805 Granite Pkwy. Plano, Tx. 75024
Nearby Airports:
Dallas/ Fort Worth International Airport (23 minutes from venue)
Love Field Airport (28 minutes from venue)
Have questions about The Unveiling Women's Movement 2024? Please email us at info@atreasure.org
DISCLAIMERS - For ALL CURRENT REGISTRATION TYPE:
• There are Limited Quantities on ALL registration types and PROMOTIONS.
• Ticket prices are subject to change at any time.
• All Sales are FINAL. NO REFUNDS or EXCHANGES.
NO REFUND POLICY
For additional information email info@atreasure.org