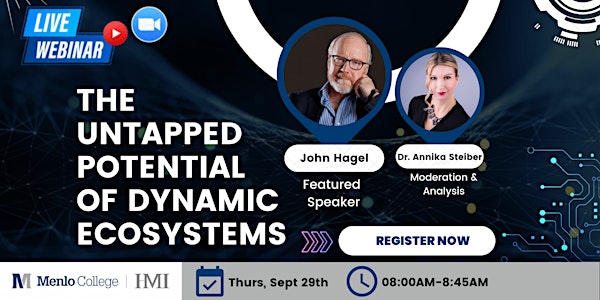 The Untapped Potential of Dynamic Ecosystems
We need to understand and accept the new paradigm and focus on designing and managing ecosystems that help all participants to learn faster.
About this event
NOTE: This webinar is happening on two platforms at the same time. Registering here on Eventbrite means you will receive a zoom link, while registering on LinkedIn Live you will view on the LinkedIn website. Do not register for both the LinkedIn Live session and the Eventbrite session please.
Open innovation across company borders is here to stay. Everyone is talking about business ecosystems, but we're not yet addressing the full potential of coming together into dynamic ecosystems. This webinar will explore what we need to do to unleash this potential.
Webinar will feature company examples demonstrating the power of ecosystems and shared knowledge networks, along with how traditional management thinking doesn't apply to these new ways of product and idea creation.
Agenda:
5 min Introduction by Dr. Annika Steiber
30 min of an interview style lecture from John Hagel
10 min of Q/A from the Audience
Register for the webinar and find out what all the talk is about!
This is what attendees of John Hagel and Dr. Annika Steiber's Dynamic Ecosystem executive education course said:
"Professor Hagel and Dr. Steiber unravel the dynamic ecosystems blueprint with brilliant case studies, paradigm shift thinking, and clear action steps. Highly recommend it." - Venu Sripada
"Provocative, dense, challenging for remaining all time dynamic!"
"I was very humbled and grateful to attend "Dynamic ecosystems with John Hagel". The unique fit of both ecosystem innovation & excellent guidance from John Hagel and Annika Steiber. Offers new insight and learnings that can help provide your organization with strategies for growth and innovation."
John Hagel, Founder of Deloitte's Center for the Edge, and
Researcher, Author, & Director of the Rendanheyi Silicon Valley Center, Dr. Annika Steiber will explore their decades of experience and trend setting research into leadership strategies for the digital age. John Hagel has four decades of experience as a leader at Deloitte, McKinsey, Atari, best selling author, faculty member at Singularity University, 15 year contributor to the Harvard Business Review, World Economic Forum and much more.