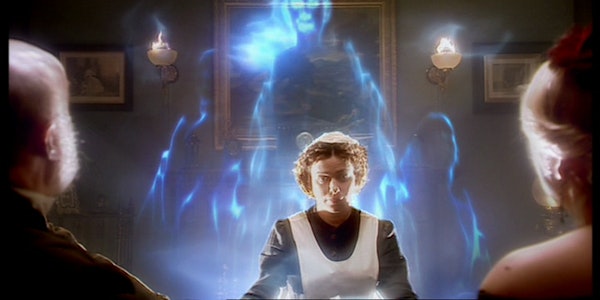 The Unquiet Dead the sequel
When and where
Location
The Pandorica 165 Main Street Beacon, NY 12508
Description
Included will be a three course meal.
Dinner starts at 630pm.

This is an event not to be missed.
Star's bio.

Star is a Psychic and Evidential Medium, she connects people with loved ones from the spirit world through evidential and soul to soul mediumship by 'Lighting the way to a spiritual reunion'. She is Clairvoyant, Clairaudient and Clairsentient (sees, hears and feels).
She provides insight and guidance on the past, present and future. At one point, she felt a huge tug, a drive, a calling if you will, to develop her abilities and continue her life fulfilling the work for God. She has honored her calling and has been studying and learning as much as she could to fulfill her mission of service in this life.
"I love what I do. I love to help people and help them heal. I thank God for allowing me to serve and be the voice of Spirit."
She has studied Evidential Mediumship and is currently in training to become a Spiritualist Minister at the Journey Within Spiritualists National Union Church in Pompton Lakes NJ, with Pastor Janet Nohavec and other world-renowned gifted mediums.
Star is a founding member of the Holistic Chamber of Commerce of the Poughkeepsie Chapter
She has obtained Angel Card Certification from Doreen Virtue and Radleigh Valentine.
Star has obtained Third Level of Reiki in the Usui System of Natural Healing and is a Reiki Master-Teacher, obtaining her certification from Hands of Serenity Healing with Jody Clevland
https://www.facebook.com/psychicmediumstar/
Kerri's bio.
Kerri Brahimi is a Spiritual Medium. She has had the ability to see and connect with the spirit world since early childhood. Her
earliest memory of connecting to spirit was at the age of four when two boys entered her life. These boys were very much real to Kerri as she had full conversations with them but this upset her mother who could not see them, so her mother had her evaluated and as the doctor put it they were "imaginary friends" which put her mothers mind at ease; however she very much disliked the things Kerri would tell her about these boys such as they had died in a car accident.
Over the years Kerri became more "normal" except for the severe panic attacks she would have as a child into her late teenage years, fears and panic would enter her mind out of nowhere later to discover it was spirit trying to get her attenion.
As an adult Kerri became a Registered Nurse and loved working with her patients, which she does to this day, however spirit was persistent. Even at work spirit would show up, whether walking down the hall or during a code blue, spirit would show up and Kerri knew she couldn't ignore spirit any longer.
She wanted to see if she really had this "ability", so she sought out teachers to help guide her, which led her to Lisa Williams. Lisa had her come to Lily Dale where she was tested and she told her "honey you have an incredible gift".
Kerri went on to read for many others, and when she saw and felt the Love of the spirit world she knew this was what she was meant to do.
During a reading with Kerri she will bring through evidence from your loved ones in spirit, such as names, dates, memories that only you and spirit can validate, as well as messages that your loved ones want you to receive.
It is a beautiful experience.
https://www.facebook.com/seeingspirit/
MENU
Appetizers
House Salad
Hummus with Pita
Soup du jour
Entrees
Penne ala Vodka with Chicken
Bangers and Mash
with a sage gravy and peas
Romany Goulash
Kielbasa, potatoes, sauerkraut,
onions and carrots in a rich paprika sauce
Beef Cottage Pie
seasoned ground beef in a savoury gravy
with peas and carrots topped with mashed potatoes
Desserts
Apple Pie with whipped cream
Creme Caramel
Cheesecake
Chocolate Tea Cake

beverages and gratuity not included