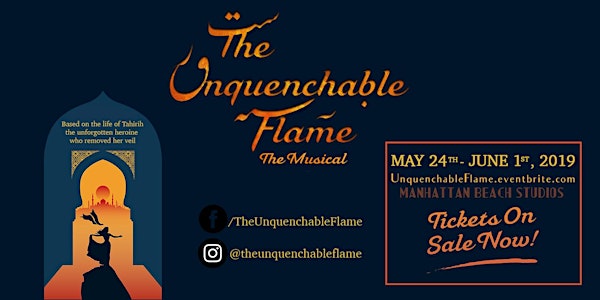 The Unquenchable Flame~The Musical (An Artistic Interpretation based on the...
Event Information
Location
MBS Media Campus (Stage 15)
1600 Rosecrans Avenue
Manhattan Beach, CA 90266
Description
The Unquenchable Flame~The Musical (An Artistic Interpretation based on the Life of Tahirih)
By Gina and Russ Garcia
*THE UNQUENCHABLE FLAME~THE MUSICAL
Russell Garcia was a world renowned Hollywood Composer/Arranger/Conductor who wrote the music for "The Unquenchable Flame", and his wife, Gina Garcia, singer, lyricist and author wrote the Libretto. The music and the songs are soul stirring and dramatic. It is Russ & Gina's hope that this musical drama will be performed so that the life of Tahirih, the first Persian woman to publicly unveil and be executed for her public proclamations, will continue to inspire future generations. It was Russ' dying wish for Gina to Produce the Musical. It is their granddaughter, Kristy Corwin's continued effort to help bring this Production to fruition so that it will be performed in Gina's lifetime.
Tahirih's story was as timely then in Persia in the middle of 19th Century as it is now in the United States and the rest of the world, still grappling with the plight of women to achieve full equality with men and to be free from harassment and unjust treatment.
Unquenchable Flame is a trail blazer and unique in genre of Musical Dramas for its portrayal of a woman heroine fighting for justice and equality, while celebrating physical and vocal beauty and musical perfection.
~~~~~~~~~~~~~~~~~~~~~~~~~~~~~~~~~~~~~~~~~~~~~~~~~~~~~~~~~~~~~~~~~~~~~~~~~~~~~~
*VENUE INFORMATION:
**Complimentary Parking at MBS with ticket purchase: Follow Redondo Ave. past all stop signs to your sign-in entry at the *Main Gate*. Please arrive 15-20 minutes early of showtime to allow for getting checked-in and into Stage 15. You will be instructed to park in the main structure on the lot and escorted to Stage 15 by our volunteers.Follow our Facebook page for more info and up-to-the-date announcements. *Ground level~Wheelchair Access
*MUST PRESENT ID AT GUARD GATE AND WILL CALL.
*Surrounding food venues are Shake Shake, Tender Greens, Starbucks, Johnny Rockets, Coffee Bean, Il Fornaio, Huston's, Urban Beach Cafe and more!
**Special Performance by Ava Bowers singing one of Tahirih's Poems, "Destiny/Sarneesht".
*Refund info: No refunds
*For Questions, Email the Team at: theunquenchableflame@gmail.com
~~~~~~~~~~~~~~~~~~~~~~~~~~~~~~~~~~~~~~~~~~~~~~~~~~~~~~~~~~~~~~~~~~~~~~~~~~~~~~
*THE SYNOPSIS OF THE MUSICAL DRAMA
"You can kill me as soon as you like, but you cannot stop the emancipation of women." The Unquenchable Flame is a musical based-on the story of the life of Tahirih (TAH-huh-ray), the "Pure One", one of the most-noted female martyrs to champion women's rights in the Middle East and consequently all over the world. A thin veil, required to be worn by all Persian women, was all that stood between her and her countless adversaries both male and female alike. While many women didn't have a voice for change, Tahirih, even at a young age, when she spoke boldly from behind a curtain, (where she was taught by her male elders) to let her voice be heard. That voice would become the leader and poetress of her generation, and instrumental catalysts in the birthing of a new religion. Parallel with Tahirih is the story of her friend, Quddus, and the 300 courageous men who gave their lives at Fort Tabarsi and shared the hope of a day when women would too be considered worthy of human~equality and both men and women would be allowed to worship freely.
Russell and Gina Garcia's epic piece, the Unquenchable Flame ends: "Do not think becauseTahirih's body is gone, that her flame has been quenched. Her fire continues to blaze and will continue to inspire women around the world for ages to come. Her spirit of love and justice will forever touch the hearts of millions of souls yet unborn.
Location
MBS Media Campus (Stage 15)
1600 Rosecrans Avenue
Manhattan Beach, CA 90266
Refund policy