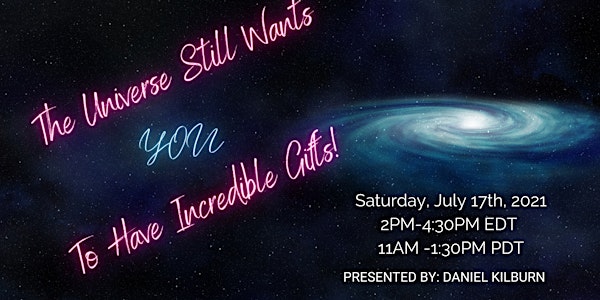 The Universe Still Wants You To Have Incredible Gifts
So, you missed out on the workshop on the 7th? Fear, not the Universe Still Wants You to Have incredible Gifts.
About this event
You are here in this world now to accomplish something incredible, significant, and influential. You are here to lead. Showing up in this world without excuses demands you to look at yourself and get familiar with who you are.
In our discussion and exploration of personal success, failure, and missed opportunities, we will uncover the power of accepting the gifts that the Universe offers to us.
In this practical workshop, you will explore leadership distinctions through facilitated discussion and breakout room exercises to get to the root of developing our vision and mission by accepting the gifts offered to us all.
During the workshop we will review actionable techniques to discover:
A simple plan of action to Identify the things you really want in life.
A Process to dissect events that will make them the way you want them to be.
Communication skill upgrades.
And confirmation that there are people who know you, as the great person you are.
And, I have a secret I would love to share with you.
Last Wednesday's workshop was a grateful success. Here are some of the anonymous comments taken from the after-workshop survey.
The generous overdelivering of tools and techniques to help bring out the heroine in me, and - making amazing connections with like minded inspirational light sharers on the planet!
I thought the exercises were awesome and gave me things to think about that I don't normally think about.
The incredible experiences you created gave me an experiential understanding of the concept that everything I ever thought I needed I already have inside of me.
LIFE-IS-NOW
Come join us for the second live Incredible Gifts workshop on July 17th at 11 am PDT/2 pm EDT.
By registering for this event You grant to Daniel Kilburn permission to use your name, photograph, and/or likeness in connection with the Incredible Gifts workshop, Emergency Action Planning programs and services, and for any other related reason or purpose.