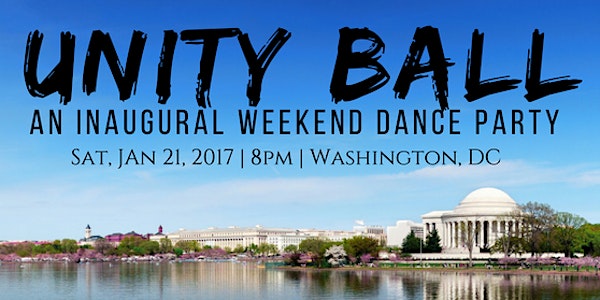 the Unity Ball | an Inauguration Weekend Dance Party
When and where
Location
District Architecture Center 421 7th Street Northwest Washington, DC 20004
Refund Policy
Contact the organizer to request a refund.
Description
*TICKET UPDATE*: 1/20/17. Thank YOU for making the Unity Ball one of the hottest tickets in town! We are working hard to create an amazing night for each of our guests. We also want to ensure the safety and comfortability for all who are attending. With that, we are officially SOLD OUT and are now offering VIP ticket packages (see details at ticket button). Guests WITH TICKETS are invited to the big night beginning at 8pm. Guests WITHOUT TICKETS are asked to visit the venue box office on Jan 21 at 9pm, as we will be selling tickets at the door on a first-come, first-serve, space-available basis. We can't wait to see each of you in Washington, DC on Jan 21 for a historic day and a fabulous night! | #UnityBallDC
---
Scorpio Entertainment presents The Unity Ball, an inaugural weekend dance party.
Welcome to a night of celebration inside a stunning bi-level, glass-enclosed, multimedia-infused bash designed for those who believe in progress, equality, inclusion, and community. All hombres are welcome, from millennials to grandmothers, boys who like boys, girls who like girls, and of course nasty women from all walks of life.
Ticket sales...
45.00 before Nov 30 - SOLD OUT
65.00 before Dec 31 - SOLD OUT
75.00 before Jan 7 - SOLD OUT
85.00 before Jan 14 - SOLD OUT

95.00 thru Jan 21 - SOLD OUT

35.00 Student Passes - SOLD OUT
45.00 Student Passes thru Jan 10 - SOLD OUT
Tickets are transferable (please notify us of name changes). Tickets are non-refundable.
Event organizer, Edward Daniels, describes the event as "a fun bash for those of us who want to see a continuance of the progress we've made over the past several years in regards to equality, inclusion, understanding, and community-building within ourselves as a nation. This is for the 'nasty women', the 'hombres', the LGBT community, and every single one of us who believes in the power of this nation when we work (and maybe even dance) together!"
Earlier on the same day, just over one hundred thousand marchers are scheduled to descend upon the District in support of the Women's March on Washington. "We've already reached out to the march organizers in order to cross-promote these two events," says Daniels, "I've attended the past two inaugurations and have fond memories of nothing but love, hugs, parties, and a sense of optimism everywhere! After this past campaign season and the anger surrounding the results of last week's election, we need to restore the hope and happiness. We need some healing and what better way than an amazing night of music and dancing to bring everyone together as we move forward."
The Unity Ball is slated to feature three DJs, the Hot Pink Photo Booth, Mike Hot-Pence, OPEN BAR, the all-female rock band NO SMALL CHILDREN, retro video game lounge, social media live feed on 4 huge projector screens, and much more!
Partial proceeds from all ticket sales to benefit Planned Parenthood of Metropolitan Washington, DC and Bread for the City!
Development and details online at www.UnityBallDC.com
@ScorpioDJs | #UnityBallDC
Facebook: https://www.facebook.com/events/366950120312589/