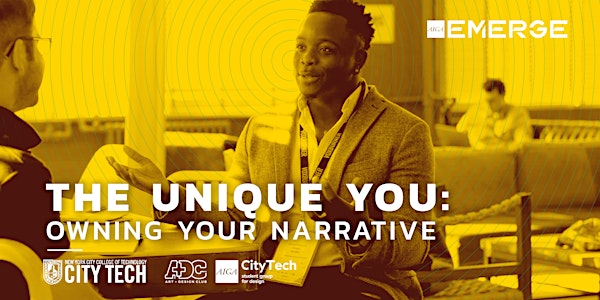 The Unique You: Owning your narrative.
When and where
Location
NYC College of Technology 300 Jay St Pearl 114/115 Brooklyn, NY 11201
Description
Crafting the art of storytelling by discovering who you are. A panel discussion and workshop for emerging designers.
You can't design a good pitch if you don't have an idea of who you are and where you want to go. This panel/workshop focuses on introductions, discoveries, and storytelling. Who are you? What are your unique strengths and skill sets? What is your personal narrative that differentiates you from the rest? How might you articulate all of this into an organized and inspiring pitch?
Panel discussion + Workshop
Moderated by:
Prof. George Garrastegui, Jr.
Communication Design Faculty. City Tech (CUNY)
Programming Lead, ?AIGA Diversity + Inclusion Taskforce
Invited Panel Guests:
Ruki Ravikumar
Director of Education, Cooper Hewitt, Smithsonian Design Museum
Stefanie Smith
Director, Inclusion & Diversity at The One Club for Creativity

Shaton Winston
Creative Lead / Copywriter / Content Strategist
WHO SHOULD ATTEND...
Emerging designers seeking to advance their careers.
Designers seeking to make changes in their careers
Seasoned designers seeking to interact, advocate and share stories with emerging (young) designers.
About #AIGAemerge
EMERGE is an initiative that seeks to engage and empower emerging designers with up to five years of experience in the field. It aims to provide inclusive and equitable content within the areas of employment, growth, leadership, entrepreneurship, and life skills.