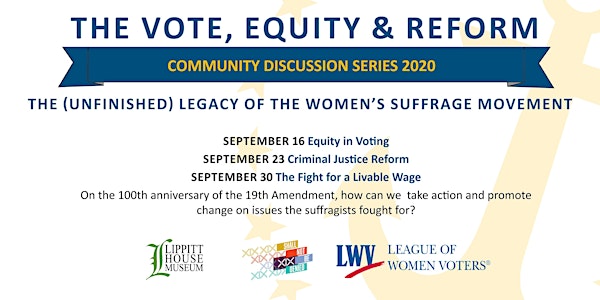 The (Unfinished) Legacy of the Women's Suffrage Movement: Criminal Justice
Community Discussion: Suffragists fought for prison form. Today criminal justice reform is top of mind in Rhode Island.
Refund Policy
Contact the organizer to request a refund.
Eventbrite's fee is nonrefundable.
About this event
The (Unfinished) Legacy of the Women's Suffrage Movement: The Vote, Equity & Reform
This year is the 100th anniversary of the ratification of the 19th Amendment which made it illegal to prevent a woman from voting based on her sex. But in the last 100 years, what progress has been made on the issues promoted by suffragists­­—not only voting access but also criminal justice reform and equity in the workplace? The re-scheduled 2020 community discussion series, in partnership with the Providence League of Women Voters, will address issues suffragists fought for through an equity lens and ask how can we take action and promote change on matters still important 100 years later. The suffragists' activist legacy is still relevant for America today. The work isn't done—we're still at!
The event is part of a three-part, online series. It is free, but preregistration is required.
Session 2: Criminal Justice Reform
One of the issues suffragists in the 19th century campaigned for, including Rhode Island's Elizabeth B. Chace, was prison reform. What is being done to address the reliance of community safety policies on policing and prisons, overcome biases in the criminal justice system, promote the exercise of justice with equity, and not unjustly burden communities of color?
Speakers:
Professor Jill Harrison – Professor of Justice Studies, Rhode Island College
James Monteiro – Founder and Director, Reentry Campus Program
Judge Judith C. Savage – Former RI Superior Court