Description
Purchase a copy of The Unfair Prosecution of Sgt. John Hatley here. Click on the green tickets button to the upper right.

This 16 page booklet outlines "serious questions about the integrity of First Sergeant Hatley's arrest and conviction" and explains "the paucity of evidence in the original conviction" (from the Introduction by Congressman Louie Gohmert and 12 of his Congressional colleagues. It includes the 7 page executive summary of the case for Presidential intervention to free Sgt. Hatley as sent to President Donald Trump by David Carroll, legal counsel for Uniformed Services League.
The cover letter which accompanied this executive case summary is signed by Vietnam war combat veteran Lt. Col. Dennis Gillem, USA (Ret.), military adviser to Uniformed Services League and states, in part:
"…if we had this many lawyers unfairly hunting combat veterans during the Vietnam War, the Korean War, and World Wars I and II, then we would have seen criminal prosecutions of tens of thousands or even hundreds of thousands of our combat soldiers, and a terrible wounding of our military capability due to the decline of morale from such unfair prosecutions." The cover letter which accompanied it signed by Lt. Col. Dennis Gillem, USA (Ret.), military adviser to Uniformed Services League.
This report concludes with a message, "What You can do" to help, by Richard Buck, the Project Director of Uniformed Services League.
Bureaucrats are not just in the federal government but at the Pentagon as well. Many of them have law degrees. The battle today is over the question these "deep state" military bureaucrats have raised, how can we keep "good order and discipline" in the military, if the President intervenes in the process?
This booklet helps show a travesty of justice that can best be corrected by active involvement of Congressmen like Louie Gohmert and the members of the "Justice for Warriors" caucus which he founded, and by Presidential intervention. Doing this will have "a salutary effecte on the morale of all who serve our country in uniform, and cheer all those who have served in the past, and all those who support the mission, purpose and sacrifice made by those who put their lives on the line to defend the freedom that too many take for granted," as attorney David Carroll concludes in his letter to the President.
Discount prices are available for bulk copies of this booklet, which may be ordered at UniformedServicesLeague.org.
You can obtain more copies of this booklet to share with others including your own Congressman. We ask for a $5 donation plus $2 postage & handling for one; 3 for $10 + $4 p&h 10 for $20 + $5 p&h 20 for $30 + $5 p&h.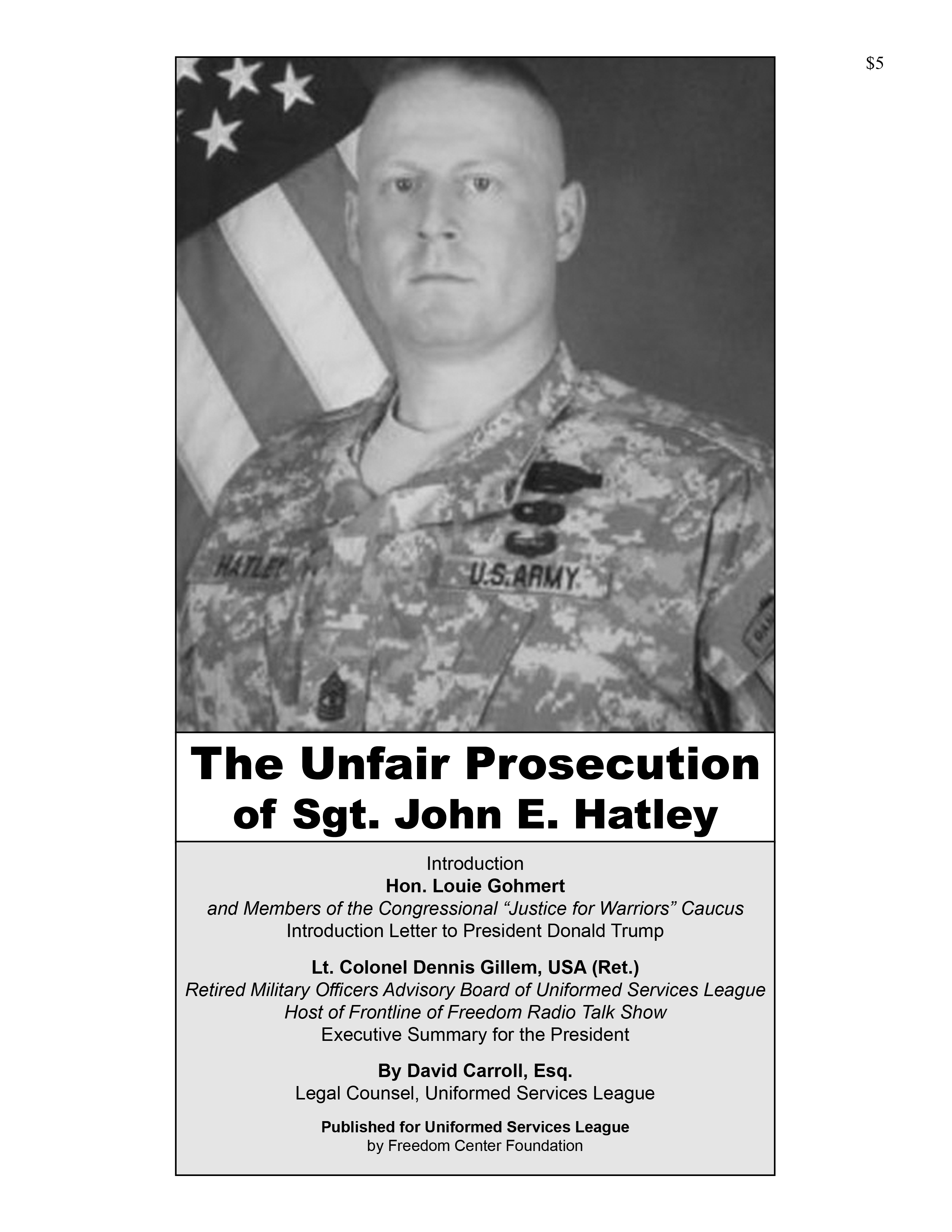 Organizer of The Unfair Prosecution of Sgt. John E. Hatley
American soldiers, sailors, airmen, marines and guardsmen know full well that when they put on their uniform they are making two especially bold statements to the world.  They will defend freedom.
They will do so at risk to their lives.  In return, Americans have assured our uniformed servicemen that we will do our utmost to protect their lives, sending them into battle with the best weapons systems available on earth, with strategies and tactics which aim for victory in battle at the very minimum cost in blood regardless of the cost in treasure, and with a willingness to pay any price to retrieve those who are wounded from the battlefield, provide them medical care and rehabilitate them.
We have also pledged to protect them from politicians in other countries who often cultivate favor with their local populations by seeking to prosecute Americans for crimes without allowing them the benefit of the most basic rights we take for granted as American citizens.