About this Event
Doors open at 7:00PM.
Lineup subject to change. Limited seating.
The Unemployed Show is leaving the comfort of their apartment to go LIVE on stage for The 2nd Annual Unemployed Show Awards! The Unemployed Show is a live interactive talk-show with 50 live-stream episodes on Facebook, featuring some of the city's funniest [unemployed/freelance] guests, comedy videos & hilarious segments. This award show is a night to celebrate the hard work of the hardly working! The 2019 Unemployed Show Awards is guaranteed to bring you a variety of performances, comedy, music and maybe tears! (unemployment is hard...) America's favorite expert unemployed millennial, Anna Roisman, hosts the show featuring star performers who happen to not have jobs (at least on that day). It's the best pajama party in town, because they're literally in pajamas.
Lineup:
Emily Tarver - (Orange Is the New Black, Best Week Ever)
Vicci Martinez - (The Voice, Orange Is the New Black)
Yoni Lotan - (Russian Doll, The Food Network's "Do You Even Food?")
Mike Kelton - (Beyond With Mike Kelton Podcast, Shade: Queens of NYC on Fusion)
Gabe Gonzalez - (HBO Latino, NBC Out)
Michael Hartney - (School of Rock, The Break with Michelle Wolf)
Hannah Solow - (Mike Birbiglia's The New One, Kiko & Tuna)
Milly Tamarez - (Flexx, Vice)
Katy Berry - (Vulture, North Coast)
Katie Hartman - (Paid Off on truTV, Special Without Brett Davis)
Illana Rubin - (The New Yorker, WhoHaha)
Karolena Theresa - (Handmaid's Tale: The Musical, Awkward Sex and the City)
Katie Pawluk - (The Very Katie Show, A Day in the Wife)
Chris Burns - (Betches, Straight Marriage)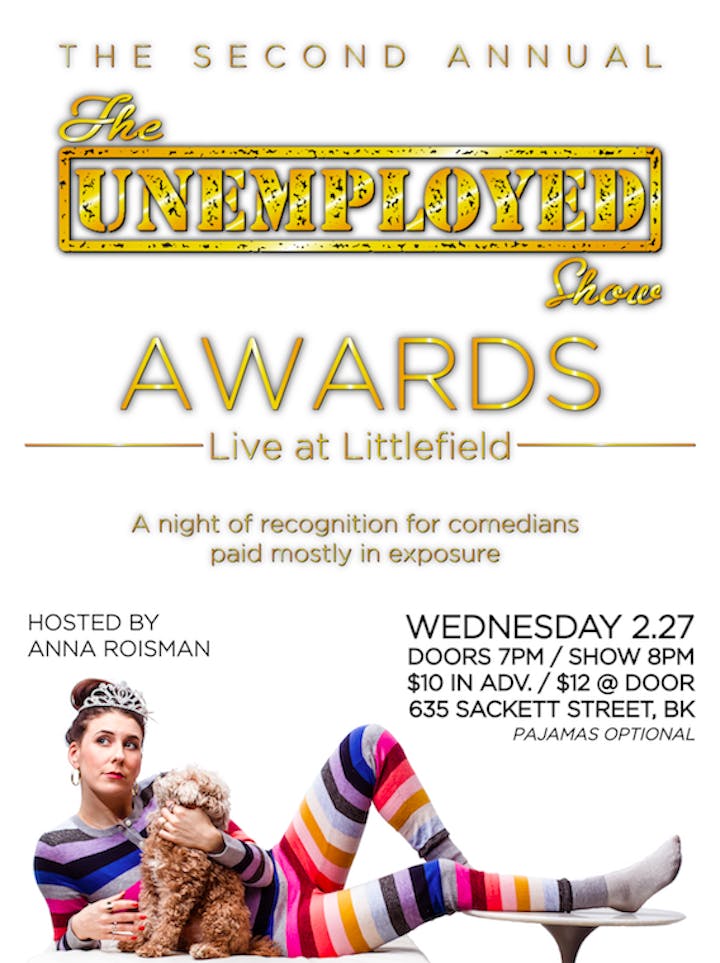 Anna Roisman is a comedian, writer, creator, producer, and host in NYC. Anna is currently the host of HQ Words, a live word puzzle game show from the creators of HQ Trivia. She is the creator and host of The Unemployed Show, a finalist at the 2018 NYTVF. Anna went to the 2017 Tribeca Film Festival with her Snapchat short film called, "Owen Wilson Dates Himself." Anna has been to the Montreal Just For Laugh's Festival with a pilot she co-wrote. She is the co-creator of the series "There's No Place Like Home" on Elite Daily. Anna is a co-producer and host of Quickie Fest: The One Minute Movie Festival in NYC at The Anthology Film Archives. Anna performs live all over the city doing standup and singing with The Losers Lounge at Joe's Pub. Check out www.AnnaRoisman.com for videos, shows, and lots of selfies.