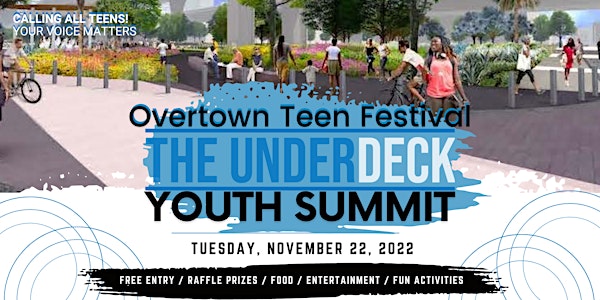 The Underdeck Youth Summit
Youth ages 13+ are invited to learn about The Underdeck Miami project and lend their voices and ideas on how to activate this new parkway.
When and where
Location
The Urban 1000 Northwest 2nd Avenue Miami, FL 33136
About this event
YOUR VOICE MATTERS!
Join us for a fun-filled afternoon on Tuesday, November 22, 2022, from 12-3pm at The Urban in Overtown, Miami.
What's Happening
At this year's Overtown Teen Festival and Summit, middle school and high school youth are invited to lunch, learn, contribute ideas, and have fun while learning about Miami's new upcoming park, The Underdeck.
Activation Stations
STEAM
Visual Arts & Culture
Spa Manicures
Red Carpet Interviews
Teen Talk
Photobooth
Youth Entrepreneurship
Ice Cream Truck
Boxed Lunches
Community Service
About The Underdeck
The Underdeck will be a 1-mile long park under the highway beginning in Overtown and ending at the Bay. "The Underdeck" is a 33-acre public space that will be developed, under a reconstructed I-395, as a part of the "Signature Bridge" project. The Signature Bridge project is a partnership between the Florida Department of Transportation (FDOT) and the City of Miami.
The Underdeck originates in Overtown and extends to Biscayne Bay near the Perez Art Museum Miami. Upon completion, the space will have a significant amount of green space and will also contain community based programming such as a heritage trail, legacy wall, pedestrian bridge, water fountains, plazas, recreation spaces, installations and concessions, among other features.
Who Should Attend
This event is open to grades middle and high school
Youth Groups and Organizations are welcome
What to Expect
12:00-12:30 Lunch and Learn (Intro to The Underdeck)
12:30-02:30 Summit Activation Stations
02:30:03:00 Exit Survey, Raffle Prizes
The event is organized by URGENT, Inc. in partnership with the Overtown Children and Youth Coalition.
For More Information
Call Saliha Nelson at 305-205-4605 or email saliha@urgentinc.org