The Uncompromising Glory of God - Holy Convocation
Description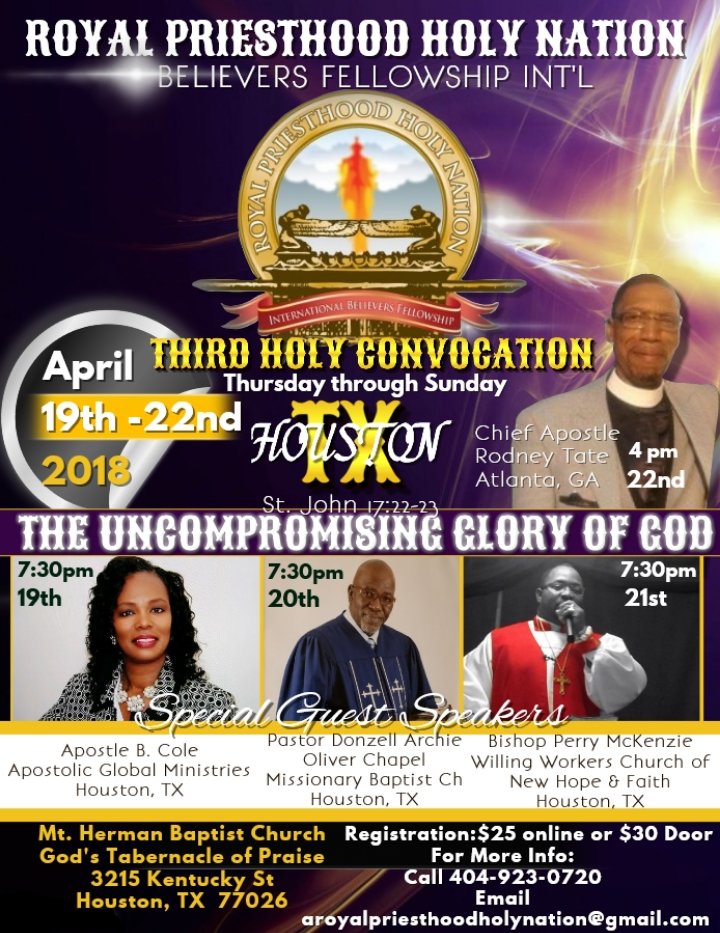 Royal Priesthood Holy Nation Believers Fellowship Int'l is back with our 3rd Holy Convocation!
Our theme this convocation is The Uncompromising Glory of God based on St.John 17:22 & 23!
Come and experience 4 days of instruction, impartation, and DEMONSTRATION! We are believing God for healing, deliverance and miracles. We expect a great move of God's Holy Ghost during these 4 days. Matthew 18:18 "Verily I say unto you, Whatsoever ye shall bind on earth shall be bound in heaven: and whatsoever ye shall loose on earth shall be loosed in heaven."
"So why DEMONSTRATE and why NOW?! Because Jesus did and He said we will also do and even greater works we will do than Him. Mark 16:17-18 (KJV) "And these signs shall follow them that believe; In my name shall they cast out devils; they shall speak with new tongues; They shall take up serpents; and if they drink any deadly thing, it shall not hurt them; they shall lay hands on the sick, and they shall recover."
So this is a part of God's Strategy, to reset and recharge the next generation of Kingdom Leaders!
Program Schedule April 19th (Thursday) - April 22nd (Sunday):
Thursday 7:30pm Special Guest Speaker Apostle B. Cole of Apostolic Global Ministries, Houston, TX
Friday 10:00am 5 Fold Ministry Teaching by Apostle Warren Brown of New Testament Int'l II, Augusta, GA
Friday 7:30pm Special Guest Speaker Pastor Donzell Archie of Oliver Chapel Missionary Baptist Church, Houston, TX
Saturday 10:00am "Can You See...What I See? You Are Fearfully and Wonderfully Made!" Healthy LifestyleTeaching by Bishop Dr. Delagraentiss, The Bornagain Billionaire Business Persons of America, Houston, TX, Germany and Amersterdam.
Saturday 7:30pm Special Guest Speaker Bishop Perry McKenzie of Willing Workers Churck of New Hope and Faith, Houston, TX
Sunday 4:00pm Ordination/Affirmation Service Presiding Prelate Chief Apostle Rodney Tate of Royal Priesthood Holy Nation Believers Fellowship Int'l, Atlanta, GA
If you're unable to attend in person but would still like to support the event and ministry, you may sow a seed by going to paypal.me/holyofholies
May God continue to bless your godly endeavors and your giving in the Name of Jesus.