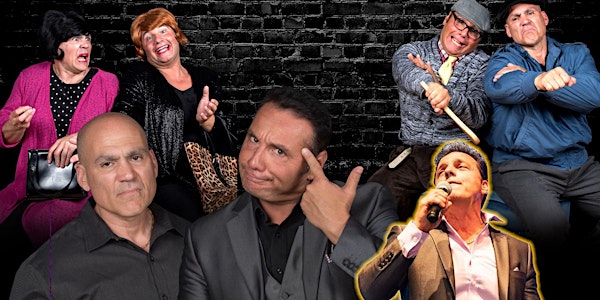 The Uncle Louie Variety Show & Biagio in Paramus, NJ (Hosted by Paul Bruno)
The Uncle Louie Variety Show & Biagio in Paramus, NJ
Date and time
Saturday, June 24 · 8 - 11pm EDT
Location
Elks Lodge 200 New Jersey 17 Paramus, NJ 07652
About this event
The Uncle Louie Variety Show is composed of two hilarious Italian-American comedians, Carlo Russo and Lou Greco. For many years, they have been making people laugh through their unique brand of comedy that brings memories on how it was like to grow up as an Italian.
Their live shows always exceed the audience's expectations. They do different acts as the lovable Uncle Louie and Pasqualino characters. The duo also performs original music and stand-up comedy. Listen to the amusing stories and humorous jokes of these comedians! They will surely make you smile, laugh out loud, and even cry out tears of joy.
From stand-up comedy acts, original songs, and hilarious sketches, this Italian-American comedy duo can do it all. The Uncle Louie Variety Show performs live comedy shows in different cities in the US, as well as in Canada and Australia. Genre: Comedy.
The Italian Touch" is considered to be the ultimate Italian/American dance party album featuring well-known songs chosen to appeal to young and old alike, and created by combining styles made famous by artists ranging from Joe Dolce and Angelo Venuto to many of the EDM artists heard today.
Biagio
Growing up in a traditional Italian household, the love of family, food and music was instilled in Blaise "Biagio" Benevenga at an early age. He began to take piano lessons and started performing at many family functions. Music became a big part of his life, and eventually he started an Italian/American band called The Vibrations where they performed weddings and dinner dances all over the Tri-State Area. "We also had an opportunity to tour and perform concerts in many of the beautiful regions of Italy opening up for many top artists," said Biagio.
The redid many classic Italian songs with a modern sound which can still be heard today at many Italian festivals such as the world-famous Feast Of San Gennaro in New York City. So in making this solo album, "I love to remix and perform songs that I think will make people smile, dance and have fun singing along," said Biagio. "This is how I came about redoing these beloved songs for my album while adding a few different elements to give it more energy, but yet keeping some of the original feel of the song that made them what they are."
The Event is Hosted by actor/comedian Paul Bruno