The Unbreakable Rules of Marketing - June UEN Meeting

Friday, June 22, 2012 from 8:00 AM to 10:00 AM (PDT)
Event Details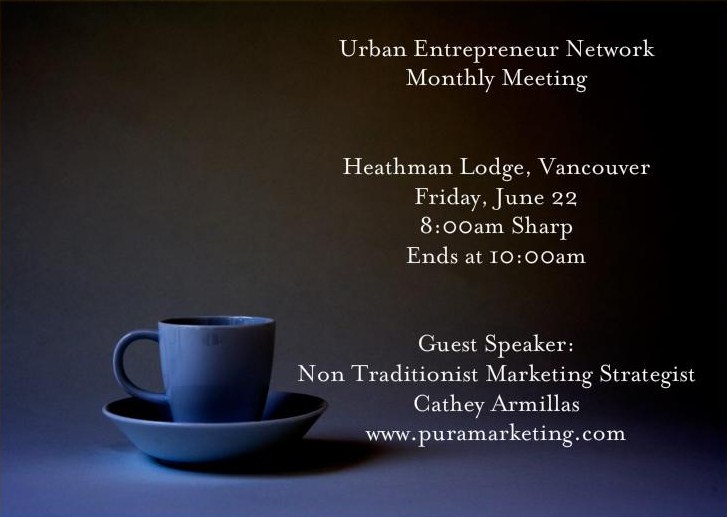 The Unbreakable Rules of Marketing
 Presentation Description
Marketing is everywhere and in all we do. Good products and service don't generate sales, marketing does. Learn the Unbreakable Rules of Marketing and start applying them to your marketing. You'll be more effective at getting people to love you and love what you do. And that's good marketing.
In this session, you will learn:
 §    The 9½ Unbreakable Rules of Marketing and how to apply them to your own
        marketing to help boost sales
 §    Why consistency in marketing beats ability and how a good strategy and constant   
        exposure wins everytime
 §    Why every single thing you do is marketing and how youcan use that to your  
        advantage
About Cathey
When companies need to reach people in unique ways, they call on Cathey Armillas. She has been notorious for creating wildly successful marketing strategies. She runs PURA Marketing and is the author of the book The Unbreakable Rules of Marketing: 9 ½ Ways to Get People to Love You.

Cathey's use of the Unbreakable Rules of Marketing has helped reach millions of people and quadrupled her clients' sales. In one example, she created a viral marketing campaign for a client by shredding items such as soccer balls, torpedoes, even a Volkswagen, and posting videos of them online.
 It landed the client on the David Letterman Show, CNN, CNBC, the Discovery Channel and many other national TV shows; as well as netting them $25 million dollars in additional revenue in the first year it ran.
Cathey's mission is to teach people the unbreakable rules of marketing so they can use them in their efforts to get people to love them, and love what they do.
When & Where

Heathman Lodge
7801 NE Greenwood
Vancouver, WA


Friday, June 22, 2012 from 8:00 AM to 10:00 AM (PDT)
Add to my calendar
Organizer
The Urban Entrepreneurs Network (UEN) is a Business Networking group for Multicultural Entrepreneurs, Small Business Professionals, and creative Start-Ups. We are privileged to work with those who not only share the desire to make something meaningful, but also enjoy the journey along the way. 
Other Brands include Mosaic Blueprint, Mosaic Metier and iUrban Teen