Join Natural Measures for the hottest trampoline fitness event! August 1, 2021. Two sessions; 1 PM & 3 PM. You don't want to miss this!
About this event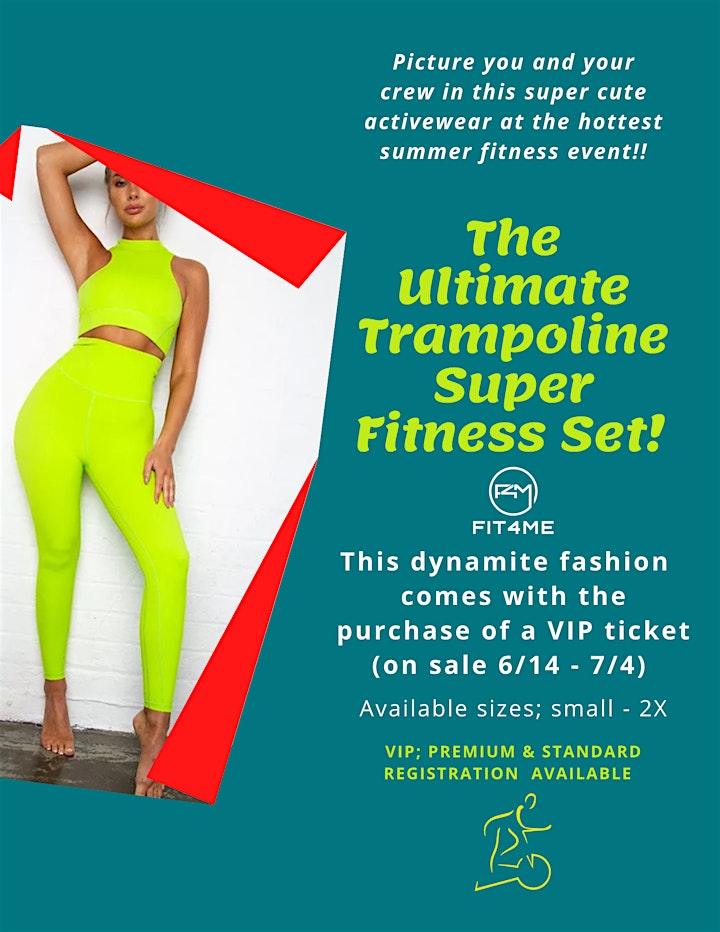 Natural Measures is hosting The Ultimate Trampoline Super Session! This will be the hottest new fitness trend to hit the city! Add the fashions of Fit4Me, and we will be burning calories together in style!
Registration will begin Monday, 6/14/21.
There are two available sessions, 1 PM & 3 PM, which include check-in and one hour of fat-burning fun! You can select your preferred time. However, as spots fill, you may be automatically placed accordingly.
Once checked in, you can stay, party and cheer on others for either session. There will be snacks provided and merchandise for purchase.
Trampoline is a creative alternative to typical cardio methods. It promotes cardiovascular health, coordination, and balance. You will be burning maximum calories and inches while looking good and partying to awesome music! It's a HIIT workout on trampolines, using weights and booty bands. This event will be BIG FITNESS FUN!
VIP Registration; Monday 6/14/21 - Monday, 7/5/21. VIP tickets include the purchase of the "Ultimate Super Set" in lime (Sizes small - 2X; pictured) , booty bands and participation. You must indicate your size at the end of your purchase. You can pick up your purchase from Natural Measures Studios during open hours, the week of 7/25/21 - 7/31/21. Email hello@nmcycling.com to schedule pick up.
Recommendations: The lime "Ultimate Trampoline Super Fit Set" fits true to size and as expected. The model (5'5 – 180) pictured in the E-Ticket image is wearing a medium (waist 31; hips 46; bust 39).
Due to the bright color of the "Ultimate Trampoline Super Fit Set" we suggest dark underwear, or thongs for a seamless look.
Premium Registration; 6/14/21 - 7/26/21. Premium tickets include quality booty bands and participation. You will receive your bands the day of the event.
Standard Registration; 6/14/221 - Event day. Standard tickets include event admittance and participation.
Refund Policy
All sales are final. NM Cycling will not provide refunds for cash after any purchase. You may cancel your registration up to 48 hours before the scheduled event. If your reservation is canceled at least 48 hours before the event, you will receive a Natural Measures Class credit to use for our regular Trampoline class. If you need to cancel, you must email hello@nmcycling (Subject registration cancelation) at least 48 hours before the event for instructions on how to receive your credit and book a class.
Cancelations do not include return/refund of merchandise. If you purchase a VIP or Premium ticket, you can pick up your items at our studio; or shipped at cost to you. Email the above address to make arrangements.
Fit4Me promotional garment purchase is subject to their policy outlined in the VIP registration details. https://fit4me.shop/pages/refund-policy.
Waiver and Release
By registering for this event, you are agreeing to and acknowledging the waiver and release policy outlined by Natural Measures Cycling LLC. found here - https://naturalmeasurescycling.com/waiver-and-release/ and on the order confirmation page.
Organizer of The Ultimate Trampoline Super Session!
At Natural Measures, fitness and cycling pair with up-tempo, dynamic, and energizing music; that drives your entire body to the beat. Coupled with proper training, Natural Measures offers an exciting alternative to typical cardio methods and will help clients avoid the "plateau" resulting from repetitive routines.