The Ultimate Personal Branding Online Workshop with Monetization + Speaker...
Description



---
In today's rapidly moving landscape, it is now imperative to have a solid brand. What are you known for? What projects do you want to work on? What lifestyle do you want to lead? These are questions to ask yourself when transitioning to building a strong brand that leads to flexible work schedules, multiple income streams and most importantly, passionate life projects. We go over a simple step by step strategy that will help anyone build and scale their brand within 30 days.
At the end of this session, you will learn how to:
Brand yourself with a website and social media profiles

Leverage your network to get consulting and speaking opportunities immediately

Monetize your expertise immediately
Deliverables
Learn how to define your brand
Learn how to get your website live and optimized within 24 hours
Learn top positioning tactics and press hacks
Get access to the top 20 free tools to marketing your brand online
Learn how to price your value for speaking engagements and digital products
Learn the top 10 monetization strategies for personal branding (make money immediately)
At the conclusion of the workshop, your will receive the following
Audio workshop recording
PPT slide deck
Guidebook
Worksheets
100+ links and resources for building your brand for free
Please note- that if you are not available for the morning session, that you can purchase a download option.

---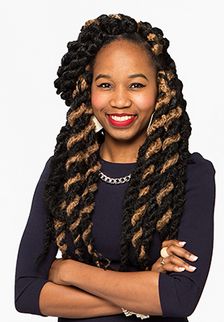 About the Host: Christine Souffrant Ntim is a Haitian-American entrepreneur with over 7 years business management experience across 30+countries. She was selected for Forbes 30 Under 30, AdAge 40 Under 40, Haiti Changemakers 1804 List, and Caribbean Change Makers 30 Under 30 in 2016. She speaks on leadership, disruptive entrepreneurship, and exponential tech AI, VR, Robotics at the United Nations, TEDx, European Union Forum and over 20+ global conferences each year. She also interviews top influencers in the Middle East as the Managing Chapter Director of Startup Grind Dubai, powered by Google for Entrepreneurs.
Organizer of The Ultimate Personal Branding Online Workshop with Monetization + Speaker Training
Christine Souffrant Ntim is an award-winning Haitian-American entrepreneur & startup ecosystem expert for emerging markets. She was selected and featured in Forbes 30 Under 30, AdAge 40 Under 40, Haiti Changemakers 1804 List, Singularity NASA, Entrepreneur Magazine, Huffington Post, Inc Magazine and more. She speaks on digital entrepreneurship, startup hacking, exponential tech AI, and personal branding at over 20+ global conferences a year- which includes former appearances at the US State Department Tours, United Nations, TEDx, SXSW, Startup Grind Global, SeedStars World, European Union Forum and more. She started her career as the founder of Vendedy- a social network connecting people to street markets with the aim of digitizing a $10 trillion dollar black economy and centralizing the world's 200,000 street markets. Today, Christine is the Director of Startup Grind Dubai Powered by Google For Entrepreneurs and a partner at the GlobalStartupEcosystem.com which hosts the largest digital online accelerator program in the world- graduating over 1000+ companies across 190+ countries a year.

For fun, she travels and binge watches top business shows with her husband and beautiful baby girl.

Speaker booking-RSVP here: https://goo.gl/forms/Q3kHUXRB0QrT1nup2
Blog: Christinesntim.com

For speaker bookings, email team at info@christinesntim.com

Top Awards:
Forbes 30 Under 30
Adage 40 Under 40
Caribbean Changemakers 30 Under 30
Most Influential People of African Descent 40under40
Bill Gates Scholar 
Haitian Roundtable 1804 Changemakers 
GES 2017 USA Representative 
Clinton Global Initiative University Honor Roll