The Ultimate ModelMe Experience (Workshops & Public Photo Shoot)

Sunday, September 27, 2015 from 12:00 PM to 5:00 PM (EDT)
Event Details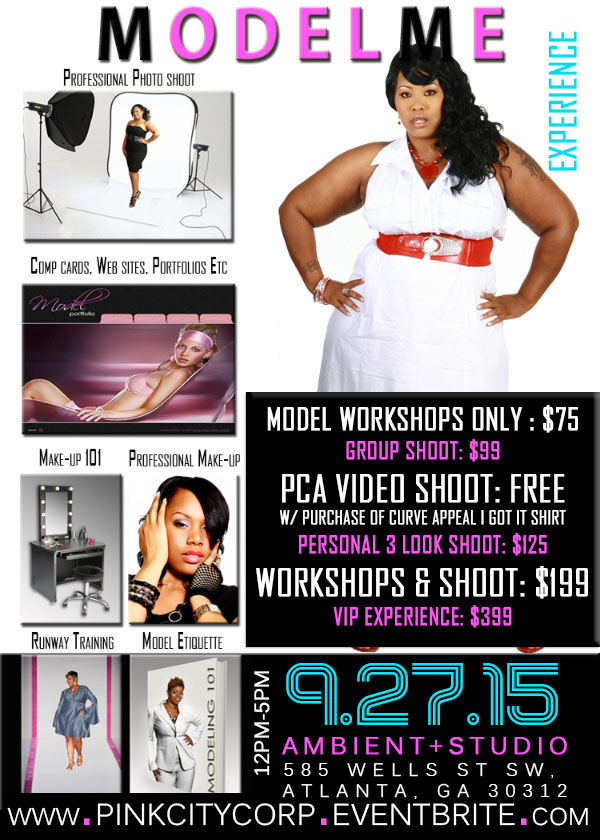 Gift Certificates available if you want to give the experience away as a gift.
Save $25 per person for groups of 6 or more.
Save $25 off if you bring a friend!!!
Save $50 off packages over $125 if you are a Curve Appeal or Pink City Priority CLUB MEMBER.
Save $25 if you can do your own makeup.
For questions or discount codes, call/text 678-369-1722 or email protegeemanagement@gmail.com
FAQ
What is the ModelMe Experience?
An series of training workshops, fashion and branding photo shoot events. ModelMe Experience not only caters to Industry Professionals such as Models, it's also open to the public that want to experience the life of a professional model. The workshops and photo shoots also offer upcoming artists and designers the tools they need to establish and grow their portfolios. PMG is also known for assisting small business professionals take their brands to another level whether they want to be taught to doing everything on their own or they want to utilize the series of our in-house design and marketing team.
What makes ModelMe different from a model camp?
We do not claim to be an accredited school of any kind. We simply use our experienced management, preferred vendors and other instructors to teach you the basic information you will need to succeed as in your field.
We encourage our clients to seek as much training as possible if they are aspiring to be in the professional modeling industry to gain different perspectives. Another thing that sets ModelME apart is that unlike a lot of official model camps we have norequirements and other stipulations. Spots are however limited at the different ModelMeevents and are filled on a first come, first serve basis.
What if I am an experienced professional model?
If you are already a professional model, we'd advise your utilize the packages that include the photo shoots and the PMG "services" to help you enhance your brand.
What if Iregister, pay then change my mind or choose not to be involved?
Unfortunately, Pink City Corp (PMG's parent company) is non-refundable unless we cancel the event and do not reschedule within 30 days. However, If you give 30 days notice prior to the event you registered for, you can use your registration fee towards other PMG events/trainings/shoots within a years time.
If I already know the basics, are there advancedcourses?
We sometimes offer more advancedtrainings by partnering with industry professionals to provide are premier clients the opportunity for extended training to be a cut above the rest.

I am a Makeup Artists, Can I do my own makeup for my shoot?
Yes. However, the cost will be not be reduced more than $25.

What if I choose not to take the advice from the stylist?
That is your choice. Everything is totally optional.
When & Where

Ambient Plus Studios
585 Wells St SW
Atlanta, GA 30312


Sunday, September 27, 2015 from 12:00 PM to 5:00 PM (EDT)
Add to my calendar
Organizer
Pink City Corp
Pink City Corp is the multifaceted umbrella company that caters to women around the globe, providing avenues, groups and events that carryout our mission(s). Details on our website.
The Ultimate ModelMe Experience (Workshops & Public Photo Shoot)