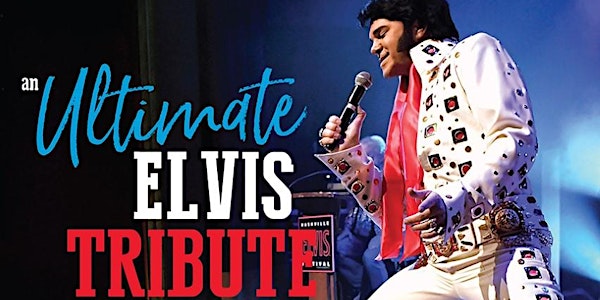 THE ULTIMATE ELVIS TRIBUTE featuring AL JOSLIN!
When and where
Location
REX Theatre 18 North Palafox Street Pensacola, FL 32502
Description
THE ULTIMATE ELVIS TRIBUTE featuring AL JOSLIN!
Dust off your Blue-Suede Shoes and get ready to Shake, Rattle and Roll! at the Ultimate Elvis Tribute with Al Joslin on Friday, June 28 at 7 PM at the Rex Theatre in Downtown Pensacola. Multi-award winning Elvis performer Al Joslin will perform your favorite Elvis hits from every era in an electrifying and memorable show.
Joslin, a Pace High graduate, is returning for this hometown concert, which is a fundraiser for the Charis House, a faith-based residential recovery program helping women gain freedom from addiction. The Charis House is one of the programs of Ministry Village at Olive, located on the campus of Olive Baptist, Joslin's childhood church. Joslin's 2018 fundraiser concert benefitting The Charis House sold out with audiences eager for more. Ministry Village is excited to have him back for a performance that is sure to leave you All Shook Up.
Joslin's inspiration to portray the King of Rock 'n Roll came from a visit to Graceland when he was just 17. After graduating from Mississippi College, where he played football, Joslin began performing Elvis tribute shows full of energy and passion and has made a name for himself as a top quality, multi-award winning Elvis performer. He is considered one of the top 5 Elvis tribute artists in the world. Al has been impacted by Elvis and his music in a powerful way. "I consider it the highest privilege to give tribute to the greatest entertainer of all time," he said.
Tickets go on sale Saturday, May 11 for $30 Reserved Seating and $25 General Admission, plus ticketing fees. Tickets are available online at ultimate-elvis.eventbrite.com. A limited number of sponsorship packages are also available. All proceeds benefit Ministry Village at Olive's local non-profit program, The Charis House.
For sponsorship or event information, contact Kathie Schuster, Ministry Village at Olive, at (850) 475-1118.
To learn more about Al Joslin and his Elvis Tribute, visit AlJoslin.com.
For more information about Ministry Village at Olive, Inc. and its work in the community, follow them on Facebook at www.facebook.com/MinistryVillage, on Twitter @MinistryVillage or visit their website, MinistryVillage.org.
A copy of the official registration and financial information may be obtained from The Division of Consumer Services by calling toll-free (800-435-7352) within the State. Registration does not imply endorsement, approval, or recommendation by the State. CH27679