Description
This is a two-part workshop that brings together the full measure of the capture management life-cycle and offers a module devoted to pricing strategy as an integral part of capture.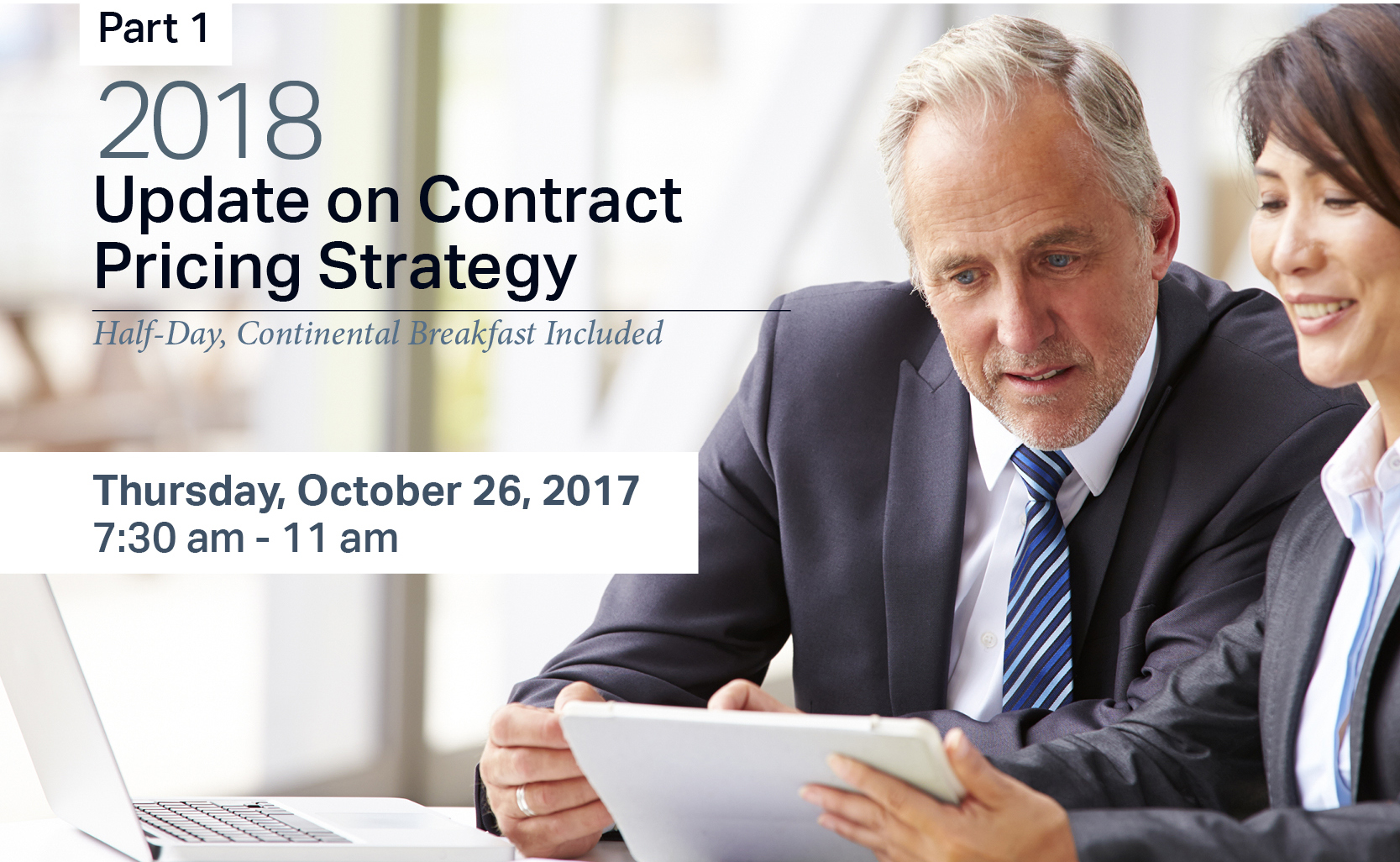 2018 Update on Contract Pricing Strategy
Plan now to ensure you and your company are up to date on current developments in cost and pricing trends which could affect your pricing strategies and evaluations for proposals. Federal agency budgets and procurement policies are in the greatest state of flux in many years. To be competitive, contractors must be up-to-date with the latest policies and trends in order to develop their winning strategies. The surge in Low Price Technically Acceptable (LPTA) awards has largely passed, as buyers learned that quality, innovation and reliability were being priced out of the market. However, price remains a strong driving factor in proposal evaluation and new awards. Growing companies have kept current with new developments, and now custom-tailor their pricing strategy to their customer agencies.
GCI's 2018 Update on Contract Pricing Strategy is aimed toward small and midsized companies – especially SBA-certified Socially or Economically Disadvantaged Businesses – who need an update on the pricing strategies that respond best to today's realities. Questions regarding your immediate pricing issues and problems are encouraged during this highly interactive and fast-paced event. Among the topics to be covered are:
Bid Less Frequently and Win More Often, by Integrating Your Technical and Pricing Strategies

Costing vs Pricing – Two Different Perspectives

How the Solicitation Can Drive Pricing Strategy

Pricing as the Prime vs as the Subcontractor

Current Trends in Indirect Rates and Multipliers

Real Costs of Winning Your First CPFF Contract

Don't Forget Your "Compliance Strategy"
Who Should Attend
Pricing and Cost Analysts and Managers, CFOs, Capture Managers, BD Executives, small-midsize business owners, proposal managers, SMEs, proposal writers, marketers, persons with significant experience in government contracts.
Reserve your seat to hear from Mark S. Hoffman, CPA, CPCM
Mr. Hoffman has over 30 years of practical experience in cost and price proposals, Government contract cost accounting, contract administration, and financial management. He is an authority on advance planning for profitable compliance within the wide range of government procurement regulations. Mark is a frequent continuing education instructor, and has taught courses for the NCMA, IMA, Fairfax Chamber, VA Society of CPAs, and other professional organizations.
Schedule
Registration and Breakfast 7:30 am | Networking 7:30 - 8 am | Program 8 am - 11 am
All materials and continental breakfast included
---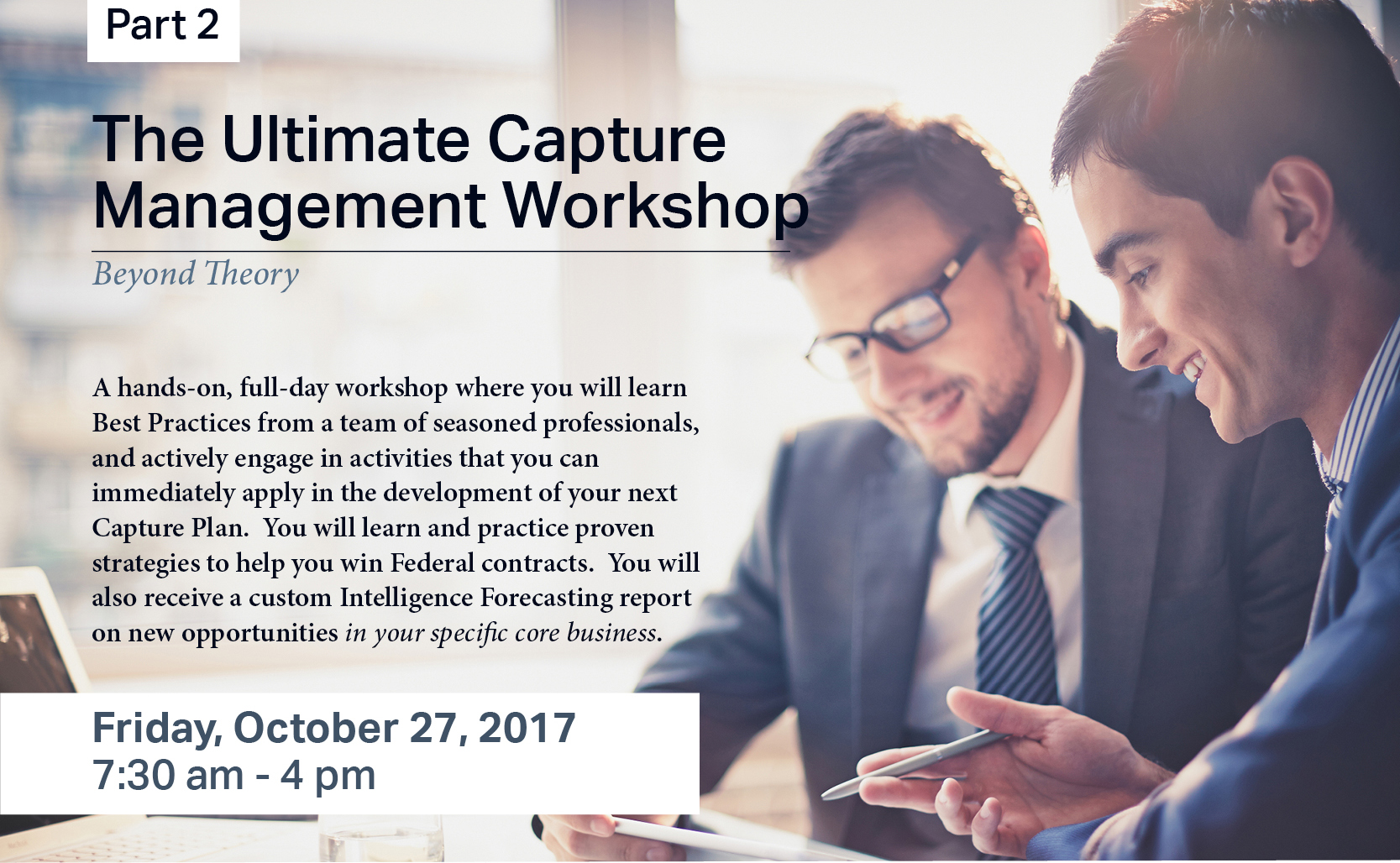 Ultimate Capture Management - Beyond Theory
How do you capture contracts in 2018? First, you must keep your emphasis on capture and not become intoxicated by the process. For example, Proposal Development is only one facet of Capture Planning. Capture begins with opportunity identification, continues through intelligence-gathering and the bid decision, and carries on through proposal development, proposal submission and post-bid activities.
In fact, most contracts are won or lost in the pre-proposal stages, which focus on research, strategy planning and diligent analysis of the customer, the competition, and your own strengths and weaknesses. This up-front analysis saves you time, effort and money by equipping you to distinguish between solid business decisions and "wild-goose chases." We will review in detail the information you MUST have before making your bid decision.
A successful capture strategy views all aspects of the bid process through the lens of, "Are we doing what we must to WIN?" You will hear specific guidance – based on actual experience, not theory – on when you need to shift tactics, on the importance of "off-ramps" in the bid process, on how to identify and sign on with winning teaming partners, and much, much more.
This Ultimate Capture Management Workshop is a lively, engaging and highly informative event that will be well worth your time and investment. These seats fill fast, so please click on the link below to learn more and register. We're looking forward to meeting you. Topics Include:
The Capture Life-Cycle

Essential Intelligence Forecasting

How to Find Opportunities that Fit

How to Gain Important Agency Intelligence

Making Sensible and Realistic Bid Decisions

How to Develop Persuasive Proposals

How to Develop Your Own Capture Plan

Identifying the RIGHT Teaming Partners (Primes and Subcontractors)
Who Should Attend
Capture Managers, Proposal Managers, Contract Managers, BD Executives, SMEs, Pricing Leaders, Proposal Writers and Marketers.
Reserve your seat to hear from Dr. David Christovich, Vice President,
The Total Management Group LLC

Dr. Christovich has over 25 years of experience in Capture Management and Proposal Development. His proposals have won over $1.5 billion in funded government contracts. Dr Christovich is in high demand for training and consulting for capture and proposal management and has led the development of over 350 Federal proposals.



Mr. Kim Harwell, Chief Executive Officer,
GovPurchase

Mr. Harwell is a leading innovator and practitioner in research and training for capture of government contracts. He has trained thousands in advanced market intelligence, opportunity forecasting, teaming, subcontracting, and capture in pursuit of government contracts.



Mr. James Bender, MHS
Mr. Bender has successfully managed large project portfolios and staff to provide excellent service, grow market share and expand service offerings in for-profit and non-profit organizations. He has over ten years' experience in capture management, which promoted his company's growth from a start-up to over $24 million in annual revenue. His strengths include business development, people management, fostering collaboration and behavior change communication.
Schedule
Registration and Breakfast 7:30 am | Networking 7:30 - 8:00 am | Program 8:00 am - 4:00 pm
All materials, continental breakfast and lunch included