As a CPA, I take pride in helping small businesses scale financially!Join me for a 2 day WORKshop to upgrade your accounting and tax systems
About this event
Hey my fellow business boss!
I know that working with numbers can be a bit overwhelming, so I split this event into a 2 day workshop. To attend this event you do not need to be great with math or IT. Instead you just need to be a business owner dedicated to the growth of your company!
Below is the agenda. Feel free to take a screenshot of the text or image below!
Day 1
1. Everything you need to know filing taxes as a
2.How To Pay
3. Top Tax Write Off's & How to Claim Them
Day 2
1. Using a Payment Processing System
2. Implementing QuickBooks in your biz
3. Linking biz bank account to Quickbooks
4. Categorizing biz receipts in Quickbooks to claim tax writeoffs
Once registered, you will receive a follow up from me containing all the details about the 2 days and how you should come prepared! Look out for an email from info@proactivethinkingllc.com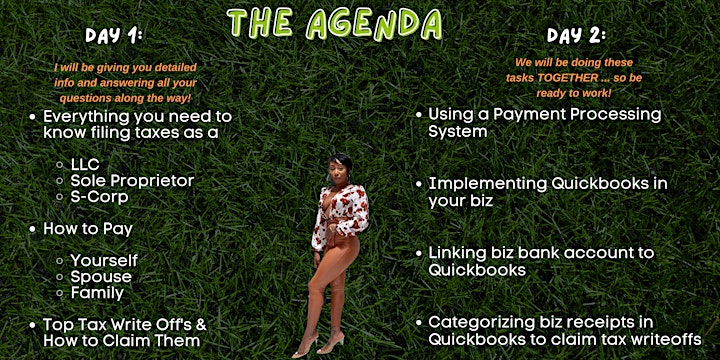 Date and time
Location
Refund policy