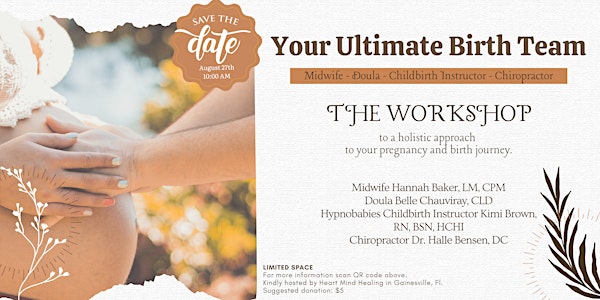 The Ultimate Birth Team
Come and meet us! We are a midwife, a childbirth instructor, a doula and a chiropractor and we are your ultimate birth team. Learn more...
When and where
Location
Heart Mind Healing - Energy Healing with Caitlyn 2441 Northwest 43rd Street #Suite 25A Gainesville, FL 32606
About this event
Are you expecting?! First and foremost, Congratulations!
Exciting and scary at the same time, isn't it?
Is this your first pregnancy and the sound of a hospital birth does not thrill you?
Or perhaps, you had a medicalized first experience and are looking for a holistic approach this time around. You even dare to dream of a VBAC.
Are you are looking for a different experience, something that resonates more closely with you and aligns with your beliefs?
Do you doubt yourself but still wish for a childbirth experience that respects and supports you while feeling safe, heard, confident, and empowered?
Maybe you are curious about giving birth at home but are unsure if you can do it?
If you can relate to any of the above, we want you to know that we have brought together a team to support your vision.
Here to support your Holistic Vision is
Midwife, Hannah Baker, Childbirth Instructor, Kimi Brown, Doula, Belle Chauviray, and Chiropractor, Dr. Hallie Benson.
We have brought together your ultimate holistic birth team for a smoother pregnancy, birth, and postpartum experience.
Come learn how each one of our disciplines adds a valuable component in achieving a physiological birth.
.
.
.
PS: Please stay home and take care of yourself if you have been recently ill or have any symptoms of illness.
Suggested donation $5 - Venmo: @Belle-CW