The UGA at CU Dawg Fan Tailgate Party

Saturday, October 2, 2010 at 12:00 PM (MDT)
Event Details
Please do not contact the Alumni Association, LoDo's, Eventbrite, or any of the Colorado Dawg Officers to ask for extra tailgate tickets. CU is giving us NO wiggle room on our 3,000 limit and if you are not already on the waitlist there is no chance of getting a ticket. I appreciate everyone's stories, but there is nothing we can do. For a possible alternative, please check out our blog http://ugaatcu.wordpress.com.
Due to time constrictions we will not be granting refunds that have not already been requested.
We have a few more tickets to release to the waitlist. There are people not responding within their given time frame, so those will be passed down the list. Be sure to keep an eye on your email if you are on the waitlist as there is a three hour limit to snatch up released tickets.
I have yet to hear from several people who purchased multiple tickets under their name. (Example- Bob Smith purchased 4 tickets and just entered his name for all 4 tickets.  This does not include Jane who purchased 6 tickets and entered the name of 5 of her family/friends as well as her own name.) Those of you who have yet to change names on tickets, we are running out of time and you will have to enter a special line where they will check to see your name on a list, which will take extra time for you to get into the event.
On October 2, 2010, the University of Georgia football team will be in beautiful Boulder, CO to take on the Colorado Buffaloes. The Colorado Dawgs have been working closely with LoDo's Bar and Grill (a locally owned rooftop sports bar and grill) and our sponsors to bring together The UGA at CU Dawg Fan Tailgate Party.
This Tailgate Party will be held on CU campus, on the Business Field (only 1/4 mile away from Folsom Stadium), beginning five hours before kickoff. There will be a ticket fee of $26.00 per person plus a small service fee. The ticket will allow you entry into the event, a backyard grill feast of burgers, dogs, coleslaw, chips, dessert and non-alcoholic beverages. (There will be a vegetarian option for those who prefer.) We have also arranged for the most important part of a tailgate, complimentary beer for those who can prove they are over 21. Come eat, drink and enjoy the company of a few thousand UGA fans from across the country under the backdrop of the beautiful Flatirons!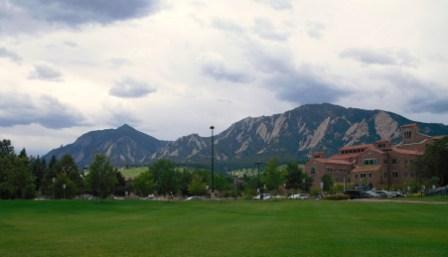 (actual view from the Business Field)
 To make this deal even better, with your purchase you will get:
A discount card- We have arranged a Dawg Watering Hole discount card with several bars/restaurants on Pearl Street in Boulder. This card can be used Friday and Saturday. Details on how to obtain the card will be sent to those who purchase tickets.
A chance to win- Exciting door prizes!
Airtran is providing two business-class round trip plane tickets, valued at $1000.
The Alumni House is providing a football autographed by Coach Mark Richt.
Tickets will be given upon entry and you will have to be present to win.
(Keep watching this site as we hope to add more items.)
What we're working on to make the party even more enjoyable:
TVs- LoDo's is bringing a couple of televisions so we can keep track of the early games.

Tailgate Games- LoDo's is putting together some tailgate games for our enjoyment.
Music- There will be a live performance by Tommy & The Tangerines during the tailgate. (The band had to be cancelled due to CU regulations.) We will play music through the speakers to get us all pumped up for the game.
Special Guests- We will have some special guests that will also help get us pumped up for the game!
We are selling a limited amount of tickets and once they're gone, they are gone! Get yours now for the early bird price of $26 each. The price will increase after Labor Day. This event will be held rain or shine. (CO has 300 sunny days each year.)
Once you purchase your tickets, you will receive a confirmation email. Attached to that email is a PDF containing your tickets. Print them out (or bring the email on your smart phone) to the tailgate along with your IDs. 
You can find information about parking here.
**Due to regulations, only those who prepay will be able to attend the tailgate.  Click here to see all the rules and regulations of this event.
**Refunds will not be issued unless this event is cancelled by the host.
Thank you to our sponsors
LoDo's Bar & Grill, Airtran Airways, UGASports.com and Dr. Pepper!
Click their logo's below to visit their websites.
Please email Cheri with any questions you may have regarding this event.
When & Where
Regent Drive
Boulder, 80305


Saturday, October 2, 2010 at 12:00 PM (MDT)
Add to my calendar
The UGA at CU Dawg Fan Tailgate Party