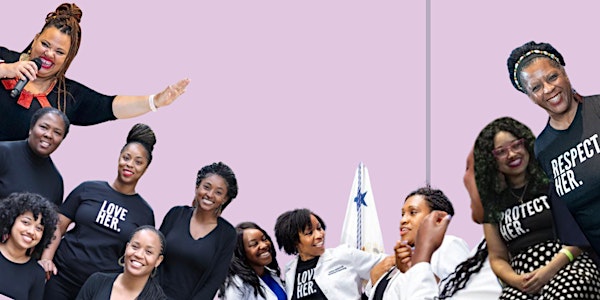 THE UCSF BLACKWOMXNHEALING CIRCLE
A Communal Wellness Space for All Self-Identified Black Womxn Affiliated w/ UCSF
When and where
Location
The UCSF Black Wellness Center @ the Center of Excellence in Women's Health's 2356 Sutter Street San Francisco, CA 94115
About this event
THE UCSF BLACKWOMXNHEALING CIRCLE
The UCSF #BlackWomxnHealing Circle is a quarterly healing space that welcomes Black womxn across all UCSF affiliations into relaxation, restoration, and community. Grounded in Black feminist approaches to mindfulness, contemplation, and creativity, we engage embodied, communal, and ancestral healing arts that enhance our collective well-being. ​It is our hope that, overtime, we​ can​ foster deep connections across generations, disciplines, and affiliations. These networks of support can help sustain our lives and our work within and beyond the university.
This circle is designed for all self-identified Black womxn who are students, faculty, and staff, regardless of institutional rank. This includes, but is not limited to - cafeteria workers, shuttle drivers, residents, postdoctoral fellows, deans, graduate students, nursing students, medical students, dentistry students, and professors of any rank.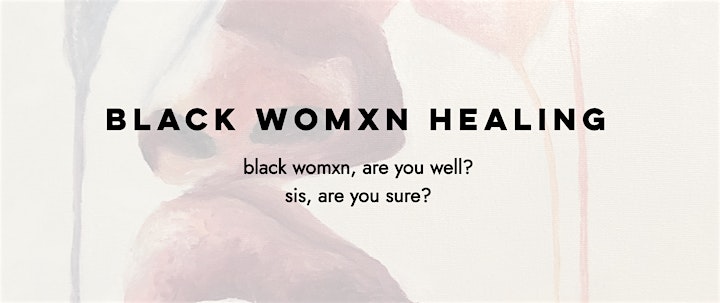 ABOUT BLACKWOMXNHEALING
reelaviolette botts-ward, an inaugural Postdoctoral Fellow with the UCSF REPAIR Project, founded blackwomxnhealing in 2015 to offer accessible models of healing arts to her homegirls and her community. With blackwomxnhealing, ree curates healing circles, exhibitions, publications, and courses for and by Black womxn.

ABOUT THE BLACK WOMEN'S HEALTH & LIVELIHOOD INITIATIVE
The Black Women's Health & Livelihood Initiative envisions a world where Black women are valued and nurtured in the same way that Black women care for others. We prioritize and amplify the voice and power of Black women, at UCSF and beyond, to achieve their optimal health and well-being.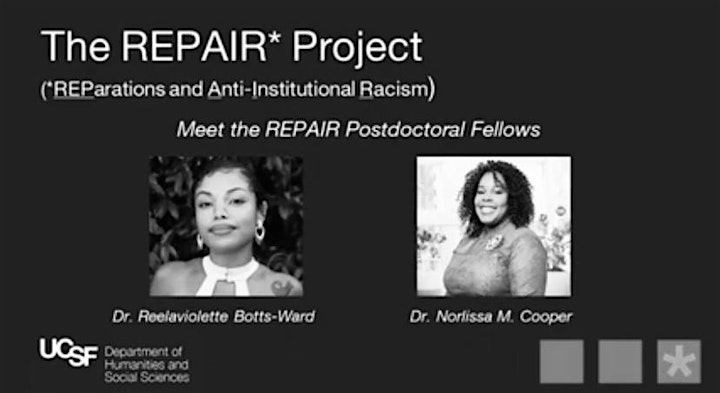 ABOUT THE REPAIR PROJECT
The REPAIR Project is a three year strategic initiative designed to address Anti-Black Racism and augment Black, Indigenous, People of Color voices and presence in Science and Medicine and healthcare. "REPAIR" is an acronym for REParations and Anti-Institutional Racism, which provides the unifying theme behind this project.